The Big Ass Medal Race Series in 2019 showcases 5 races across the North Carolina coast islands.  Incredible beach views, flat and fast courses, first class race experience with runner tracking and amazing after parties.  All runners will receive a super soft tri-blend shirt at packet pickup and a MASSIVE medal at the finish line!  Register to run 1,2,3,4 or all 5 of the races all at once.  Mix and match distances.  Can't make a race – run it virtually.  Register risk free with the most runner friendly promise allowing you to swap races, get a refund, switch to virtual or transfer a registration.  Check out our FAQ's are click any race below to get more info and register now!
Frequently Asked Questions:
You can click on any of the races listed above that you'd like to register for and select the first option, "RUN MULTIPLE BAM! RACES & SAVE".  You'll be able to select 1 race at each of the events and register with a discount that is already applied.


The Big Ass Medal race series showcases a really unique pirate themed series for 2019.  Medal designs completely change every year so this is your only chance to earn the bling!
How Big Are They?
The Full Marathon Medal (Oak Island only) is 9″
All Half Marathon Medals are 7.5″
All 5K Medals are 4.5″
Our "Mythical Miler" medals are about 3″ and a different design.
Does Everyone Get A Medal?
Yes, all finishers receive a medal.
What Else is Unique?
Oak Island – There is a cool dangling earring on the side!
Sunset Beach – The bottle will actually look like a bottle!
Surf City – The ships wheel in front of the parrot spins!
Holden Beach – The gold in the treasure chest is 3D!
Ocean Isle Beach – The flag at the top of the ship spins!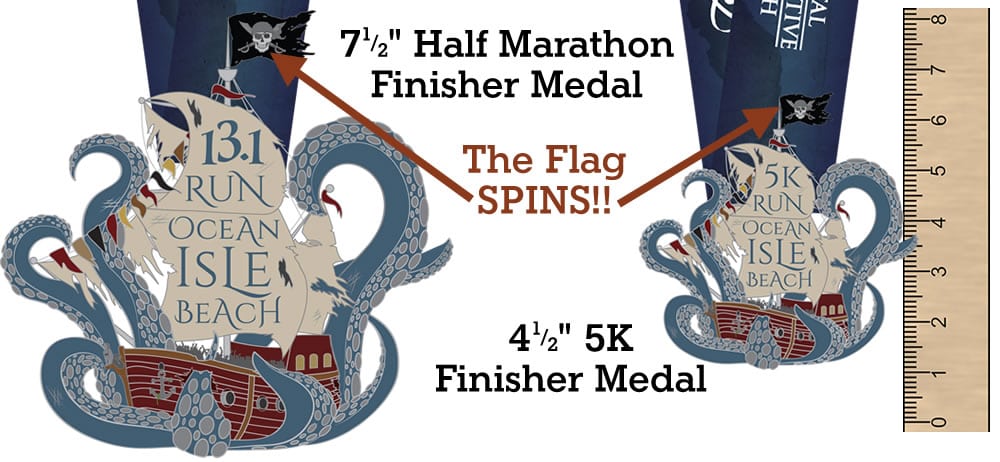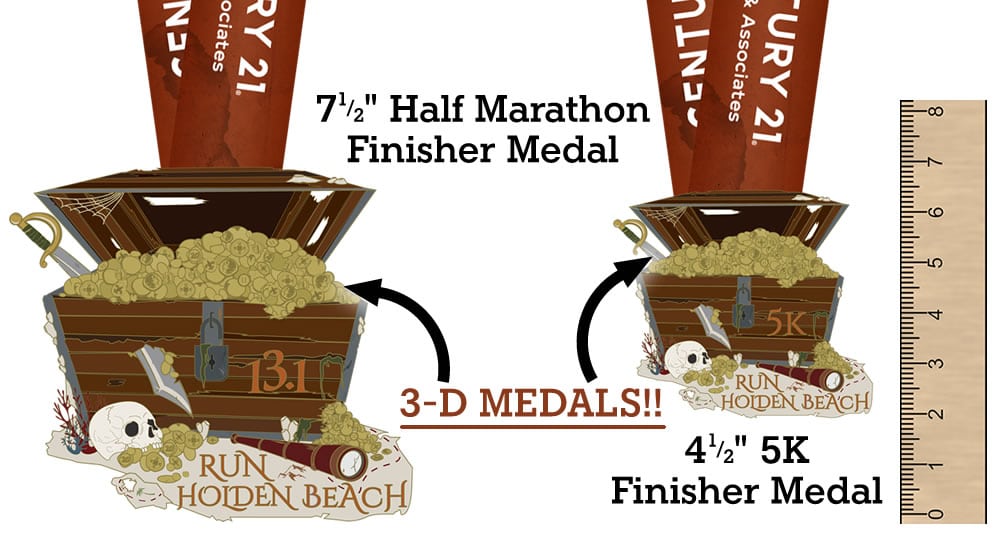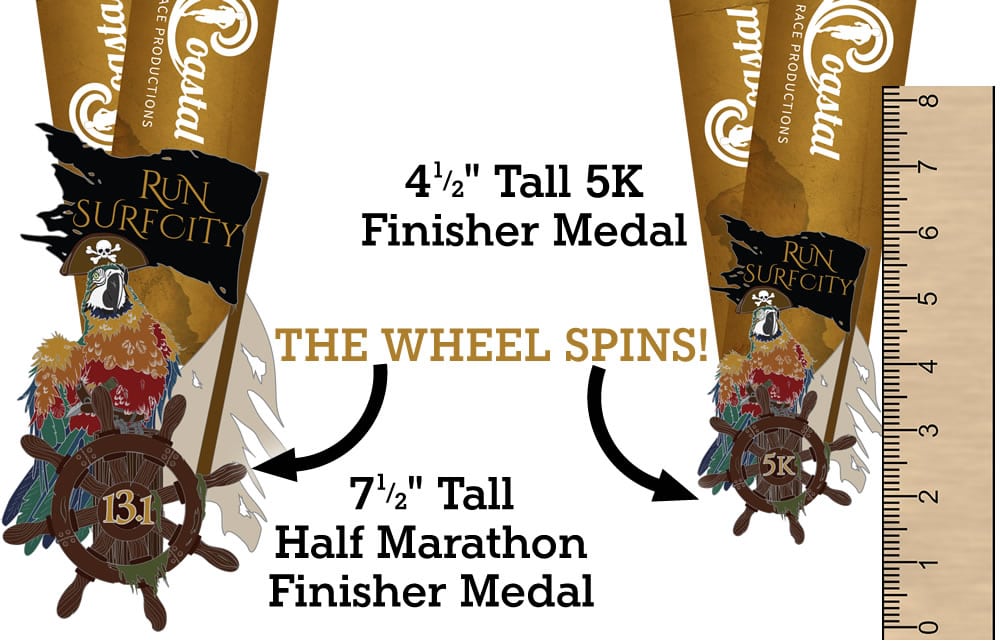 Absolutely!  You can just sign up for 1 race if you'd like, or 2, 3, 4 or all 5!  You could run the full in Oak Island, half in Sunset, 5K in Surf City, virtual for Holden Beach and skip Ocean Isle (not that you'd ever want to skip a race) – but you have options..
Our Races are great stand alone events and anyone one of them alone is a great choice and a chance to visit the beautiful NC Coast!  We offer a series option for the convenience of those who wish to run multiple. This year you can pick anywhere from 1 to 5 and a mixture of distances as well.  The more you sign up for all together the more you save!
Additionally, there is no "series scoring" or award across the series.  We do big ass medals all with the same theme in beautiful coastal islands – run 1 or run them all.
NEW for 2019 our races will include a virtual option.  During registration, you will see a new "virtual" option. This is something that you must register for separately and the following registration policies apply:
– Must be registered for the virtual option in order to receive race packet by mail.
– If you are registered to run in a race and cannot attend, all of the registration policies still apply to you. The only way to run a race virtually and receive your packet in the mail is if you are registered under the virtual option.
– You may transfer to the virtual option up to 7 days prior to an event. You will manage this through your personal RunSignUp account and there is a $15.00 processing fee.
– Packets will not be available for pick up race weekend.
– ALL virtual packets will be mailed within 2 weeks of the race.
We will only ship packets to those who are actually registered for the virtual option. (Cut off for this is 7 days prior to the each event)
*If you decide to come to the race instead of run it virtually. You must manage this through your RunSignUp account 7 days prior to the event. You will have to pay the difference in price as well as a $15.00 processing fee but we would love to have you join us! It's so much more fun to run with friends!
Refund Policy:
You may manage this 100% on your own through your RunSignUp account. There is a $6 processing fee online for any refunds to be issued and we provide the following options based on how far in advance you make the request.
– More than 60 days from event: 75% Refund
– 30-59 days from event: 50% Refund
– Less that 30 days from event: No Refund
Transfer To Another Race:
We allow you to transfer your bib and race entry to another Coastal Race Productions race for yourself up to 30 days prior to an event. No questions asked, completely managed by yourself through your RunSignUp account. There is a $15 processing fee. With consideration of your entry fee already paid, there may be an "upgrade fee" if the other event entry price is higher. We are not able to allow race transfers less than 30 days from an event for any reason, please don't ask for an exception. Need Help? Click Here for a tutorial on how to edit this.
Event Transfer:
If you want to change from one distance to another distance at the same race on the same weekend, we allow you to do this yourself all the way up to 1 week (7 days) prior to any Coastal Race Productions event. You will manage this through your RunSignUp account and there is a $15 processing fee. Need Help? Click Here for a tutorial on how to edit this.
Bib Exchange/Transfer:
You can transfer your bib to another runner upto 7 days prior to a race. You must login to your RunSignUp account and initiate this bib exchange by placing their name and email in. The recipient will receive an email to accept the bib, pay a $15 processing fee and sign our online waiver. Whether you gift it to them or they pay you for it on this side is up to you. Need Help? Click Here and look for "Transfer to Another Runner" for a tutorial on how to edit this.
Defer To Next Year's Race:
You can defer your registration to next years race (the same distance at the same race/event). You must do this more than 30 days prior to the race, no exceptiops, and you can manage this yourself in your RunSignUp account. There is a $15 processing fee to do this. Need Help? Click Here for a tutorial on how to edit this.
Insurance Options Offered:
During registration, there is an option for you to purchase insurance on your registration fee. This includes several items such as injuries, airline issues, car trouble, jury duty, military duty, etc.. but you can find out full details and contact them directly by clicking here. This is a 3rd party insurance company and we do not control coverage. If you have any questions at all concerning this insurance, please contact them direct via the link above. You may also wish to explore your own 3rd party insurance covering registration fees.
For full registration policies, please click here