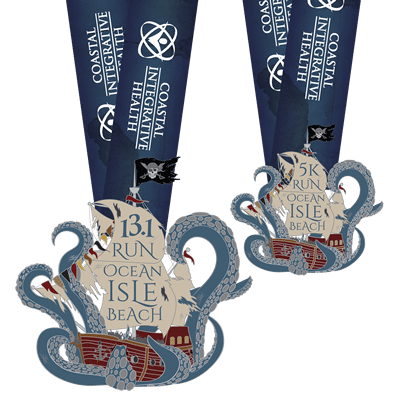 Run Ocean Isle Beach 2019
$19 - 1 Mile Registration
$30 - 5K Registration
$65 - Half Marathon Registration
Prices Increase In
74 Days
IMPORTANT!  This is for the 2019 Run Ocean Isle Beach event.  If you are looking for the next Ocean Isle Beach race this year (2018), please visit that page here.  By filling out the form below, you are registering for NEXT year's event on 10/26/2019.
Date is subject to town's official approval which is not granted until after our 2018 event but we don't anticipate there being any issues or changes.
Sorry, you must enable javascript to view this content from https://runsignup.com/.
Run Ocean Isle Beach 2019 showcases an amazing finisher medal and super soft shirts for all finishers.  See the medal you'll earn below – it features an old pirate ship being overtaken by a mythical over-sized octopus and a spinning flag at the top.  The half marathon medal is 7.5″ while the 5K is 4.5″ – both massive and fitting perfectly with our traditional Big Ass Medal theme.
While we don't have our final shirt design to show you, it will be just like our soft tri-blend shirts you've loved from previous races with a fun pirate themed design.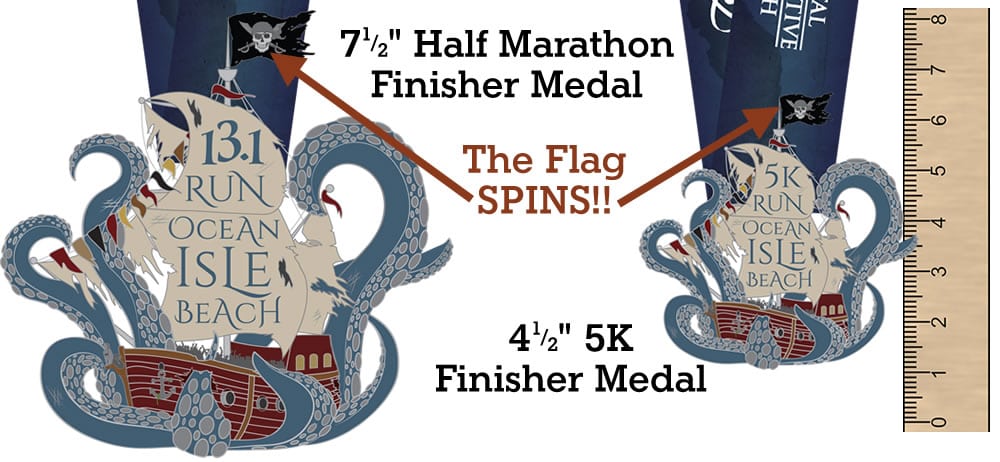 IMPORTANT!  This is for the 2019 Run Ocean Isle Beach event.  If you are looking for the next Ocean Isle Beach race this year (2018), please visit that page here.  By filling out the form below, you are registering for NEXT year's event on 10/26/2019.
This will be the 6th annual Run Ocean Isle Beach event that includes a Half Marathon, 5K & Mythical Miler in Ocean Isle Beach, NC followed by a BIG after party next to Pelicans Perch.  You don't want to miss this amazing race experience filled with incredible scenic beach views, going over the intracoastal waterway bridge, on-course entertainment, and much more for the whole family.
The half marathon takes runners immediately over the intracoastal waterway bridge as the suns rising over the ocean.  Take in an amazing sight before running about 4 miles on the mainland through some quint little beach communities.  Head back over the bridge onto the island for some flat and fast miles.  Run down both ends of the island in a safe closed course before finishing with a cold beverage and a fun after party to enjoy with your friends.  And that beach is only 1 block away for you to relax on.
The 5K is really flat and fast down the East end of the island finishing in the same after party area.
The 1 Mile is a completely closed out and back course safe for all ages.
We will aim to have a route map up just as soon as possible for the 2019 course.  Keep in mind it's always subject to slight adjustments due to changes in construction, permitting and ultimately runner safety.
We will host a packet pickup on Friday October 25th at a place to be determined.  As we confirm a place for this, we will be sure to post it here and notify all currently registered runners.
We will have limited time for packet pickup the morning before the race between 5:45 – 6:45am on October 26th Saturday morning before the race so we strongly urge you to pick up on Friday if at all possible.
There is now a "Mail My Packet" option available for a small fee.  If you'd prefer to have your bib mailed 2 weeks prior to the event, you can select this online.
Parking:
There is ample parking around the start/finish line and we'll have volunteers assisting with directing you.  It's easiest to come right over the bridge onto the island of Ocean Isle Beach and follow direction from our volunteers.
Discounts
Military, Students & Teachers – Yes!
Are you a member of a race club or group – contact us for club discounts.
Use our contact form please – click here
Strollers & Handicap Accessible
Absolutely! All of our races are stroller friendly and handicap accessible. Our races are completely on roads, however you do share most of the roads with controlled traffic.
Register Offline
We really prefer for you to register online if at all possible – it's quick and easy with the link at the top of the page.
Can I walk?
Yes! Our 1 Mile and 5K races have no time limit and our half marathon time limit is 3.5 hours (16 min miles) – plenty of time to walk most of the course if you'd like.
Age Restrictions
We have no age restrictions however we do ask for parent or guardian signatures on all minors under 18 years of age.
Course Support
The half marathon will have 8 different water stops along the 13.1 mile course. All stops have water and an electrolyte drink.  There are 2 water stops along the 5K course.
We will have a truck monitoring the route with water and acting as a "SAG" wagon.
Volunteers from several area non-profits are assisting on the course for directions, as well as at the finish line and all of the water stops.
Signage is marked on the ground, over 100 directional signs, and a biker will lead both courses.
You're going to LOVE running a Coastal Race Productions event!
Registration Policy
We have a No Refund policy and any changes to registrations must be made at least 30 days prior to race date.  Please read our General FAQ's page for all registration policies.
Ok runners, time to get your butt in gear and conquer this course.  It has a steep grade climb right at the beginning X2 but then you're flat the rest of the run.  Take it easy getting loose and don't hurt yourself on the bridge.  Stride it out as you get back onto the island with the flat run and be sure to use all of the waterstops.  Be as encouraging to other runners as you pass them coming back.  And we'll be at the finish line congratulating you with others.
Looking for a training plan, a group run at the coast or someone to help tailor a coaching program for you and be your accountability partner in your journey?  Jump on over to RunCRP to learn more!