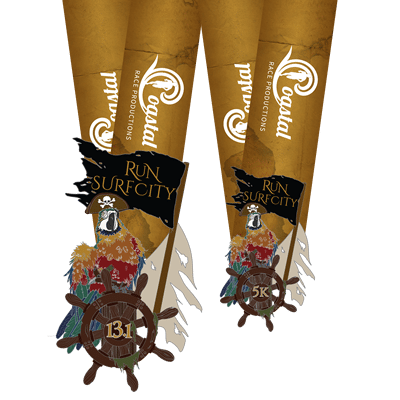 Run Surf City *NEW* 2019
$19 - 1 Mile Registration
$30 - 5K Registration
$65 - Half Marathon Registration
Prices Increase In
15 Days
Run Surf City showcases an amazing finisher medal and super soft shirts for all finishers. See the medal you'll earn below – it features a colorful parrot perched on the back of a ships wheel that spins.
While we don't have our final shirt design to show you, it will be just like our soft tri-blend shirts you've loved from previous races with a fun pirate themed design.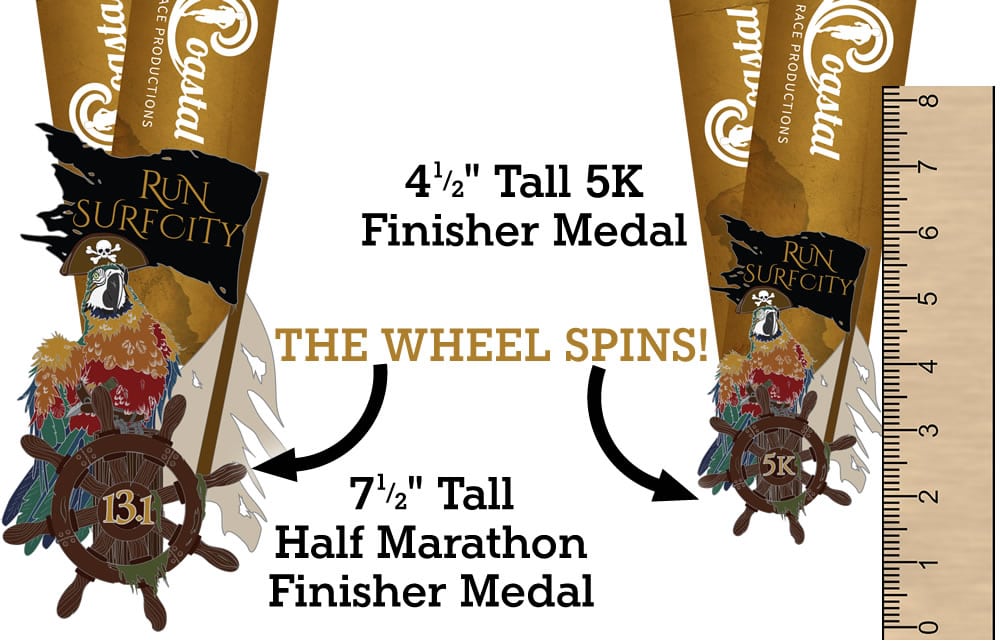 Join us April 27, 2019 for this inaugural race that will take participants over the brand new bridge in Surf City, NC! Race day will include a Half Marathon, 5K and "Mythical Miler" to include the whole family of all ages, paces and skill level. Both the half marathon and 5K are timed and newly certified courses. The start/finish line & afterparty will all be at Soundside Park located at 517 Roland Ave in beautiful Surf City, North Carolina. Click on the tabs to the left for all of the details at this fun event. Once you register, be sure to spread the word with family and friends!
Races start at 7am with the Half Marathon participants. Next up is the 5K starting at 7:15am and the 1 Mile race at 8:30. We will host a big afterparty with food and beverages all morning and the awards ceremony will take place for the races starting at 9am for all distances. We will have age group awards for Male/Female in 5 year increments starting at <10 for the 5K and <19 for the half marathon as well as top 3 overall Male/Female/Masters for the 5K and Half Marathon.
The course will start/finish on the island of Surf City at Soundside Park located at 517 Roland Ave., Surf City, NC. All runners in the half marathon will head over the brand new bridge to the mainland for a short loop and head back over the bridge to get most of their mileage up and down the island. The 5Ker's will be taking a scenic view over the bridge as well and loop back to the same finish line. 1 Milers will be taking a flat closed course on this island for a fun and safe route.
We are in the process of finalizing our routes with the town, DOT and certification processes however we will update you with maps here. If you register before the maps are uploaded, we will be sure to send an email to all pre-registered runners with the maps and certification numbers.
Check back soon!
We will host a packet pickup and fitness expo on Friday April 26th for all runners and spectators to enjoy. We will have many industry vendors and local business sponsors here and runners will be able to pick up their packet (bib & shirt). This will take place at a location to be determined (close to the start/finish line) from 2pm – 8pm on Friday April 26th.
If you sign up prior to information being posted here, we will send you full details prior to race day with all of this information. Please check back for details.
Directions:
Need directions to the Start/Finish Line – Click Here Please use these directions for parking as well. As soon as you come over the bridge, we will have directional volunteers to help you with this.
Accommodations:
There are many great amenities on and around the island. We will be working on a group rate and room block for runners so if you can hold off booking a room, we will update this page as soon as we've secured great deals and places to stay for our runners.
Parking:
There is ample parking around the start/finish line – click here for directions. You will be able to park in grass areas or on the side of the road (just be sure you are parallel to the road and all 4 tires are off the road).
Discounts
Military, Students & Teachers – Yes!
Are you a member of a race club or group – contact us for club discounts.
Use our contact form please – click here
Strollers & Handicap Accessible
Absolutely! All of our races are stroller friendly and handicap accessible. Our races are completely on roads, however you do share some of the roads with controlled traffic.
Register Offline
We really prefer for you to register online if at all possible – it's quick and easy with the link at the top of the page.
Can I walk?
Yes! Our 1 Mile and 5K races have no time limit and our half marathon time limit is 3.5 hours (16 min miles) – plenty of time to walk most of the course if you'd like.
Age Restrictions
We have no age restrictions however we do ask for parent or guardian signatures on all minors under 18 years of age.
Course Support
The half marathon will have 8 different water stops along the 13.1 mile course. All stops have water and an electrolyte drink. There are 2 water stops along the 5K course.
We will have a truck monitoring the route with water and acting as a "SAG" wagon.
Volunteers from are non-profits are assisting on the course for directions, as well as at the finish line and all of the water stops.
Signage is marked on the ground, over 100 directional signs, and a biker will lead both courses.
You're going to LOVE running a Coastal Race Productions event!
Registration Policy
We aim to manage the most runner friendly events. We have flexible refund, deferral, transfer and even virtual race options for you. To read all of our policies, please read here carefully and if you have any additional questions, please don't hesitate to reach out to us.
Ok runners, time to get your butt in gear and conquer this course. It has a steep grade climb right at the beginning X2 but then you're flat the rest of the run. Take it easy getting loose and don't hurt yourself on the bridge. Stride it out as you get back onto the island with the flat run and be sure to use all of the waterstops. Be as encouraging to other runners as you pass them coming back. And we'll be at the finish line congratulating you with others.
Looking for a training plan, a group run at the coast or someone to help tailor a coaching program for you and be your accountability partner in your journey? Jump on over to RunCRP to learn more!
Volunteers are loved by all! We would be thrilled to have you join our race day team. Waterstops, cheer stations, handing out our HUGE medals, amoung many other things. We rely on some key non-profits that we partner with locally but we could always use some extra support. If you're interested in volunteering with us, please use our contact form by clicking here.