Updated 8/12/2021
Please Do Not Ask Us To Make An Exception, it is simply not fair to the other runners.  We have some of the most runner friendly options below.  All organizations need to have guidelines and these are ours – thank you for understanding.
We have a lot of our frequently asked questions listed here but after you've read through them all if you still have a question, don't hesitate to use our contact page.  Keep in mind that each race page will have an faq's section that covers more race specific information.
Here are some quick links to help you find what you're looking for quickly:
We aim to offer the most runner friendly events in the Southeast with quick customer service and allowing runners to manage all aspects of their registration/information online.  We have a very open policy listed below.  For help making changes in your Run Sign Up account, click here for their tutorials.  Details for each option are below but here's a quick guide:
1) Insurance is easy for you to purchase & affordable through a  3rd party during registration.
2) Refunds: We currently have a no refund policy. Please read more below.
3) Event Transfer: (transfer to another distance at same race)$5 processing fee + event difference > 1 day prior to race.
4) Race Transfer: We currently do not allow race transfers from one race to another on a different weekend.
5) Defer: (same distance/event – just next year) $0 > 60 days prior to race < 60 Days – No Deferrals.
6) Bib Exchange: (gift/sell your bib to someone else) $15 anytime
7) Run For FREE:  Volunteering at a race earns you any free race with us – great for injured runners last minute.
*All self managed through your RunSignUp account!
Refund Policy:
We currently do not offer a refund on any of our events.  We have offered this in the past and always strive to offer the most flexible options for our participants but in recent times we cannot purchase any type of insurance to cover us from hurricanes or cancellation due to the global Covid-19 pandemic. Also due to Covid, shipping delays and production timelines have increased causing us to place orders for most things about 3-4 months prior to an event.  These shifts in the current economic climate have forced us to make a temporary change to our refund policy and not allow refunds for future registrations and events.  If an event is cancelled, we will transfer all participants to a "Virtual Race" where we will ship all swag items to your door. We are absolutely the last people who would want to do this, we will put on a safe and fun race if at all possible!
Event Transfer:
If you want to change from one distance to another distance at the same race on the same weekend, we allow you to do this yourself prior to any Coastal Race Productions event.  This cutoff to switch is typically the final week leading up to a race and based upon availability in that event.  You will manage this through your RunSignUp account and there is a $5 RunSignUp processing fee plus the difference in events or shipping.  Need Help?  Click Here for a tutorial on how to edit this.
Half Marathon to 5K = $5 Processing Fee
5K to Half Marathon $30 + $5 Processing Fee
Half Marathon to Virtual Half Marathon = $15 + $5 Processing Fee
5K to Virtual 5K = $10 + $5 Processing Fee
Bib Exchange/Transfer:
You can transfer your bib to another runner prior to a race. You must login to your RunSignUp account and initiate this bib exchange by placing their name and email in.  The recipient will receive an email to accept the bib, pay a $15 processing fee and sign our online waiver.  Whether you gift it to them or they pay you for it on this side is up to you.  Need Help?  Click Here and look for "Transfer to Another Runner" for a tutorial on how to edit this.
Defer To Next Year's Race:
You can defer your registration to next years race (the same distance at the same race/event).  The cutoff is 60 days prior to the event when we purchase all of the swag (Medals, shirts, giveaways, etc..).  You will pay a $15 re-activiation fee and deferrals are only good for one year.  Need Help?  Click Here for a tutorial on how to edit this.  Virtual registrations are not eligable for deferrals.
Transfer To Another Race:
We have temporarily revised our policy on "Race Transfers" from one event to another on a different weekend.  With the ever changing climate around covid-19 which has affected our lead time on goods (now 90-100 days) we are not able to offer the ability to transfer from one race to another on a different weekend.
Insurance Options Offered:
During registration, there is an option for you to purchase insurance on your registration fee.  This includes several items such as injuries, airline issues, car trouble, jury duty, military duty, pregnancy, hurricanes/weather and so much more.  Click Here to see the plan and details – It's a very affordable option!  For Corona Virus information specifically, you can click here to read more about coverage.  ..but you can find out full details and contact them directly by clicking here. This is a 3rd party insurance company and we do not control coverage.  If you have any questions at all concerning this insurance, please contact them direct via the link above.  You may also wish to explore your own 3rd party insurance covering registration fees.
Run For FREE!
..Yes, you read that right.  You can Run for FREE and there are multiple ways to earn a free registration!
1) VOLUNTEER 1 = RUN 1  Volunteers can select to volunteer 1 race for a free future race of choice.  Be sure to select this option when registering for your volunteer position.  After you have fulfilled your volunteer duties you will receive a unique code to register for any future event.
2) REFER OTHER RUNNERS  Share your unique link in your confirmation email and everytime someone registers using that link you will earn $5 back.  There is NO limit so you could actually make money with this option!
3)  FUNDRAISE MILES FOR MEALS  Coastal Race & RunCRP (our sister non-profit) is on a mission to help make Brunswick County a helathier and Happier place.  While we love putting on top notch events for runners that enjoy traveling to the coast, we also want to have a direct impact on our community and it's people.  In 2021 we launched First Strides Brunsco, our county's first beginning walking and/or running program for women.  It was a huge success and 70 women laced up a pair of tennis shoes with the intent to accomplish their first 5K.  Next up – Miles For Meals!  Did you know 95% of students in Brunswick County public schools are food insecure?  We want to help provide them with healthy options.  Please consider making a donation or fundraising for Miles For Meals.  To reward your fundraising efforts if you meet the very low minimum requirements ($250 for any Half Marathon, $150 for the 5K and $100 for the 1 mile distance) you will be refunded the cost of your registration.
Are Strollers Allowed?
Yes, we ask that you start near the back of the corral to avoid tripping or congestion with all the runners. You will still be eligible for age group awards with your chip time that is tracked from the time you cross the start line to the time you finish.
Are Dogs Allowed:
No.  All of our courses are USATF certified and sanctioned and dogs are not allowed for safety reasons.  If you have a 4 legged running companion for medical reasons, you can file a request through the USATF ADA Committee (which takes 4-6 weeks) by clicking here and if they approve, they will provide you documentation that you will then need to provide to us.
Race Bibs:
Race bibs must be worn on the front and be visible at all times for EVERYONE on course.  If anyone is on the course without a bib you will be asked to leave the course.  If you are running with a companion that does not have a bib you will both be asked to leave the course.  No companion bicycles, skooters, golf carts or unregistered runners/walkers allowed. No unregistered and approved pacers are allowed on course and no chaperone unless pre-approved by race directors.
Why? This is strictly prohibited by USATF sanctions and our insurance.  It puts our event at a large risk!
Spectators are welcome at any point on course and welcome to try and "jump" from one point to another to see participants in many places.
Certified Course:
Every Coastal Race Productions event is certified with USATF and measured for accuracy.  If you are hopeful for a state or national record, or looking to qualify for Boston or New York; please give us a heads up so that we're expecting it and can take proper actions to fill out the paperwork needed for your submission.
Race courses certified by USATF are measured by a proven method that incorporates the calibration of measuring devices against a steel tape and are verified by multiple measurements.  Our courses are not "close" – they are exact measurements.  If your GPS watch or phone shows that you ran a little short/long, GPS devices are not exact.  Yyou can see USATF's statement on the use of GPS devices by clicking here. 
Time Limits:
Full Marathon:  7 hours
Half Marathon:  3.5 hours
5K & 1 Mile:  No time limit
Age Restrictions:
We have no age restrictions however we do require parental consent.  Anyone under 18 must have their parent or guardian sign the waiver.
Transgender Policy:
All of our events are certified distances and most are sanctioned with USATF therefore we follow their guidelines.  Click Here to see their policy.
"This policy requires that certain medical benchmarks be achieved before an athlete may compete as the opposite gender for medals, prize money and other benefits. The intent of this policy is to establish competitive eligibility and to help ensure fair competition. The policy also contains safeguards to protect the privacy of any athlete(s) making the request for eligibility."
Change Shirt Size:
You may adjust your shirt size by logging into your RunSignUp account more than 30 days prior to the race.  If you miss the cutoff for this, you will receive the shirt size selected at packet pickup.  At most Expo's we offer a Shirt Exchange table if we have an abundance of sizes.  If we don't have your size you may choose to not wear the shirt and trade it in after the race for another size based on availability.  Need Help?  Click Here for a tutorial on how to edit this.
Do I Have To Run The Entire Series:
No you don't have to run the Entire Series. Our Races are great stand alone events and a great chance to visit the beautiful NC Coast! We offer a series option for the convenience of those who wish to run multiple. This year you can pick anywhere from 1 to 4 and a mixture of distances as well.  The more you sign up for all together the more you save!
How Do I Register For 2, 3 or 4 Of The Races In The BAM Series?
Click on any of the BAM races:  Run Holden Beach, Run Oak Island, Run Sunset Beach & Run Ocean Isle Beach.  From here, click "Registration" on the left and scroll down to the "Bundle & Save" section.  You can select to "Run 2 BAM! Races" to save 5%, select "Run 3 BAM! Races" to save 10% and select "Run 4 BAM! Races" to save 15% anytime!
*Keep in mind you can select a combination of full, half, 5k, 1 mile or virtual events when signing up for a bundle.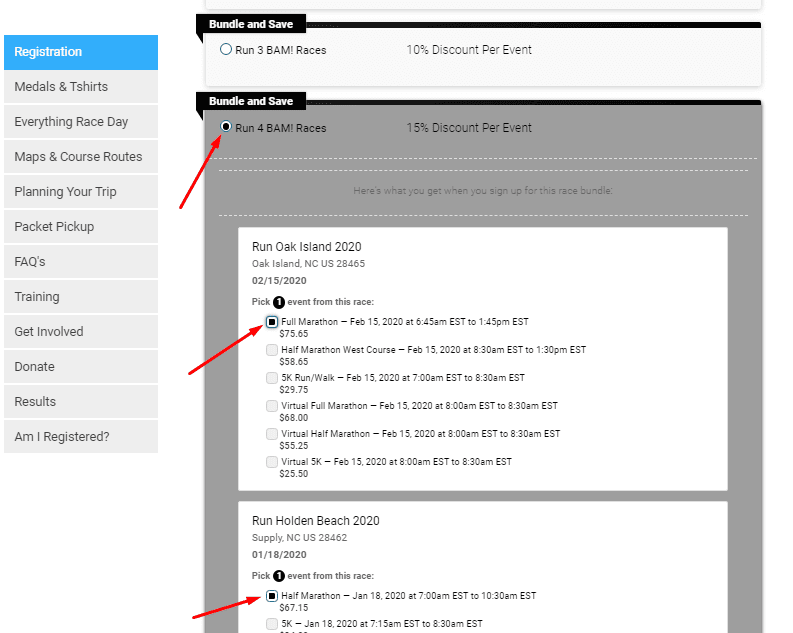 Virtual Options:
Our races include a virtual option.  This is something that you must register for seprately and the following registration policies apply.  
Must be registered for the virtual option in order to receive race packet by mail.

If you are registered to run in a race and cannot attend, all of the above registration policies still  apply to you.  The only way to run a race virtually and receive your packet in the mail is if you are registered under the virtual option.

You may transfer to the virtual option prior to an event.  You will manage this through your personal RunSignUp account and there is a $15.00 processing fee.

Packets will not be available for pick up race weekend.

ALL virtual packets will be mailed within 2 weeks of the race. 

The cutoff to switch to a virtual is typically the final week leading up to a race.

We will only ship packets to those who are actually registered for the virtual option.
*If you decide to come to the race instead of run it virtually.  You must manage this through your RunSignUp account 7 days prior to the event.  You will have to pay the difference in price as well as a $15.00 processing fee but we would love to have you join us!  It's so much more fun to run with friends! 🙂 NO EXCEPTIONS!
Inclement Weather:
All Coastal Race Productions events are rain or shine.  If there is lightening, we will postpone until weather is cleared.  If there is rain, we will do our best to continue the event without a delay.  In the case of a hurricane, we will do our best to accommodate an alternate date for the event as well as offer a virtual run.  No weather related refunds.
Packet Pickup:
Please see the individual race page for race specific packet pickup times and locations but I can assure you we will offer race morning pickup for those driving from out of town.
*Please note:  Anyone on the course without a race bib will be asked to leave the course.  Anyone running with a dog unless you have the required USATF paper work will be asked to leave the course.  Companion riders on bicycles are not allowed and will be asked to leave the course.  These are all due to insurance regulations and are grounds for disqualification – It is for the safety of ALL participants.
Awards:
If you have placed overall or in your age division you must be present to receive your award – we do not ship.
How To Log Time
Here is a 1 minute video tutorial showing how to log your miles on a computer but below are some instructions to help you as well.
1) Click Here to login to your Run Sign Up account.
2) Click Here or navigate to your "Profile"
3) Click "Submit Virtual Results" 


4) Add your activity, date completed, miles, time and any comments and click submit.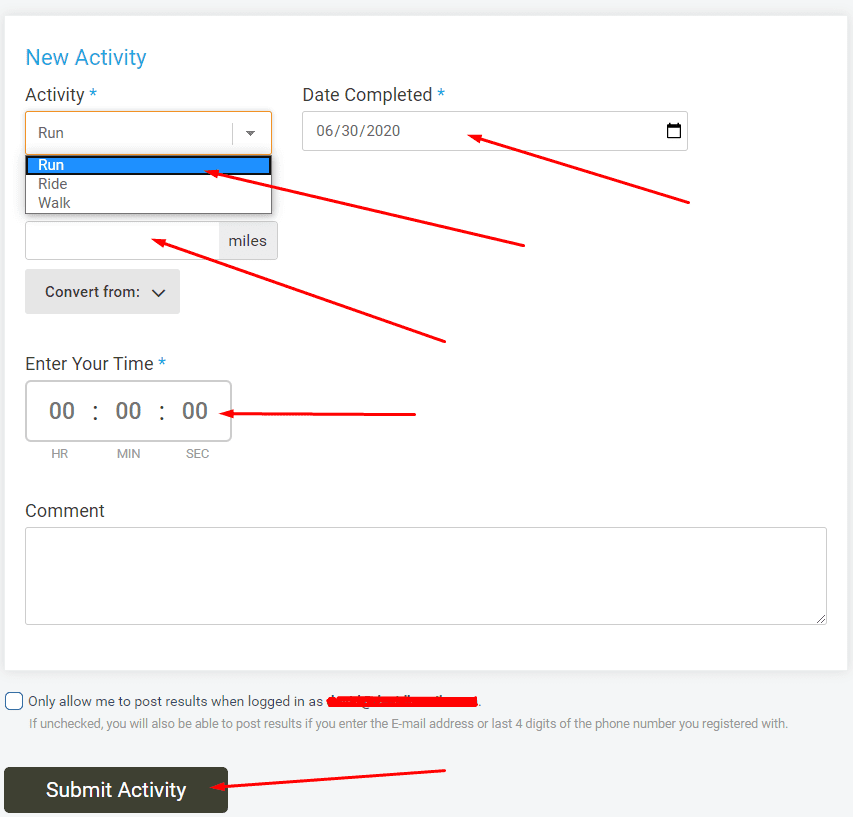 Log Miles on iPhone & Save For Quick Access!
Let's make this as easy as possible for you to add your miles online.  This video below is shot on an iphone and I recommend Safari (only because I know how to add a shortcut on the homescreen with Safari).
How To Join Private Facebook Group
We have private Facebook groups for our virtual challenges only.  You can request to join them AFTER you have registered.  If you have not been approved but you have registered, just shoot us a quick email and we'll jump on it asap.  For the Boone To The Banks Challenge Facebook Group, click here.
How To Refer Friends & Earn Money Back
For every friend you refer (available only on certain races), you'll earn referral rewards and money back.  For example, Boone To The Banks" virtual challengers earn $5 back automatically refunded to the card they have on file for everyone they refer upto the amount that they paid.  To refer and earn, use your referral link which can be found once you login to your RunSignUp account, click here.  If you have any trouble with this at all, don't hesitate to reach out!