All Coastal Race events offer a "Virtual" race option.
By purchasing a virtual race on this page, your virtual packet (Bib, Medal & Giveaway) will be shipped within 1 week of purchase.  This includes Run Holden Beach (1 Mile, 5K & Half Marathon), Run Oak Island (1 Mile, 5K, Half Marathon & Full Marathon), Run Sunset Beach (1 Mile, 5K & Half Marathon) and Run Ocean Isle Beach (1 Mile, 5K & Half Marathon).
NOTE:  If you purchase a "Virtual" race through an individual race page (ie. future race), those are shipped out on or around the date of the actual race.
It's really simple with us.  When you purchase your virtual race with us, you can run anytime/anywhere.  We're going to aim to ship out your packet as soon as possible (keep in mind shipping delays with Covid-19 right now).  You can wait until you get your packet with your bib, or not; it's up to you.
No need to track your time or submit it to us, there are no age group awards or results listed for this.
Run From Your Place.   At Your Pace.   And Stay Safe
We aim to ship out all virtual race packets within 1 week of purchase with the exception of Ocean isle Beach and Series Challenges that include Ocean Isle Beach – these will be shipping out around the middle of May.

You will receive a bib (specific to the Virtual races), Same Race Medal as the event you choose and any other finisher swag given to runners for the event – just as if you showed up to be at the event.  Sorry, we can't ship the beer and bbq or the whole after party to you.
Special Note:  The Hat is the giveaway for Holden Beach, Oak Island and Sunset Beach.  We will be offering a shirt for the Ocean Isle Beach giveaway.
The hats are a really nice "Runner Trucker" style with a laser cut back mesh that is a much softer feel than a typical trucker hat.  These are very nice and runners have absolutely LOVED them so far!
The tshirt is a super soft tri-blend style that comes in unisex sizing.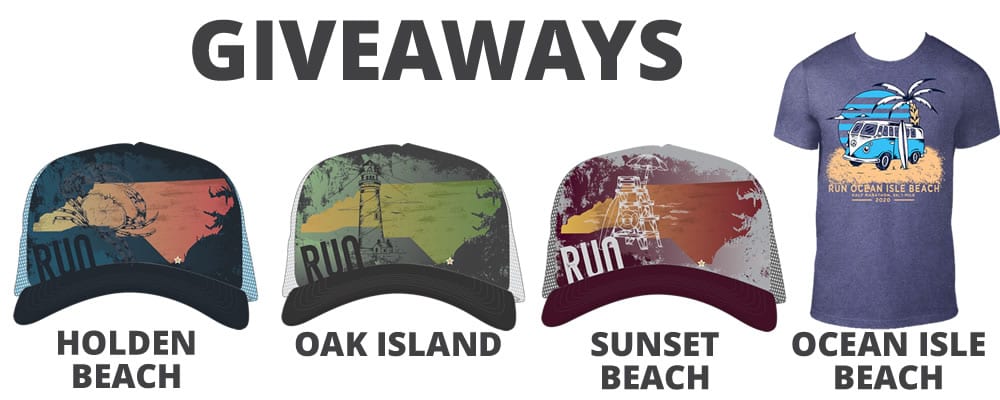 If you've signed up to be at the race but for any reason you can't make it and want to switch or "transfer" your race to a virtual race, yes you can do this.
#1)  It must be done no less than 7 days in advance before the event.
#2)  You must manage this yourself by logging into your RunSignUp account and choosing the "Event Transfer" option and choose the "Virtual" option for your distance and race, keep in mind there will be an online processing fee to make any changes.
Sorry but we will only be mailing these, no exceptions.  We know it seems easier and saves money to just hand it to a family member or friend at a race sometimes, or if you're local to save you and us on shipping – but its easier for us to manage everything all in one place.  It's also easier on our volunteers.  We appreciate you understanding.
Please keep in mind, these are our policies and they may differ from another virtual race company.  We think you will find our options very accommodating to you as a runner and we ask that you please read them carefully.  We are a small company and cannot make any special exceptions
This is something that you must register for separately and the following registration policies apply.  
Must be registered for the virtual option in order to receive race packet by mail.

If you are registered to run in a race and cannot attend, all of the registration policies on our FAQ page still  apply to you.  The only way to run a race virtually and receive your packet in the mail is if you are registered under the virtual option.

You may transfer to the virtual option up to 7 days prior to an event.  You will manage this through your personal RunSignUp account and there is a $15.00 processing fee. CLICK HERE to login.

Packets will not be available for pick up race weekend.  Even if you come to the race for any reason, or send family/friends to pick up your packet, we will not hand out any bibs, shirts, medals, or other swag items for any virtuals during a race weekend.

ALL virtual packets will be mailed within 2 weeks of the race. 

We will only ship packets to those who are actually registered for the virtual option. (Cut off for this is 7days prior to the each event)
*If you decide to come to the race instead of run it virtually.  You must manage this through your RunSignUp account 7 days prior to the event.  You will have to pay the difference in price as well as a $15.00 processing fee but we would love to have you join us!  It's so much more fun to run with friends! 
NO EXCEPTIONS!