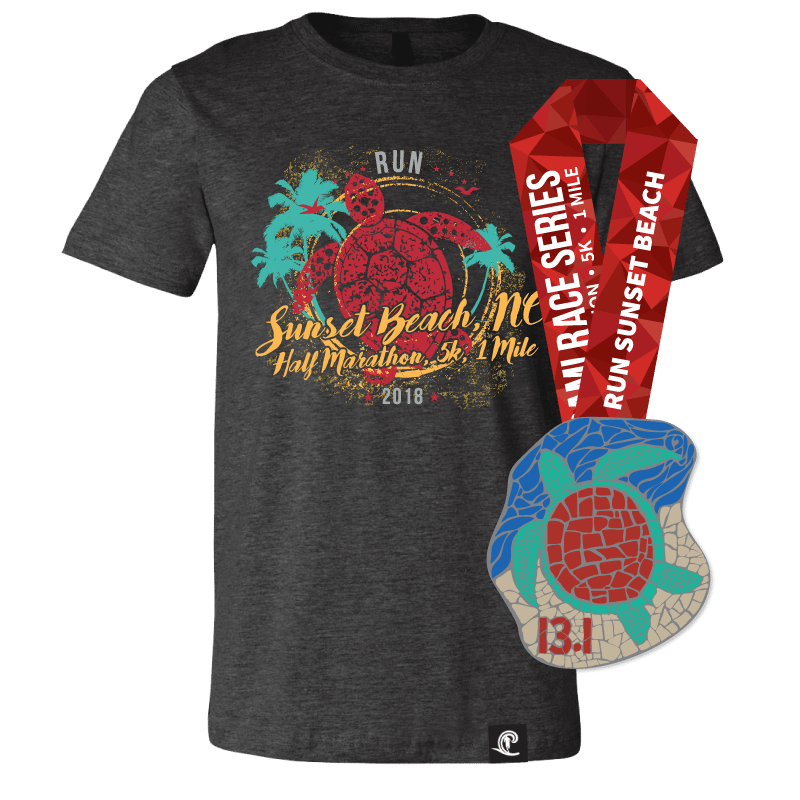 Race Details
Run Sunset Beach takes place in this beautiful island community in southeast North Carolina on May 19th, 2018. Both the 5K and Half Marathon take runners over the intercoastal waterway bridge onto the island and the 1 mile is a completely closed course contained within the park. An after party to remember following a course you won't forget – get registered for Run Sunset Beach!
Arriving
There is almost no parking at the start/finish line so we are providing free shuttles from our designated parking areas. For directions you can use the address: 800 Sunset Blvd. N. Sunset Beach, NC 28468 -or- (click here for directions). We will have 6 shuttles running to take you the 1.5 miles to our start/finish line area that is free for both runners and spectators. Be sure to bring your pre-race hydration of choice and show up a little early – we recommend about 5:30 or 6:00am however packet pickup and checkin opens at 5:30am. Shuttles start as early as 5:15 and will continue all day to get you back to your cars. There is a gear check-in area as well free of charge to runners.
Start Time
The half marathon start at 7:00am sharp so don't be late. The 5K starts at 7:15 – same place as the half marathon in the park. You want to make sure to give yourself plenty of time to get parked and shuttled over before the start of either race.
During Race
Saftey is our #1 priority. While we work with local authorities and DOT to shut down as many roads as possible, a portion of the course is open to vehicles so it's important to be aware. We discourage headphones and no dogs are allowed per USATF sanctioning. Follow our directional signs, volunteers and law enforcement – they know the course and where you need to be running. Use every water stop to stay hydrated on the course and have fun, we'll see you at the finish line!
Post Race
Hang around a while. We'll have the DJ playing your favorite tunes, post race food, beer and games – plus awards for top 3 overall male and female as well as age groups (every 5 years) for both the 5K and Half Marathon male and female runners. Bring a chair if you'd like, signs to cheer on others and enjoy the after party with us!
Important Reminders
No ID = No Beer
Arrive early – you don't want to miss your start
Bring your bib and pre-race hydration
USATF 5K CERT #: NC17011BW
USATF HALF CERT #: NC16036BW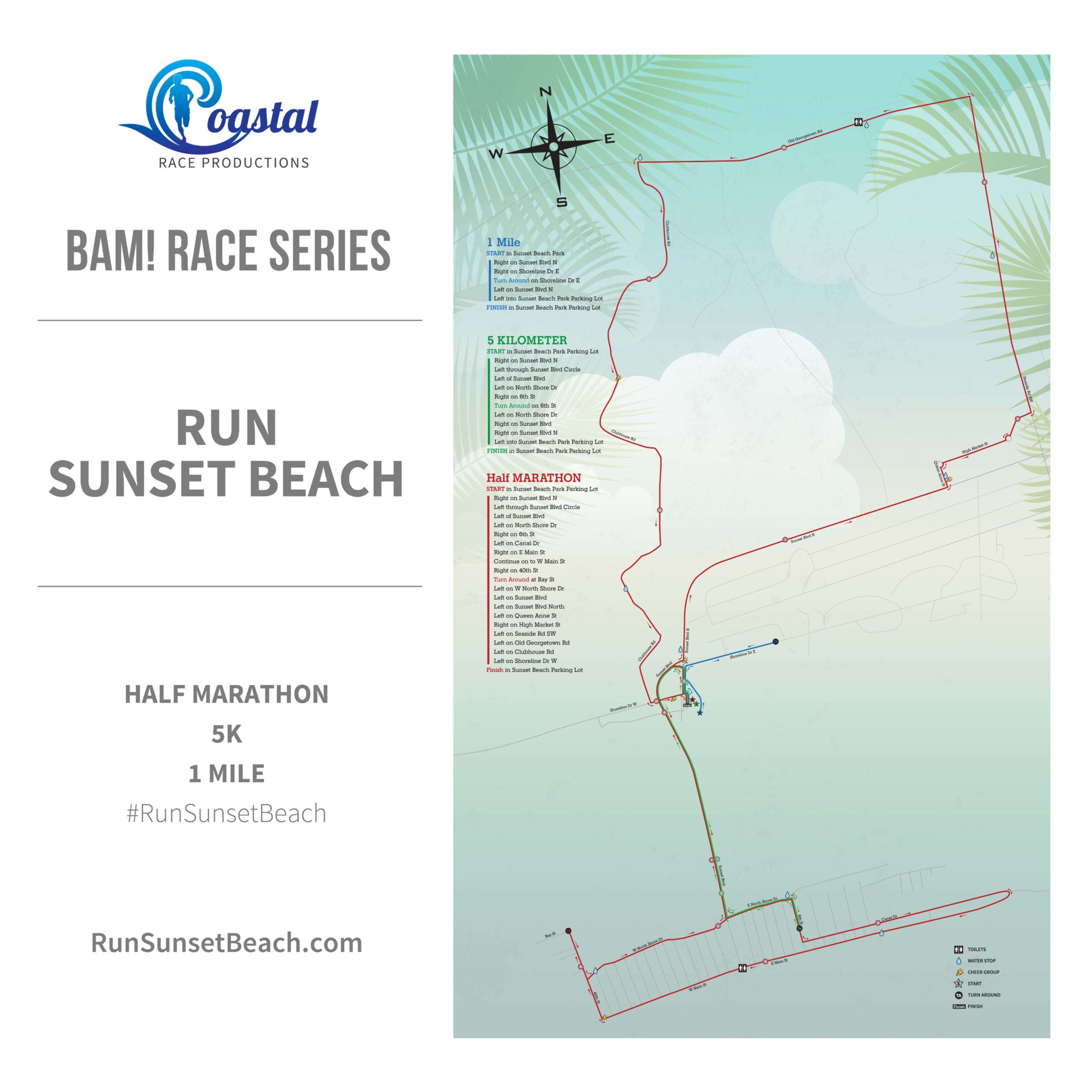 Packet Pickup
Come and enjoy our fitness expo at the beautiful Sea Trail Resort & Conference Center located at 211 Clubhouse Rd, Sunset Beach, NC 28468. This will be held Friday May 18th from 2:00pm to 7:00pm. We will not be able to accomodate early or late pickups on Friday but if your unable to make it we will have your Bib/Shirt available race morning near the start/finish line area. Please give yourself plenty of time for parking and catching the shuttle to the park. Race monring packet pickup will begin at 5:00am and end promptly at 6:30.
Need directions to parking – Click Here
Need direction to the Start/Finish Line – Click Here
Need directions to packet pickup – Click Here (Coming Soon)
Accommodations:
There are many great amenities on and around the island. I would recommend contacting the local chamber of commerce.
I would recommend searching Shallotte Hotels or Ocean Isle Beach Hotels
Days Inn in Shallotte (12 minute drive to parking) has great rates for runners as well. (910) 241-0031
*Please let them know you're coming for the race to get the best rate and complimentary late checkout.
Parking:
Discounts
Military, Students & Teachers – Yes!
Are you a member of a race club or group – contact us for club discounts.
Use our contact form please – click here
Are Strollers Allowed
YES! Strollers are welcome! All strollers must check in race morning at the Information tent and will have a seperate start. (Children in strollers will not receive any additional race swag.)
Register Offline
We really prefer for you to register online if at all possible – it's quick and easy with the link at the top of the page.
Can I walk?
Yes! Our 1 Mile and 5K races have no time limit and our half marathon time limit is 3.5 hours (16 min miles) – plenty of time to walk most of the course if you'd like.
Age Restrictions
We have no age restrictions however we do ask for parent or guardian signatures on all minors under 18 years of age.
Course Support
The half marathon will have 8 different water stops along the 13.1 mile course. All stops have water and an electrolyte drink (Either Gatorade or Gnarly Nutrition which is also a drink). There are 2 water stops along the 5K course.
We will have a truck monitoring the route with water and acting as a "SAG" wagon.
Signage is marked on the ground, over 100 directional signs, and a biker will lead both courses.
You're going to LOVE running a Coastal Race Productions event!
Registration Policy
We have a No Refund policy and any changes to registrations must be made at least 30 days prior to race date.
Ok runners, time to get your butt in gear and conquer this course. It has a steep grade climb right at the beginning, then again at mile 5 but then you're flat the rest of the run. Take it easy getting loose and don't hurt yourself on the bridge. Stride it out and be sure to use all of the waterstops. We'll be at the finish line congratulating you with others.
Looking for a training plan, a group run at the coast or someone to help tailor a coaching program for you and be your accountability partner in your journey? Jump on over to RunCRP to learn more!
Volunteers are loved by all! We would be thrilled to have you join our race day team. Waterstops, cheer stations, handing out our HUGE medals, amoung many other things. We rely on some key non-profits that we partner with locally but we could always use some extra support. If you're interested in volunteering with us, please use our contact form by clicking here.
You can donate during registration or you can do so here – it's very much appreciated by our amazing friends and volunteers at the local Turtle Patrol.
Half Marathon Course Records:
Mens – William Oliver 1:23:30 (2015)
Womens – Haley Beann 1:31:14 (2015)
5K Course Records:
Mens – Ryan Phelan 18:28 (2017)
Womens – Shannon Smith 21:51 (2017)