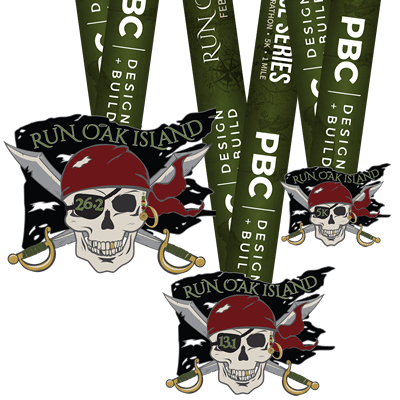 Run Oak Island 2019
$40 - 5K Registration
$75 - Half Marathon Registration
$95 - Full Marathon Registration
Prices Increase In
25 Days
New for 2019 are Virtual Races! If you are choosing to run virtually, please read all of the notes about virtual events before signing up – and yes, you can sign up for multiple virtual events and earn the medals if you'd like.
Arriving
Parking is located around the start/finish line.  For directions you can use the address:  4602 E. Dolphin Dr. Oak Island, NC 28465 -or- (click here for directions).  Be sure to bring your pre-race hydration of choice and show up a little early – we recommend about 60 minutes prior to your start time however packet pickup and checkin opens at 5:00am.
Parking:
Parking will be near the start/finish line.  It is ok to park on the side of the road as long as all 4 tires are off of the road.
Start Time
The full marathon starts at 6:30am, half marathon start at 7:00am and the 5K starts at 7:15 sharp so don't be late.  All of the events start and finish at the same place on Dolphin Dr. in front of Middleton Park. You want to make sure to give yourself plenty of time to get parked and warmed up.
During Race
Saftey is our #1 priority.  While we work with local authorities and DOT to shut down as many roads as possible, a portion of the course is open to vehicles so it's important to be aware.  We discourage headphones and no dogs are allowed per USATF sanctioning.  Follow our directional signs, volunteers and law enforcement – they know the course and where you need to be running.  Use every water stop to stay hydrated on the course and have fun, we'll see you at the finish line!
Post Race
Hang around a while.  We'll have the DJ playing your favorite tunes, post race food, beer and games – plus awards for top 3 overall male and female as well as age groups (every 5 years) for both the 5K and Half Marathon male and female runners.  Bring a chair if you'd like, signs to cheer on others and enjoy the after party with us!
Important Reminders
No ID = No Beer
Arrive early – you don't want to miss your start
Bring your bib and pre-race hydration
WHEN:
From 2-7pm on Friday February 15th.  We STRONGLY urge you to show up during this time on Friday if at all possible.  If you absolutely cannot make it during this time, we will allow packets to be picked up the morning of the race by our start/finish line but please show up extra early!  Packet pickup will close at 6:15am for ALL races on Saturday morning 2/17.
WHERE:
On Friday, our expo and packet pickup will be located at the Oak Island Parks and Recreation Center located at 3003 E Oak Island Dr, Oak Island, NC 28465 Click Here for directions.  We will have several vendors here and you'll be able to pickup your bib and tshirt.  We will be taking late registration for any events that are not sold out.
On Saturday morning until 6:15 SHARP, we will allow for late packet pickup by the start/finish line.  We may have registration available for events that are not sold out.
Need direction to parking & Start/Finish Line – Click Here
Need directions to packet pickup  – Click Here
Accommodations:
There are many great accommodations on and around the island. I would recommend contacting the local chamber of commerce.
Holiday Inn Express & Suites has a special rate for race participants.  When making your reservation you will need the following:  Group Name – Run Oak Island 2018   Group Code – ROI
Discounts
Military, Students & Teachers – Yes!
Are you a member of a race club or group – contact us for club discounts.
Use our contact form please – click here
Strollers & Handicap Accessible
Due to USATF sanctioning and insurance, jogging strollers are not allowed on course.  We are a handicap accessible course, however, we do not have any special divisions in awards for this.
Register Offline
We really prefer for you to register online if at all possible – it's quick and easy with the link at the top of the page.
Can I walk?
Yes! Our 1 Mile and 5K races have no time limit and our half marathon time limit is 3.5 hours and 7 hours for the full marathon (16 min miles) – plenty of time to walk most of the course if you'd like.
Age Restrictions
We have no age restrictions however we do ask for parent or guardian signatures on all minors under 18 years of age.
Course Support
The half marathon will have 8 different water stops along the 13.1 mile course. All stops have water and an electrolyte drink Gatorade. There are 2 water stops along the 5K course.
We will have a truck monitoring the route with water and acting as a "SAG" wagon.
Signage is marked on the ground, over 100 directional signs, and a biker will lead both courses.
You're going to LOVE running a Coastal Race Productions event!
Registration Policy
Please visit our General FAQ's page for our policy regarding and changes to your registration.
*Please note:  Anyone on the course without a race bib will be asked to leave the course.  Anyone running with a dog unless you have the required USATF paper work will be asked to leave the course.  Companion riders on bicycles are not allowed and will be asked to leave the course.  These are all due to insurance regulations and are grounds for disqualification – It is for the safety of ALL participants.
Ok runners, time to get your butt in gear and conquer this course.  It has a steep grade climb right at the beginning X2 but then you're flat the rest of the run.  Take it easy getting loose and don't hurt yourself on the bridge.  Stride it out as you get back onto the island with the flat run and be sure to use all of the waterstops.  Be as encouraging to other runners as you pass them coming back.  And we'll be at the finish line congratulating you with others.
Looking for a training plan, a group run at the coast or someone to help tailor a coaching program for you and be your accountability partner in your journey?  Jump on over to RunCRP to learn more!
Volunteers are loved by all!  We would be thrilled to have you join our race day team.  Waterstops, cheer stations, handing out our HUGE medals, amoung many other things.  We rely on some key non-profits that we partner with locally but we could always use some extra support.  If you're interested in volunteering with us, please use our contact form by clicking here.
Results for previous Run Oak Island events as well as current Run Oak Island Results and Course Records are listed below.
Full Marathon Course Record:
Male:  Brian Zickefoose  2:28:28 (2017)
Female:  Sarah Holden  3:34:44 (2018)
Half Marathon Course Record:
Male:  Tristan Obluck  1:19:31 (2018)
Female:  Jennifer Parks  1:30:19 (2018)
5K Course Record:
Male:  Ben Szatanek  20:24 (2018)
Female:  Rachel Rice  20:40 (2018)