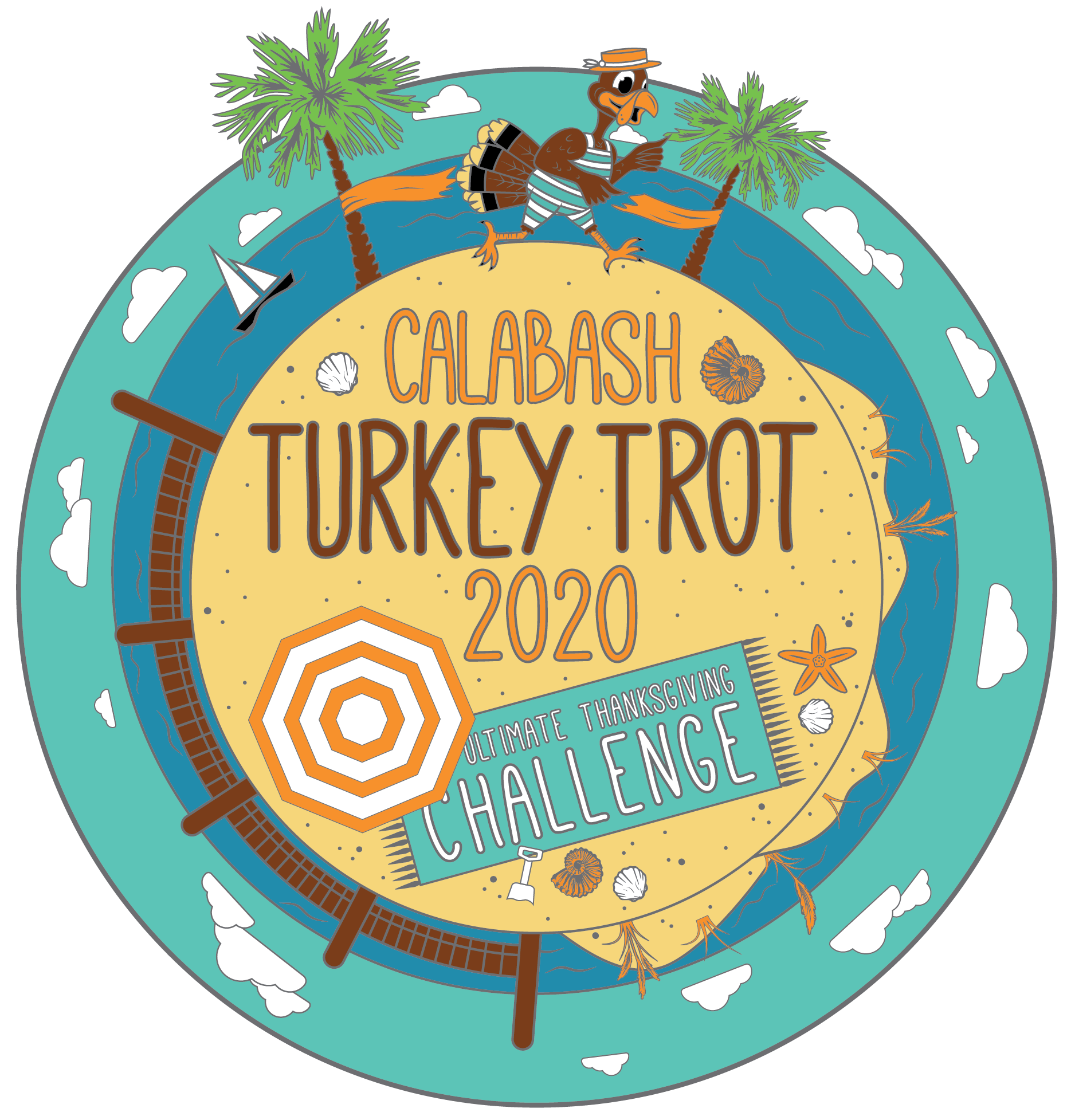 Calabash Turkey Trot
$15 - 1 Mile Registration
$23 - 5K Registration
$33 - 10K Registration
Prices Increase In
7 Days
Best Tu

rkey Trot At The Beach
With All New Family Friendly Pricing
We are proud to announce Family Friendly pricing for the Calabash Turkey Trot with an all new "A La Cart" race menu. All race registrations will include a beautifully designed finisher medal and yes we have a different design for each distance. During the registration process you will have the option to add-on some great additional race swag, it is not required, but this allows us to lower the actual registration fee as we strive to make this the most Family Friendly Turkey Trot at the Beach! We can't wait for you ALL to join us!
Sorry, you must enable javascript to view this content from https://runsignup.com/.
Check out the new finisher medals for 2019.  They increase in size from 3" to 6" and new this year is the #UltimateFeastChallenge medal.  If you run all three races starting with the 10K at 7am, the 5K at 8:30 and the 1 Mile at 9:15; you'll earn the 4th challenge medal that's 6" tall and spins.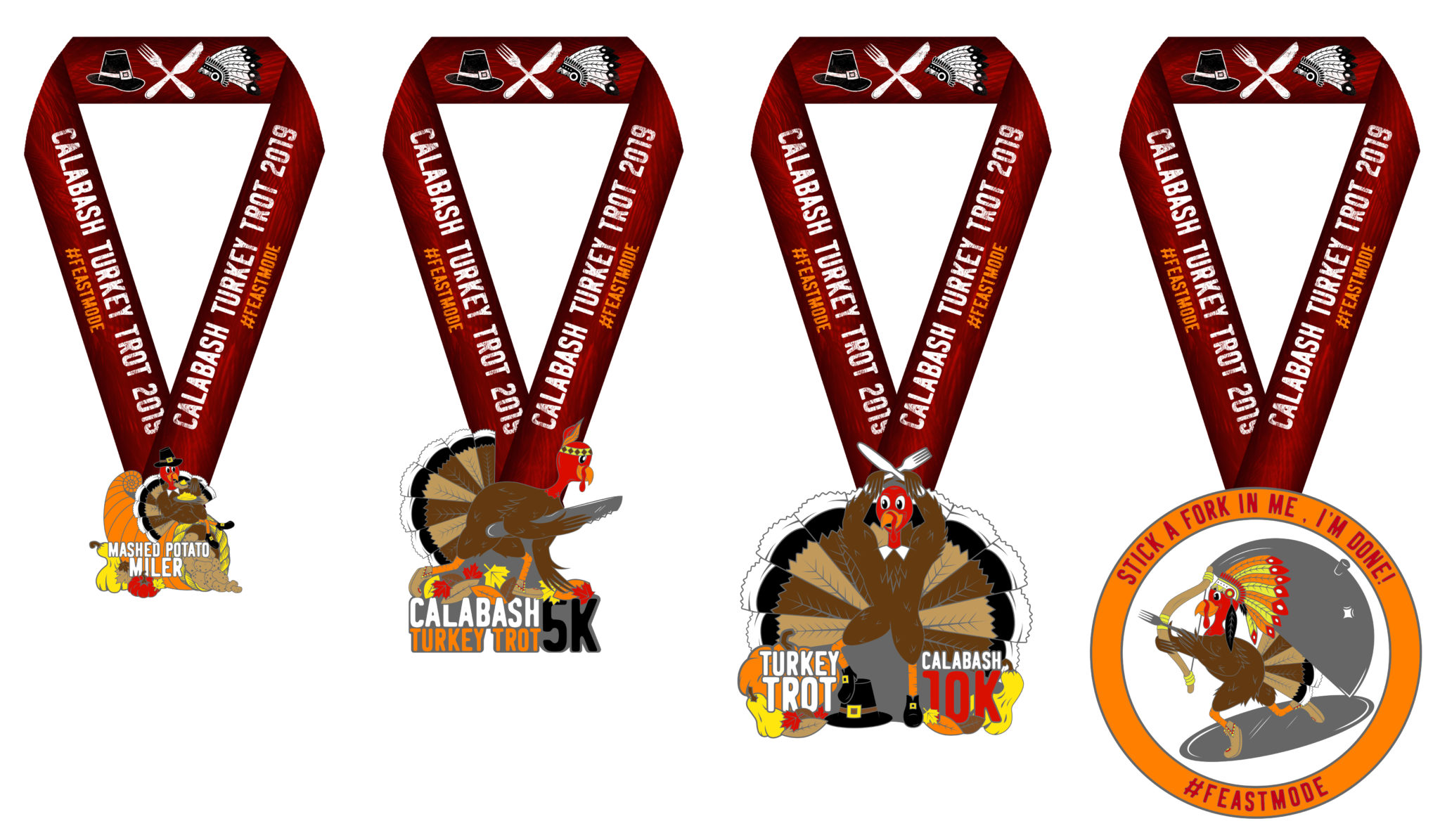 Registration is now open for the 6th Annual Calabash Turkey Trot which is Thanksgiving Day, November 26, 2020.  Offering a 10K, 5K, Mashed Potato Miler PLUS the ability to run ALL three which we call the Ultimate Thanksgiving Challenge!
Prize Categories include: (Trophies)
Top 3 Overall Female/Male

Top 3 Masters Female/Male

Every 5 Year Age Groups 1st, 2nd and 3rd

Plus BEST COSTUME
Race Morning Schedule:
10K Start - 7:00 am

5K Start - 8:30 am

1 Mile Start - 9:15 am

ALL Awards are at 9:45am (must be present to receive an award - these will not be shipped)
Serving Pumpkin Pie and Coffee at the finish line you can't ask for a better way to start out your Thanksgiving Day! 
ABOUT THE ROUTE:
1. Flat and fast!
2. This will be a closed course on the main road (Beach Dr.) and partially open on back roads.  We will have officers, traffic control and volunteers all over the course to keep you safe.
3. Start will be on River Rd and the Finish on Oak St. 
Printable PDF Maps:  1 Mile  -  5K  -  10K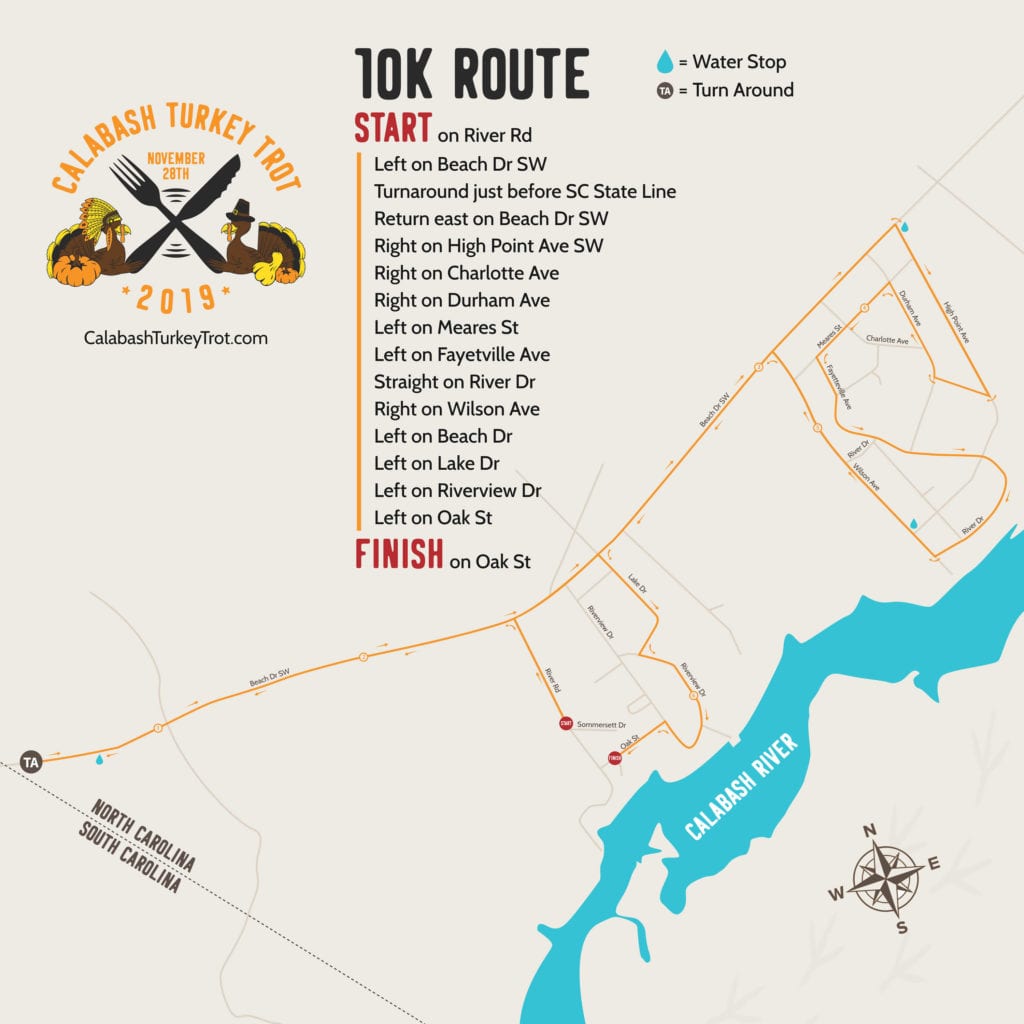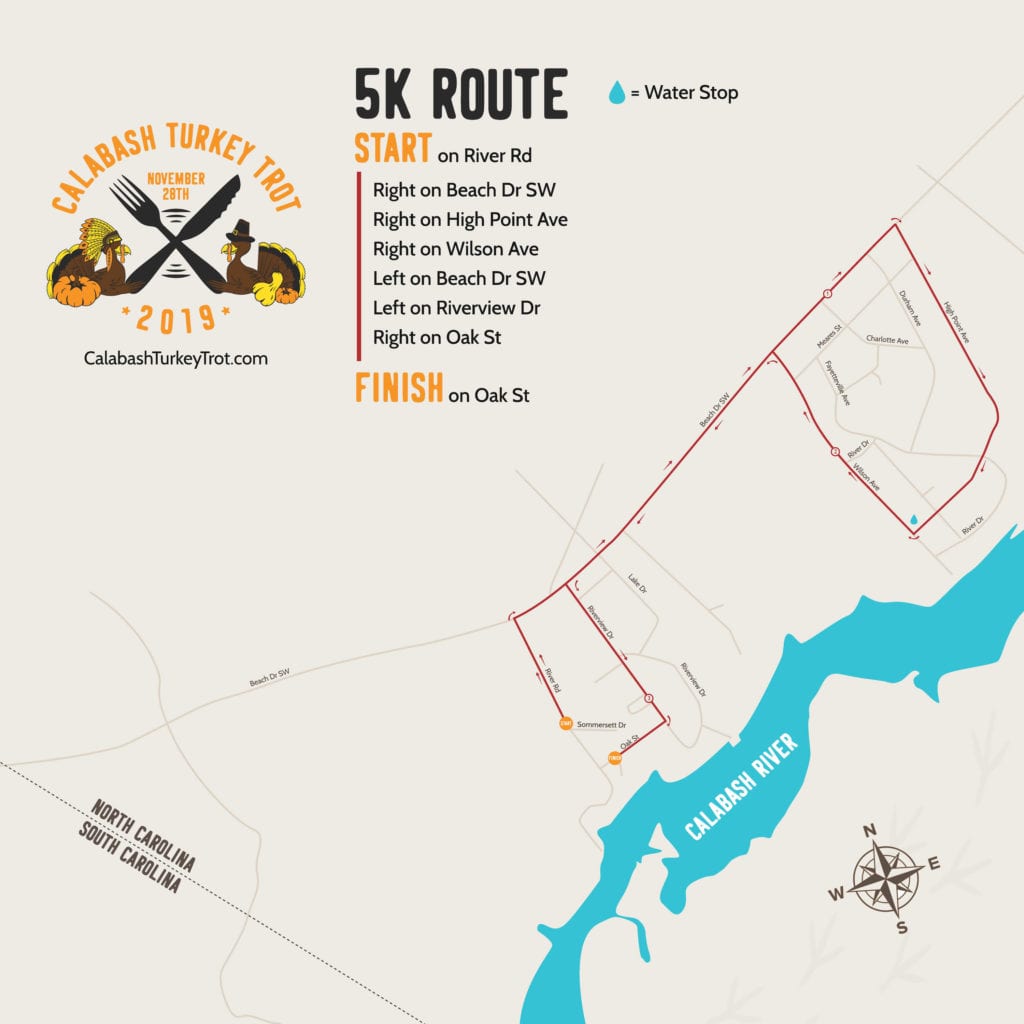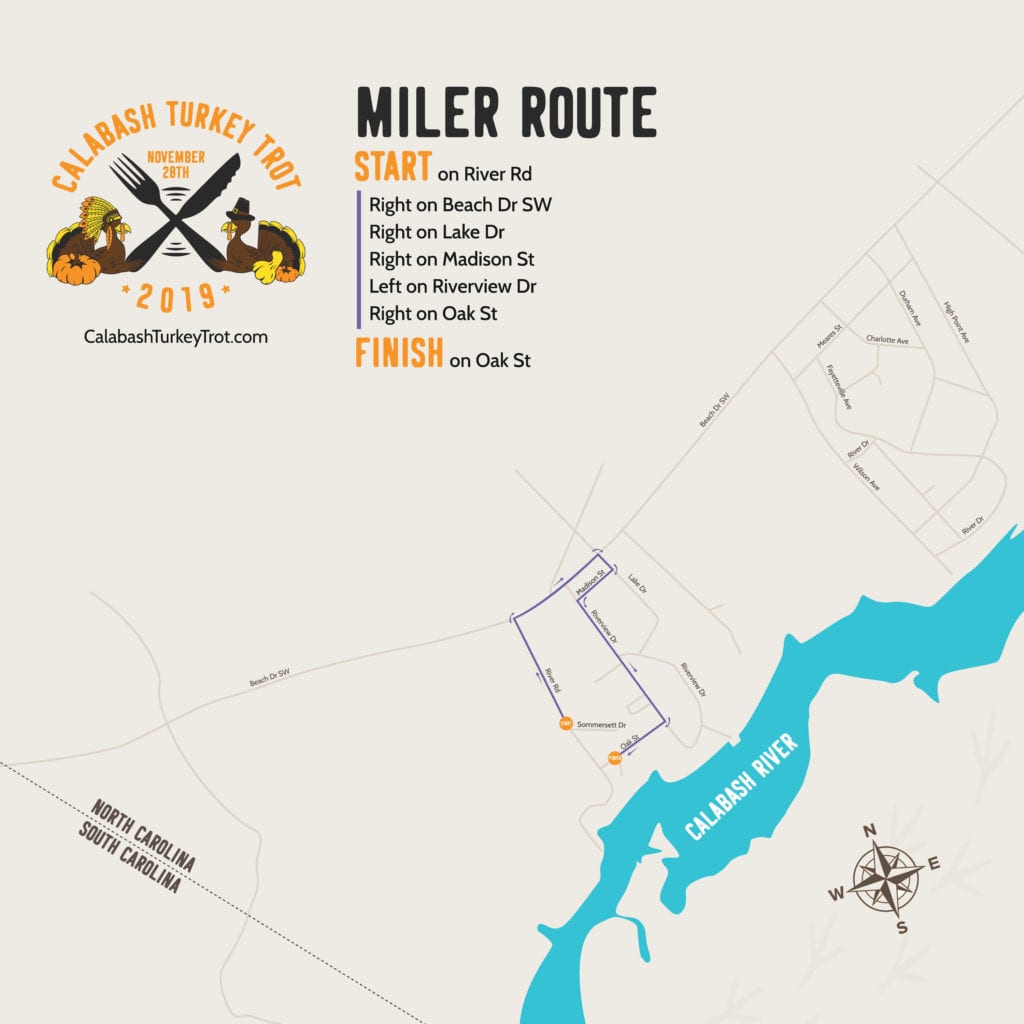 Packet Pickup will be on Wednesday 11/25 from 3pm - 7pm at the Elks Lodge in Calabash, NC.  CLICK HERE or use the address:  937 Carter Dr SW, Calabash, NC 28467)  Please come pickup your packet on Wednesday if at all possible.  For those who absolutely cannot come on Wednesday we will have limited availablitly at the Start/Finish Line area on River Rd.
Parking:
We are working hard to secure extra parking for this years event!  Please check back soon for updated information.
Discounts
Military, Students & Teachers – Yes!
Are you a member of a race club or group – contact us for club discounts.
Use our contact form please – click here
Strollers & Handicap Accessible
Absolutely! All of our races are stroller friendly and handicap accessible. We offer a special start for offical racing chariots and we ask all other strollers to start in the very back.  Our races are completely on roads, however you do share some of the roads with controlled traffic.
Register Offline
We really prefer for you to register online if at all possible – it's quick and easy with the link at the top of the page.
Can I walk?
Yes! Our 1 Mile and 5K races have no time limit and our 10K time limit is 1 hour and 45 minutes (16 min miles) – plenty of time to walk most of the course if you'd like.
Can I register for more than 1 race at the Turkey Trot?
Yes!  When you click on "Register" you will notice that you can sign up for all three races if you'd like and earn all of the medals!
Age Restrictions
We have no age restrictions however we do ask for parent or guardian signatures on all minors under 18 years of age.
Course Support
There are 2 water stops along the 10K course and 1 along the 5K course.  We will have a truck monitoring the route with water and acting as a "SAG" wagon.  We will have many volunteers along the course to help with directions as well as waterstop support from a local non-profit we support.  Signage is marked on the ground, directional signs on the side of the road, overhead signs and a biker will lead both courses.  You're going to LOVE running a Coastal Race Productions event!
Registration Policy
Please visit our General FAQ page and read about all of our registration policies. 
Ok runners, time to get your butt in gear and conquer this course. If you're looking for a training plan, a group run at the coast or someone to help tailor a coaching program for you and be your accountability partner in your journey?  Jump on over to RunCRP to learn more!
Volunteers are loved by all!  We would be thrilled to have you join our race day team.  Waterstops, cheer stations, handing out our HUGE medals, amoung many other things.  We rely on some key non-profits that we partner with locally but we could always use some extra support.  If you're interested in volunteering with us, please Register Here online.
Calabash Turkey Trot Records:
10K:
Male:  Benjamin Kassel  34:09  (2019)
Female:  Anna Armfield  40:48  (2019)
5K:
Male:  Grayson Jenkins  16:48  (2017)
Female:  Annie Zeberkiewicz  18:55  (2019)