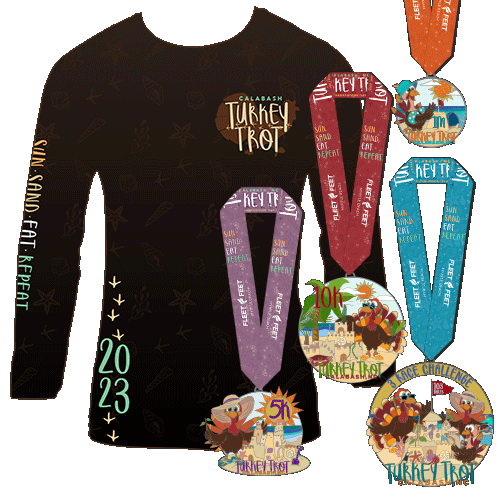 ONLY THE BEST SWAG FOR YOUR FAVORITE TURKEY TROT IN CALABASH
All finishers for this in-person (and virtual) race receive amazing medals. Participants can join us for a 10K, 5K, 1 Mile -or- choose to run all 3 in the challenge to earn each race medal PLUS a bonus spinning challenge medal!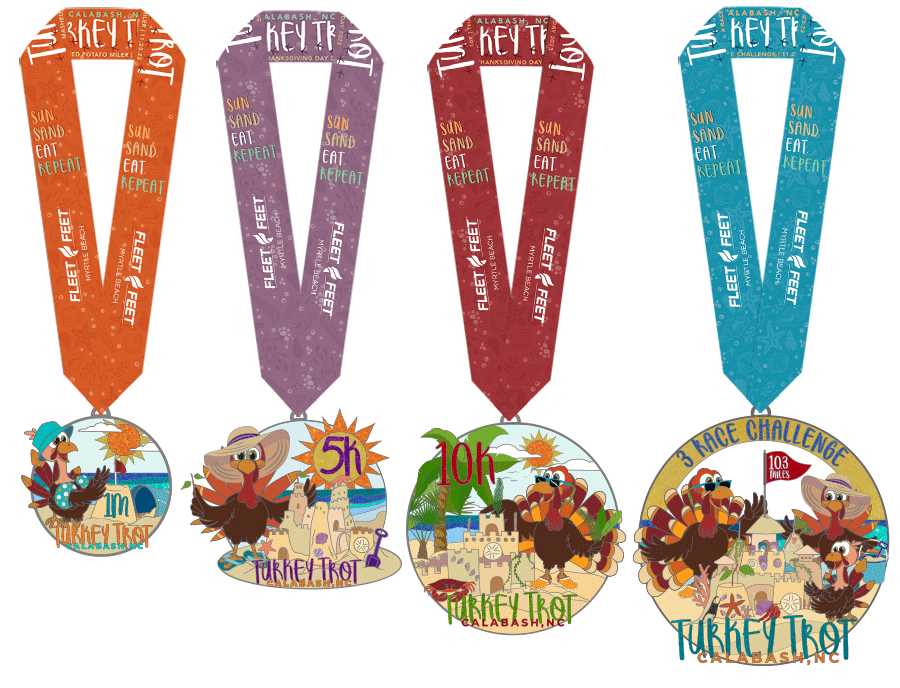 Below is the participant shirt for everyone in the 5K, 10K & Challenge. We try to keep the one mile as affordable as possible so we've kept the price low and made the shirt optional at a 50% discount if you'd like to add this on for only $10.
If you're not running but want the tshirt (or if you are running and just want another shirt), these can be purchased in the online store HERE.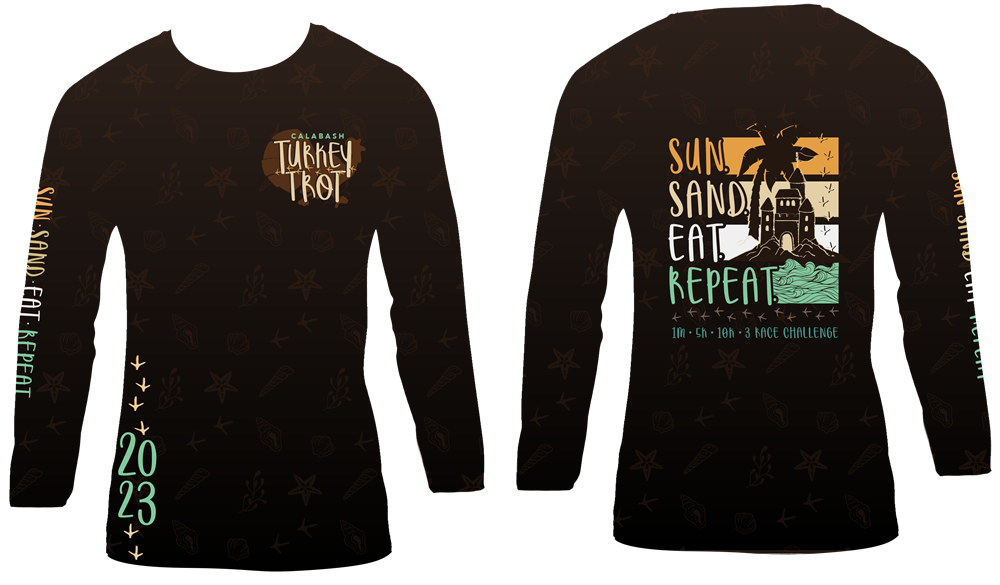 If you register for the 3 race challenge, you would start the morning with a 10K, then run the 5K followed by a 1 mile. After you complete all 3 races, you'll collect all of your finisher medals AND this challenger medal below for a total of 4 beautiful medals all in one morning!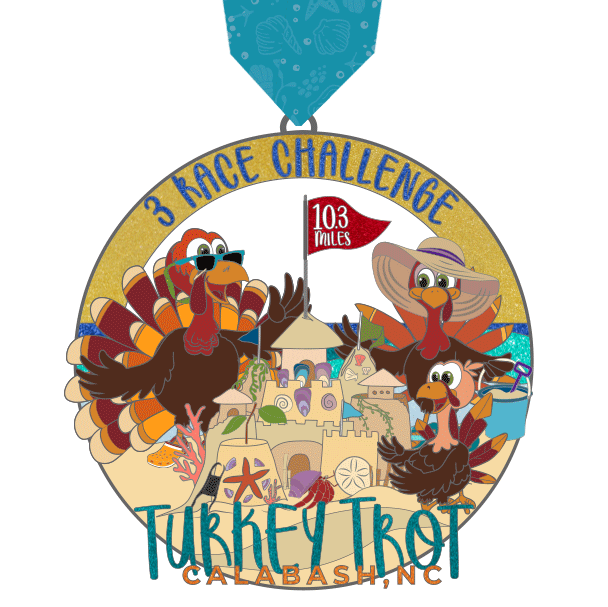 Thursday 11/23/2023
7:00 am – 10K Start
8:30 am – 5K Start
9:15 am – 1 Mile Start
We will have pumpkin pie, awards and a fun time near the Calabash waterfront all morning long. So plan to stay a while watching finishers and hang around for the awards ceremony.
Registration is open for the Calabash Turkey Trot on Thanksgiving morning.  Click Here To Register!
CLICK HERE FOR PRINTABLE PDF MAP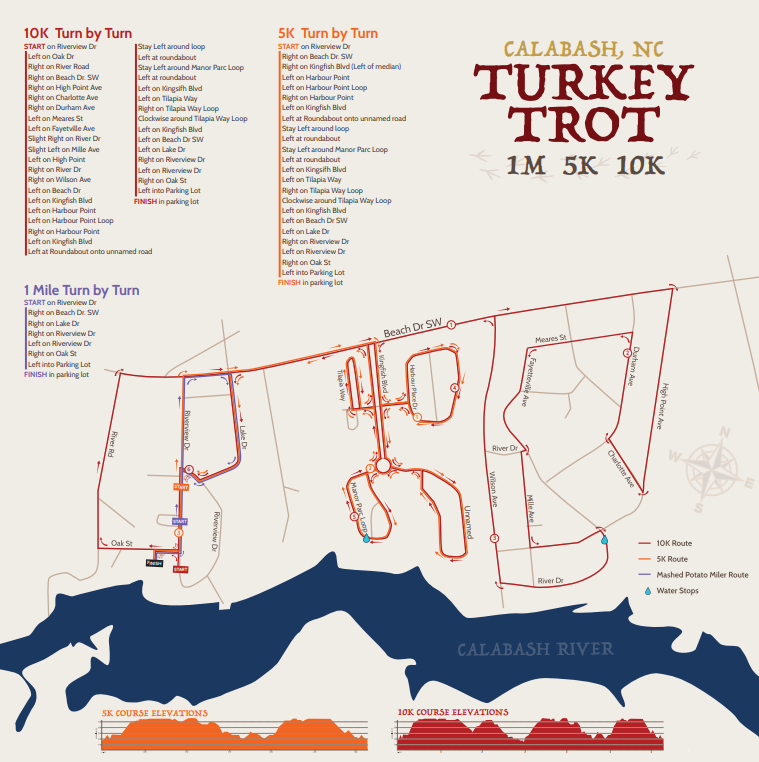 We LOVE volunteers – and so do the participants! If you're not participating in the events, this is a great way to get involved and still really enjoy the morning races without putting in the miles.
#1) All volunteers earn a race shirt!
#2a) When you register, select a local group and we'll make a monetary donation for you donating your time at the race.
#2b) In Lieu of a donation, you can also select to earn a free race by volunteering!
Registration is open for the Calabash Turkey Trot on Thanksgiving morning.  Click Here To Register!
Packet Pickup: 
Wednesday November 22nd 2:00 – 7:00pm

Calabash Elks Lodge

937 Carter Dr SWCalabash, NC 28467
Registration is open for the Calabash Turkey Trot on Thanksgiving morning.  Click Here To Register!
We have several FAQ's listed here.  If you don't find your answers here, we have a more in-depth FAQ page here on our website that applies to all races.
Timing/Mats:
 We partner with a professional Timing Company that will provide accurate results.  
Certified Course:
Every Coastal Race Productions event is certified with USATF and measured for accuracy.  If you are hopeful for a state or national record, please give us a heads up so that we're expecting it and can take proper actions to fill out the paperwork needed for your submission.  Our full marathon (at Oak Island) is also a Boston Marathon qualifier.
Discounts:
Military, Students & Teachers – Yes!
Are you a member of a race club or group – contact us for club discounts.
Use our contact form  – click here
Are Dogs Allowed:
No.  All of our courses are USATF certified and sanctioned and dogs are not allowed for safety reasons.  If you have a 4 legged running companion for medical reasons, you can file a request through the USATF ADA Committee (which takes 4-6 weeks) by clicking here and if they approve, they will provide you documentation that you will then need to provide to us.  Here is a direct link to the form you'll need to fill out.
Register Offline:
We really prefer for you to register online if at all possible – it's quick and easy with the link at the top of the page.
Can I walk:
Yes! The 10K must be completed in 1.5 hourse, the 5K in 1 hour and the 1Mile in approximately 40 minutes.  this allows for plenty of time to walk but please note if you are registered for the challenge you must complete the distance before the other one starts.  In other words there will be NO late starts.
Age Restrictions:
We have no age restrictions however we do ask for parent or guardian signatures on all minors under 18 years of age.
Course Support:
Photos:
We do provide race day photos and our awesome photographer tries to get some of everyone!  If you see her please thank her for all of the awesome FREE photos to enjoy!  These will all be uploaded to our Facebook page please feel free to tag yourself and share with your friends and family.
Registration Policy:
We currently do not allow for refunds on our events.  You may read more about this on our FAQ page.
Event Transfer:
If you want to change from one distance to another distance at the same race on the same weekend, we allow you to do this yourself prior to any Coastal Race Productions event.  This cutoff to switch is typically the final week leading up to a race and based upon availability in that event.  You will manage this through your RunSignUp account and there is a $15 processing fee.  Need Help?  Click Here for a tutorial on how to edit this. 
Bib Exchange/Transfer:
You can transfer your bib to another runner prior to a race. You must login to your RunSignUp account and initiate this bib exchange by placing their name and email in.  The recipient will receive an email to accept the bib, pay a $15 processing fee and sign our online waiver.  Whether you gift it to them or they pay you for it on this side is up to you.  Need Help?  Click Here and look for "Transfer to Another Runner" for a tutorial on how to edit this.
General FAQ'S:
Visit our General FAQ's page for answer's to all of your questions regarding Coastal Race Events.
*Please note:  Anyone on the course without a race bib will be asked to leave the course.  Anyone running with a dog unless you have the required USATF paper work will be asked to leave the course.  Companion riders on bicycles are not allowed and will be asked to leave the course.  These are all due to insurance regulations and are grounds for disqualification – It is for the safety of ALL participants.
Registration is open for the Calabash Turkey Trot on Thanksgiving morning.  Click Here To Register!
Results are hosted through our registration platform (Run Sign Up).  Click the link above to see the results.
The early bird gets the….SAVINGS! We have the lowest prices for our Turkey Trot at the beginning so don't wait to register!
Register for each event individually. Register for the challenge and automictically be entered in all 3 events!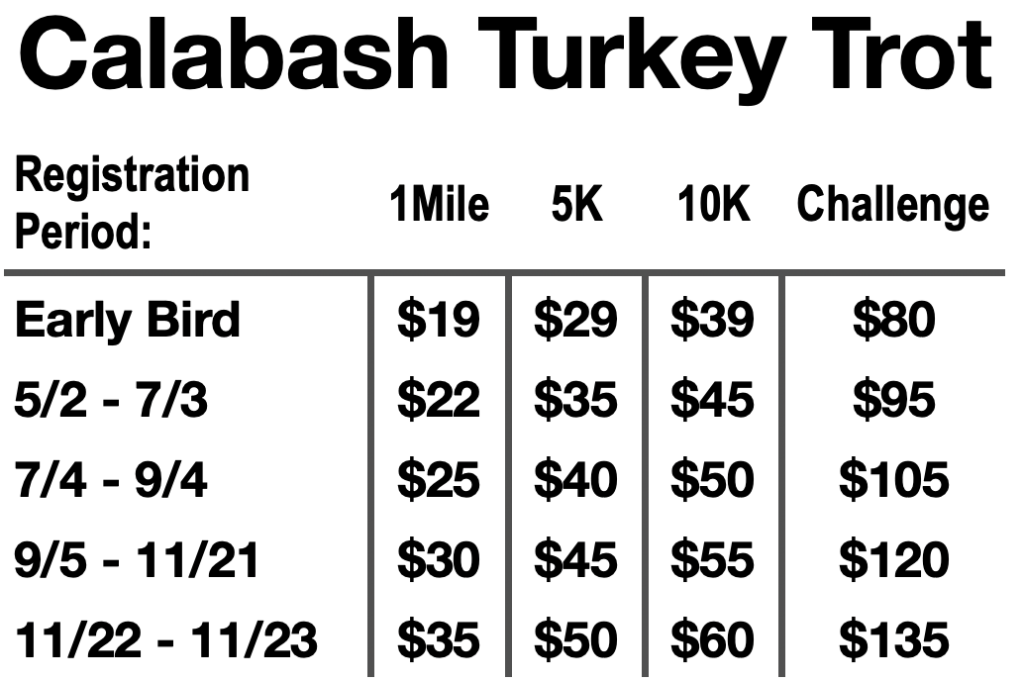 The Biggest & Best Turkey Trot On The Grand Strand!