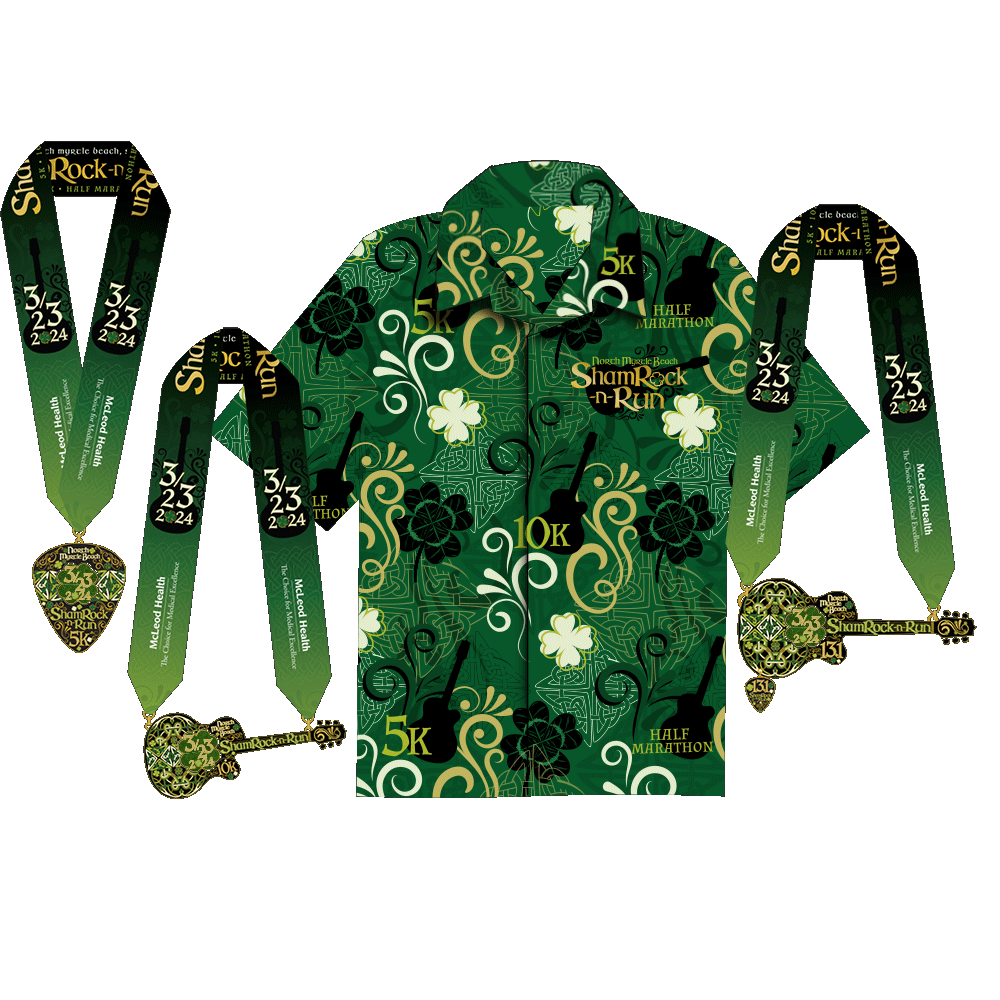 2024 ShamROCK N' Run Half Marathon, 10K, 5K
$45 - 5K Registration
$55 - 10K Registration
$79 - Half Marathon Registration
Prices Increase In
86 Days

MASSIVE SPINNING MEDALS & HAWAIIAN STYLE SHIRT!
The rock n' roll theme shows through in these medals and shirts. We've got a unique button down tech fabric shirt for all participants in the race unlike any other shirt you've received from a race – you're going to LOVE it! The medals include a 4″ guitar pic with a spinning 4-Leaf clover for the 5K, a 7″ guitar for the 10K & a whopping 9″ wide Half Marathon Medal with a dangling pic on the side.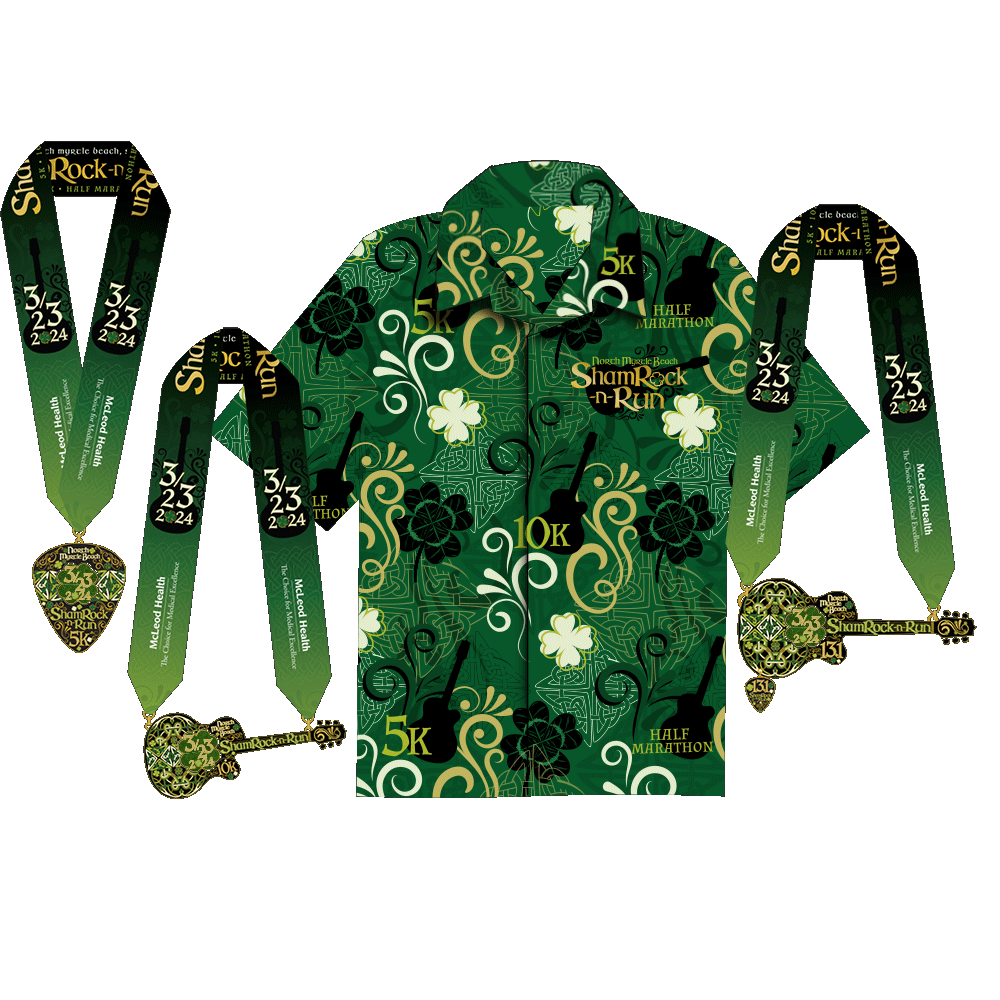 Everyone loves our race day after parties so much with beer and BBQ – we decided to extend it. We are working hard to plan an all-new partnership as we bring you the AFTER-AFTER PARTY in 2024.
This is a great time of year to travel to the beautiful Grand Strand for a race-cation!  Starting the morning with a Half Marathon followed by a 10K then a 5K with flat courses and unbelievable finisher swag – this race is one to not miss!

Worry free registration with deferrals, race transfers and a covid safety plan.  View more on our FAQ's page!
Register early and SAVE a bunch of money, one of the most affordable races available when you register early!
An after party to remember – beer garden, bbq, music and more.  Hurry up and finish to enjoy!
MASSIVE finisher medals – truly some of the most unique and amazing medals you'll ever see!
This course is phenomenal.  As flat as you can get.  Ocean views and a breathtaking course you don't want to miss.
A race for EVERYONE! A half marathon, 10K & 5K provide a fun experience for everyone to enjoy!
SAVE UPTO 50% BY REGISTERING EARLY!!
If you can't make it to the race on race day – you can choose to run these events virtual.  This page will explain:
– What is a virtual race?
– How to sign up for a virtual race?
– How to complete a virtual race?
– Can I switch to virtual if I'm already registered for the in-person event?
– And a few other FAQ's.
What is a Virtual Race?
A virtual race is when you run the event on your own time – where ever you want.  While we can't wrap up the after party and ship you the beer and bbq, we will ship you your swag items in the mail after the event.
How to sign up for Virtual?
This is super easy.  Just head over to the registration page and find the registration distance you want to sign up with that also says "Virtual".  So if you want to run the half marathon virtually – select "Virtual Half Marathon".
How To Complete A Virtual Race?
This is on the honor system.  Run anywhere/anytime, no need to send us proof or log your miles online.  Everyone that is registered for virtual will get the swag (medal & giveaway) shipped to your door within 2 weeks after the race.
Can I Switch To Virtual If I'm Registered For The In-Person Race?
Yes, but there are deadlines and a small $15 processing fee to cover the shipping/handling. If you've signed up to be at the race but for any reason you can't make it and want to switch or "transfer" your race to a virtual race, here are a couple of things to keep in mind:
#1)  It must be done no less than 7 days in advance before the event.
#2)  You must manage this yourself by logging into your RunSignUp account and choosing the "Event Transfer" option and choose the "Virtual" option for your distance and race.  Again, keep in mind there will be an online processing fee to make any changes.
FAQ's & Policies:
Please keep in mind, these are our policies and they may differ from another virtual race company.  We think you will find our options very accommodating to you as a runner and we ask that you please read them carefully.  We are a small company and cannot make any special exceptions
This is something that you must register for separately and the following registration policies apply.  
Must be registered for the virtual option in order to receive race packet by mail.

If you are registered to run in a race and cannot attend, all of the registration policies on our FAQ page still  apply to you.  The only way to run a race virtually and receive your packet in the mail is if you are registered under the virtual option.

You may transfer to the virtual option up to 7 days prior to an event.  You will manage this through your personal RunSignUp account and there is a $15.00 processing fee. CLICK HERE to login.

Packets will not be available for pick up race weekend.  Even if you come to the race for any reason, or send family/friends to pick up your packet, we will not hand out any bibs, shirts, medals, or other swag items for any virtuals during a race weekend.

ALL virtual packets will be mailed within 2 weeks of the race. 

We will only ship packets to those who are actually registered for the virtual option. (Cut off for this is 7days prior to the each event)
*If you decide to come to the race instead of run it virtually.  You must manage this through your RunSignUp account 7 days prior to the event.  You will have to pay the difference in price as well as a $15.00 processing fee but we would love to have you join us!  It's so much more fun to run with friends! 
NO EXCEPTIONS!
Health & Fitness Race Expo:
This is always hosted the Friday before race day. It is tentatively scheduled right now for March 22nd, 2024 from 2pm – 7pm at the J. Bryan Floyd Community Center – 1030 Possum Trot Rd, North Myrtle Beach, SC 29582
We will have McLeod Health, Fleet Feet and many other great community supporting businesses here.
We always recommend you aim to be parked 45-60 minutes prior to your race.  Early birds get the best parking spots and we can't start the race late.
Click Here for directions to the start/finish line.
Address: 1 S Ocean Blvd, North Myrtle Beach, SC 29582
6:45 – Half Marathon 
7:00 – 10K Start
8:00 – 5K Start
9:00 – 5K Awards (Overall, Masters & Age Groups)
9:15 – 10K Awards (Overall, Masters & Age Groups)
9:30 – Half Marathon Awards (Overall, Masters & Age Groups)
10:15 – Half Marathon Cutoff (16 min. miles)
As you cross the finish line, be sure to smile for the photographer!  Then you'll grab your medal before you exit the finish corral [NO re-entering the finisher corral]
The after party begins immediately after you finish where we have a beer garden and famous Carolina BBQ waiting for you!  Hang around to cheer on finishers, dance to the music and have a great time!
Awards can be picked up no earlier than the stated awards ceremony but can be picked up later throughout the day.  We do not ship age group and overall awards.
RaceJoy App – Free!
Do you run with your phone?  Want free up-to-date tracking of exactly where you are on course?  Family/Friends can track you and send you audio cheers.  Hear important race information in real time and get audio cues as you pass key areas.
This is a free app in the apple and android store that you can download.  Once you have it on your phone, it will walk you through setting it up if you're a runner or spectator.  We've paid for everyone in our event to use it so you don't have to!
*Available for the Half Marathons Only!
NORTH MYRTLE BEACH HALF MARATHON
Starting on Main St. at 6:45am, we take you South on Ocean Blvd with beautiful ocean/beach views from this certified road course.  We have you going through some beautiful neighborhoods and about 3 miles with majestic ocean views on one of the flattest half marathon courses you will find.
Certified Course Map (SC22003BDS)
Elevation Profile Shown On MapMyRun Here
(See Map Below)
NORTH MYRTLE BEACH 10K
The 10K is new for 2024 and we still need to certify the course so keep an eye out for more details to come. Flat & Scenic – guaranteed!
NORTH MYRTLE BEACH 5K
Starting on Main St. at 8:00am, you'll take an immediate right onto Ocean Blvd. Take a right on 7th Ave. and another immediate right onto Hillside. As you head back to Main St. you'll have a crowd and some music but you'll take a left up Main St. to Ye Olde Kings Hwy. You'll take a right and a right on 2nd Ave. with a waterstop just over half-way. Take a left on Hillside and a right on 1st St, then an immediate right on Ocean Blvd. and a right onto Main St. into the finish line.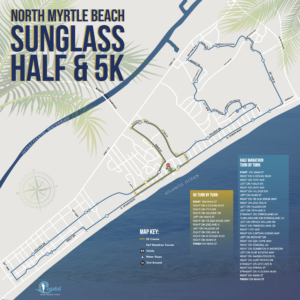 We need over 100 volunteers on course for this event.
We make a donation to a local non-profit if you'd like to select a group to benefit from you volunteering.
Alternatively, if you'd like to receive a free race entry into any of our other events for your generosity of volunteering, we'd be happy to give you a free registration for you volunteering at this event.
Email: info@coastalraceproductions.com or use the contact form here
Results will be displayed online immediately once you finish the race.  You also have an opportunity during registration to add your phone number to receive a text message with your results.  We also post results on our Facebook page and email them to you on race day.