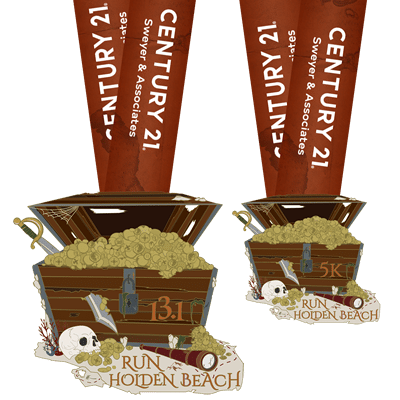 Run Holden Beach 2019
$25 - 1 Mile Registration
$35 - 5K Registration
$75 - Half Marathon Registration
Prices Increase In
20 Days
IMPORTANT!  This is for the 2019 Run Holden Beach event.  By filling out the form below, you are registering for NEXT year's event on 1/19/2019.
Sorry, you must enable javascript to view this content from https://runsignup.com/.
Run Holden Beach 2019 showcases an amazing finisher medal and super soft shirts for all finishers.  See the medal you'll earn below – it features a 3 dimensional old treasure chest sitting at the bottom of the ocean with gold overflowing.  The half marathon medal is 7.5″ while the 5K is 4.5″ – both massive and 3D fitting perfectly with our traditional Big Ass Medal theme.
While we don't have our final shirt design to show you, it will be just like our soft tri-blend shirts you've loved from previous races with a fun pirate themed design.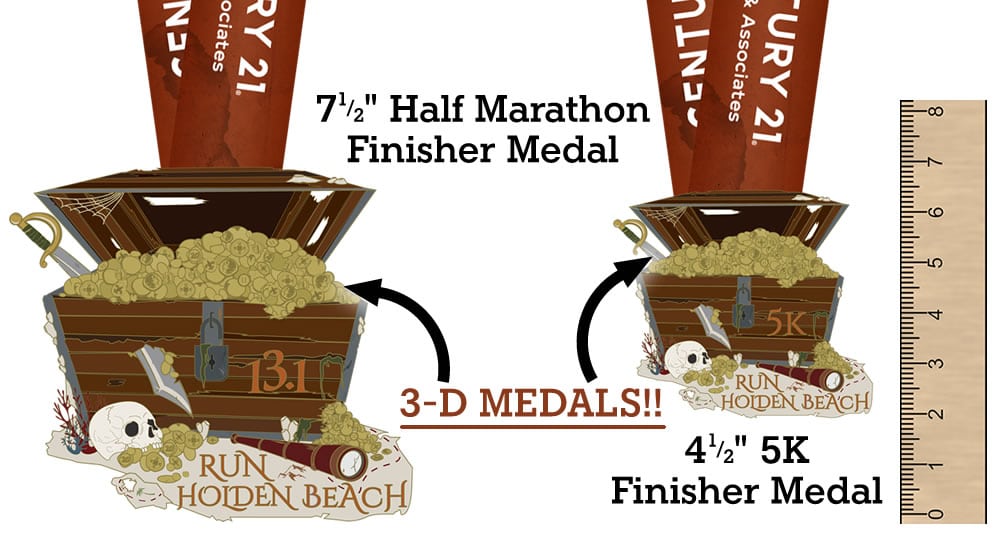 IMPORTANT!  This is for the 2019 Run Holden Beach event.  If you are looking for the next Holden Beach race this year (2018), please visit that page here.
This course has undergone some changes due to permitting and for the overall safety of runners.  We are able to cone and close off much more of the course for you this year.  Half Marathoners are taking a longer run off the island out to a scenic point before heading back and running an incredible island course to finish up.  The 5K and 1 Mile race distances will remain the same as in the past on the island.
We will be updating this page with a map very soon.
Need directions to the Start/Finish Line – Click Here Directions to parking?  Use the directions above and as soon as you come over the bridge, we will have directional volunteers to help you with this.  
Accommodations:
There are many great amenities on and around the island. I would recommend contacting the local chamber of commerce. There are no hotels on the island.  If you're coming with a small group, I'd highly recommend calling Alan Holden Vacations or Brunswickland Realty to see if they have any short term vacation homes available to rent. I would recommend search Shallotte Hotels or Southport Hotels. If you call the Holiday Inn Express in Southport (23 minute drive to start), they have a special runner rate.  (910) 253-9100 Days Inn in Shallotte (16 minute drive to start) has great rates for runners as well.  (910) 241-0031 *Please let them know you're coming for the race to get the best rate!!
When:  Friday January 18th from 2pm – 7pm.
Where:  990 Sabbath Home Rd SW, Supply, NC 28462
Want your packet mailed early?  You can select this option during registration (or if you've already registered, you can login and add this on) for $25
We will have VERY limited time for packet pickup the morning before the race between 5:30 – 6:45am on September 15th Saturday morning so we strongly urge you to pick up on Friday if at all possible.  If there is no way you can make it on Friday, you MUST come extra early on Saturday – plan at least 1 hour for parking and picking up your packet.
Note:  We do not hold the race start if you're late to pickup your packet.  We also don't allow late starts at this race due to logistical and traffic concerns.
Parking
There is ample parking around the start/finish line under the bridge on Holden Beach – click here for directions. You will be able to park in grass areas or on the side of the road (just be sure you are parallel to the road and all 4 tires are off the road).
Timing/Mats
We partner with a professional timing company that is USATF certified as an official and measurer.
Discounts
Military, Students & Teachers – Yes!
Are you a member of a race club or group – contact us for club discounts.
Use our contact form please – click here
Are Strollers Allowed
YES! Strollers are welcome! All strollers must check in race morning at the Information tent and will have a seperate start.  (Children in strollers will not receive any additional race swag.)
Register Offline
We really prefer for you to register online if at all possible – it's quick and easy with the link at the top of the page.
Can I walk
Yes! Our 1 Mile and 5K races have no time limit and our half marathon time limit is 3.5 hours (16 min miles) – plenty of time to walk most of the course if you'd like.
Age Restrictions
We have no age restrictions however we do ask for parent or guardian signatures on all minors under 18 years of age.
Course Support
The half marathon will have 8 different water stops along the 13.1 mile course. All stops have water and Gatorade. There is 1 water stop along the 5K course as well.
We will have a truck monitoring the route with water and acting as a "SAG" wagon.
Volunteers from the Holden Beach Turtle Patrol are assisting on the course for directions, as well as at the finish line and all of the water stops.
Signage is marked on the ground, over 100 directional signs, and a biker will lead both courses.  We have 8′ flag mile markers for every mile on both the 5K and Half Marathon.
There are over 20 portajohns/toilets at the start finish line and 2 that you pass twice on the half marathon course so 4 potty breaks on the total.
Post race nourishment includes bananas, gatorade, pizza and beer!
You're going to LOVE running a Coastal Race Productions event!
Photos
There will be photos at the finish line and we will do our best to tag these with your bib number to be available with results after the race.  They will also be posted to Facebook for you to download and tag yourself in.
Registration Policy
We have a No Refund policy and any changes to registrations must be made at least 30 days prior to race date.
General FAQ'S
Visit our General FAQ's page for answer's to all of your questions regarding Coastal Race Events.
Ok runners, time to get your butt in gear and conquer this course.  It has a steep grade climb right at the beginning X2 but then you're flat the rest of the run.  Take it easy getting loose and don't hurt yourself on the bridge.  Stride it out as you get back onto the island with the flat run and be sure to use all of the waterstops.  Be as encouraging to other runners as you pass them coming back.  And we'll be at the finish line congratulating you with others. Looking for a training plan, a group run at the coast or someone to help tailor a coaching program for you and be your accountability partner in your journey?  Jump on over to RunCRP to learn more!
Volunteers are loved by all!  We would be thrilled to have you join our race day team.  Waterstops, cheer stations, handing out our HUGE medals, amoung many other things.  We rely on some key non-profits that we partner with locally but we could always use some extra support.  If you're interested in volunteering with us, please use our contact form by clicking here.
You can donate during registration or you can do so here – it's very much appreciated by our amazing friends and volunteers at the local Turtle Patrol.
All results can be found by clicking the link below.