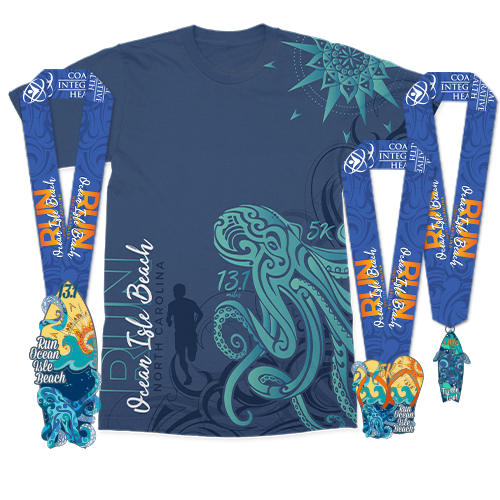 Run Ocean Isle Beach 2023






REGISTRATION is open for Run Ocean Isle Beach – October 28th, 2023 – CLICK HERE to register for the race!
Join us for our 10th anniversary of the BAM Race Series in Sunset Beach North Carolina! BAM is short for #BigAssMedals and our 10th anniversary finisher medals do not disappoint.
Ocean Isle Beach is a beautiful coastal island in SE North Carolina. Our courses take you through some beautiful communities and the half marathon takes you around most of the island with unforgettable oceanfront views. We host a half marathon, 5K & 1 Mile in late October when the average temperatures are a High of 75 and a Low of 56.
CLICK HERE to get registered NOW!
Run 1, 2, 3 or all 4 of the Coastal North Carolina races in the #BigAssMedal Race Series. All of our events include IN-PERSON Half Marathons, 5K's & 1 Mile Fun Runs as well as "virtual" options if you can't attend them in-person – we'd ship you your finisher swag items.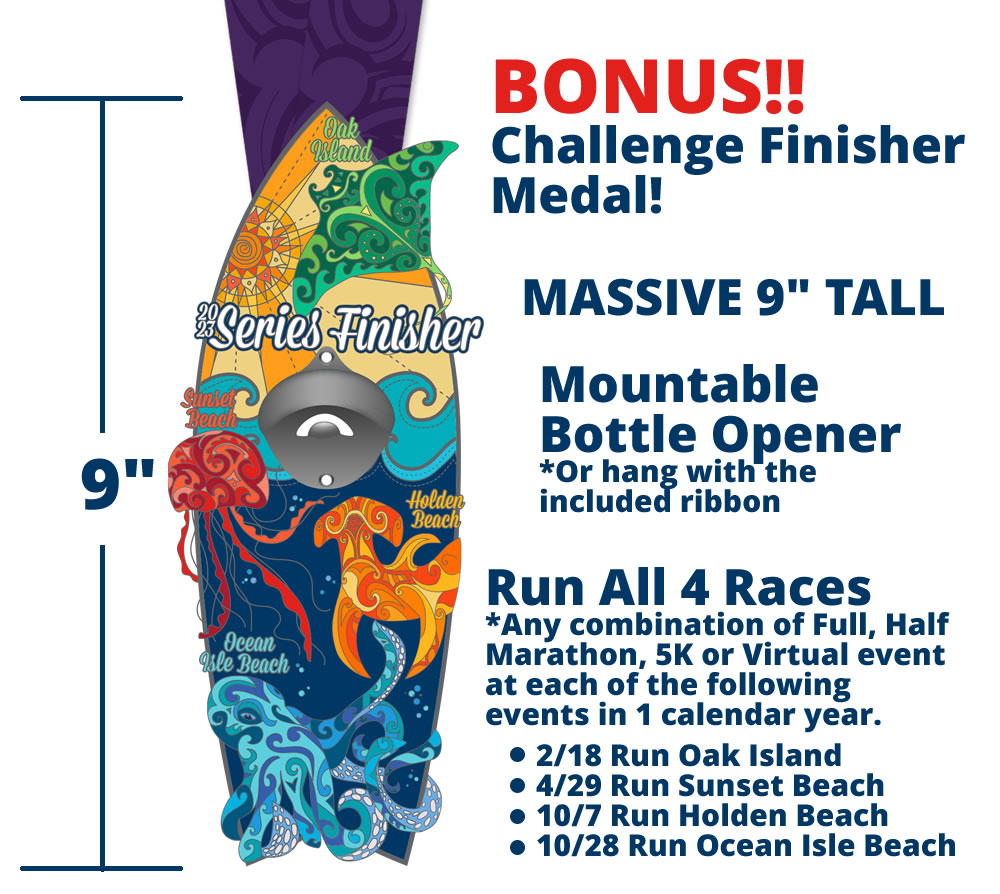 WHAT RACES ARE IN THE BAM SERIES?
Run Oak Island – Feb. 18th, 2023
Run Sunset Beach – April 29th, 2023
Run Holden Beach – October 7th, 2023
Run Ocean Isle Beach – October 28th, 2023
BONUS SWAG FOR COMPLETING ALL 4!!
Yep, run all 4 in a calendar year (any combination of Full/Half Marathons, 5K or virtual) and you'll earn something extra special! In 2023, we have a 9" bottle opener challenge medal that you can mount to a wall. You can't buy this – it must be earned by registering for all 4 BAM races in 2023!
DO I HAVE TO RUN THEM ALL?
You can run any one of our BAM races and earn the shirt/medal for that respective race. You only earn the challenge medal by participating in all 4.
WHAT IF I CAN'T MAKE 1,2,3 OR EVEN ALL 4 IN-PERSON EVENTS?
No problem, you can register for the virtual event or transfer from the in-person event to virtual later if you need to. You'll still qualify for the extra series swag.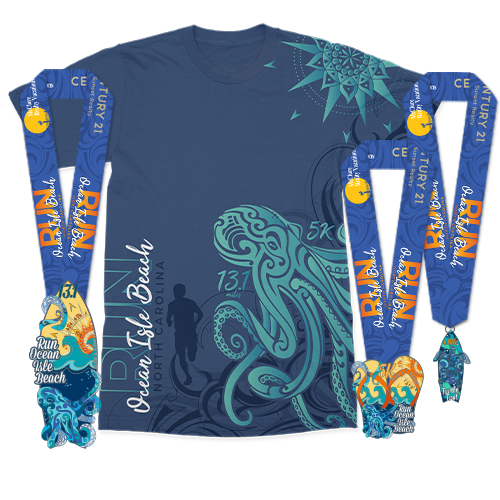 These are FINISHER medals! That means EVERYONE who crosses the finish line (or registers for the virtual event), gets one of these #BigAssMedals.
*There are additional awards for top 3 overall, masters & age groups.
This year we are highlighting our beaches with massive 8" surfboard-designed half marathon medal, and 4" flip flop 5K finisher medals. Over the years we've had stain glass, lockets, artistic connecting medals, a pirate theme, 3D mosaic designs, and much more – we change it up each year to bring unique medals but this year might top them all. We hope you enjoy them!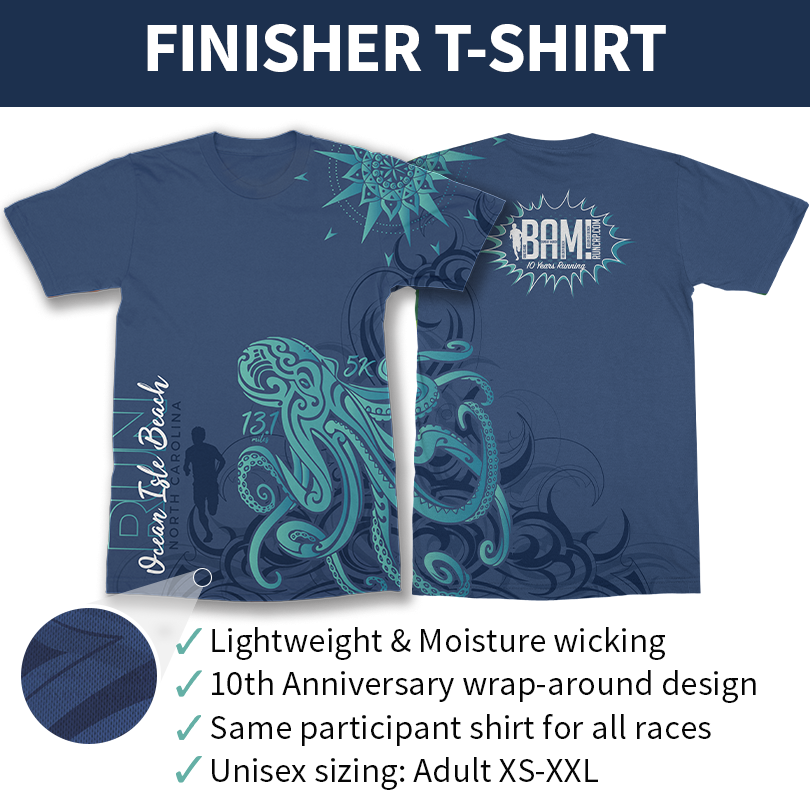 The 10th-anniversary shirts have a coastal design and runner theme that wraps around the shirt. These will be the same for all participants in all races.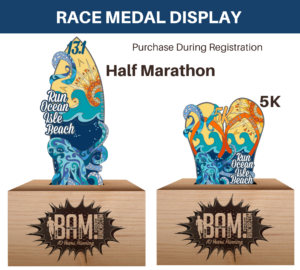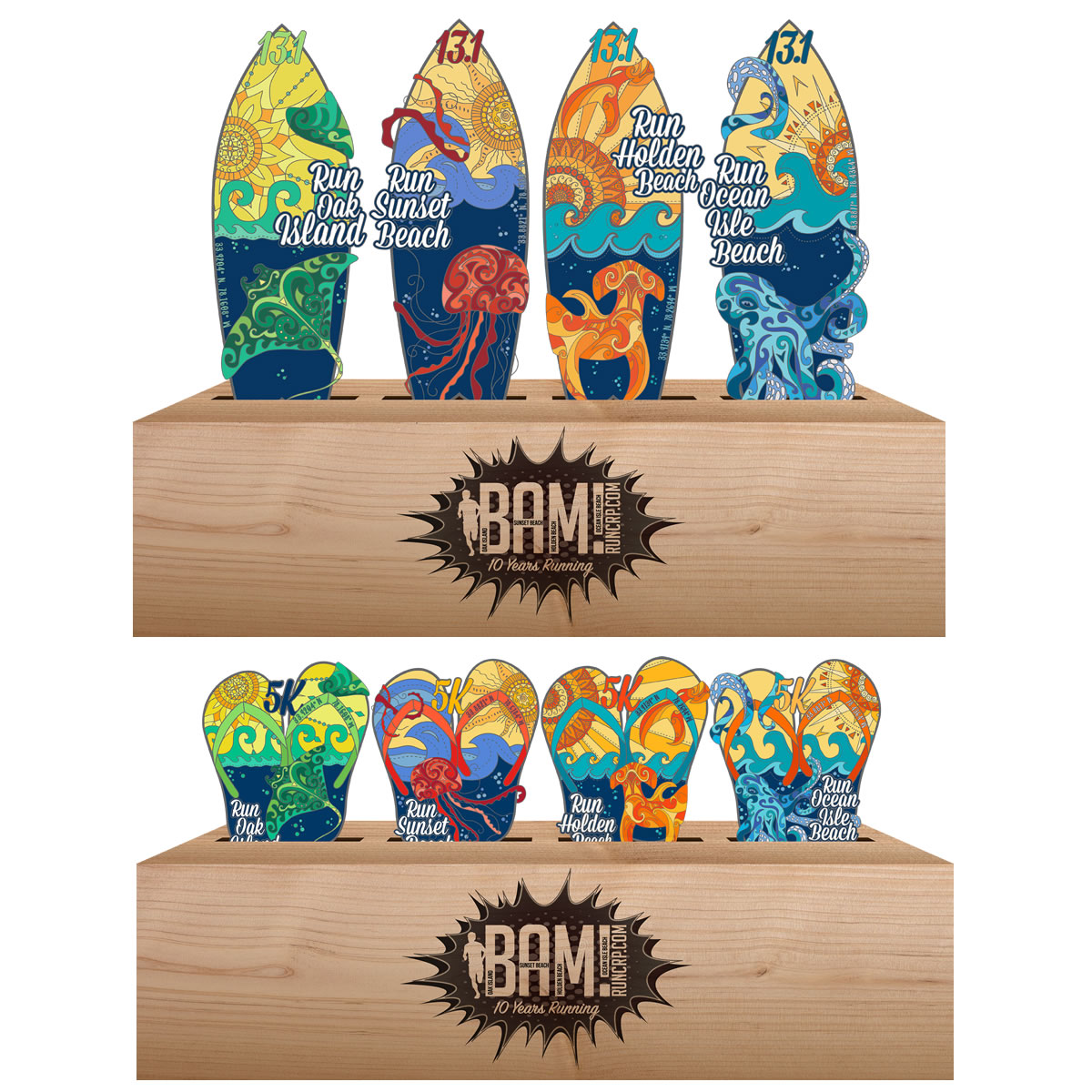 If you're running the races and want a unique custom-made medal holder made out of wood, our team is making something special for the 10th anniversary. You can purchase this 4″ x 4″ cedar block with the 10th anniversary logo burned into the front that will perfectly hold the medals on the top for you.  CLICK HERE TO PURCHASE (or purchase online during registration).
*NO SHIPPING – PICKUP IS AVAILABLE AT RUN OAK ISLAND (2/18/2023) NO SHIPPING FEE IS APPLIED.
*If you're running Oak Island virtual, we will have them available for you at each of the races for you to pick it up. If you need it shipped after 2/18/23, we can charge shipping separately to send it to you.
You crossed that finish line and are ready for the party! Wear that medal with pride all day long and start your celebration just a few steps away. We have famous Carolina BBQ – no worries – we've found THE BEST BBQ for you. Your bib will have a beer ticket if you choose to partake; ontap we have some big brands and locals to choose from. Limit 1 per person included with registration.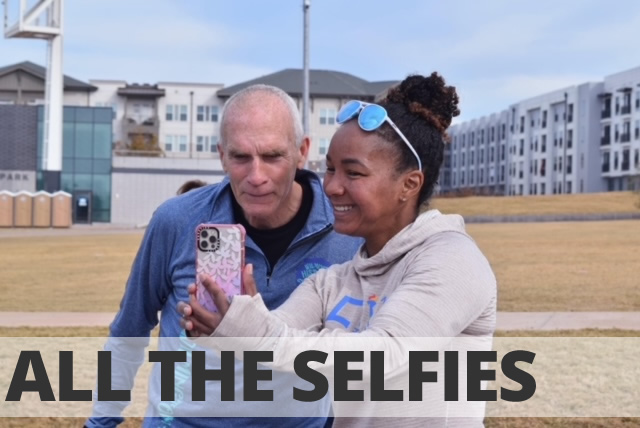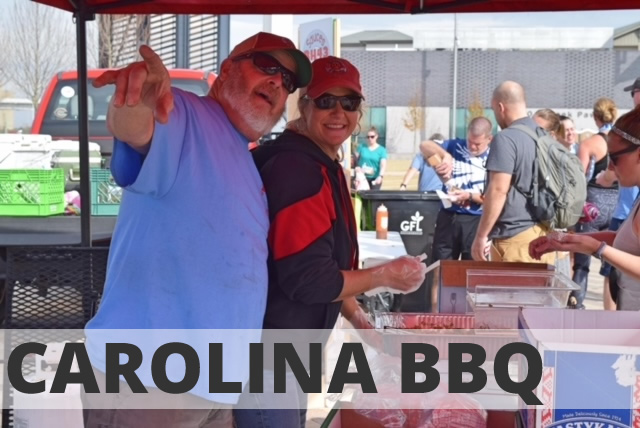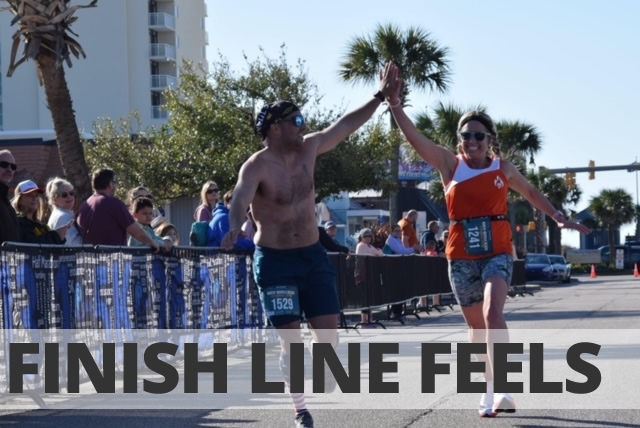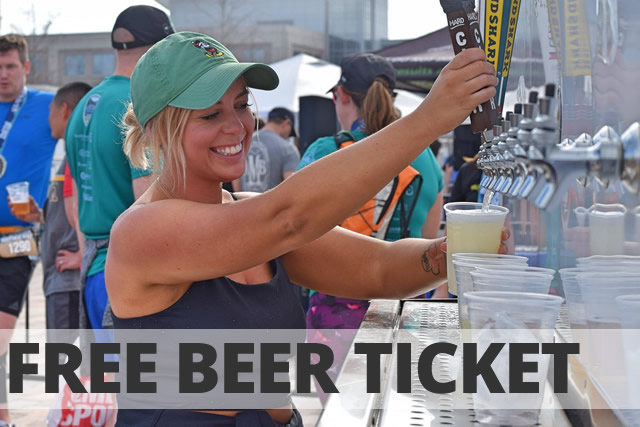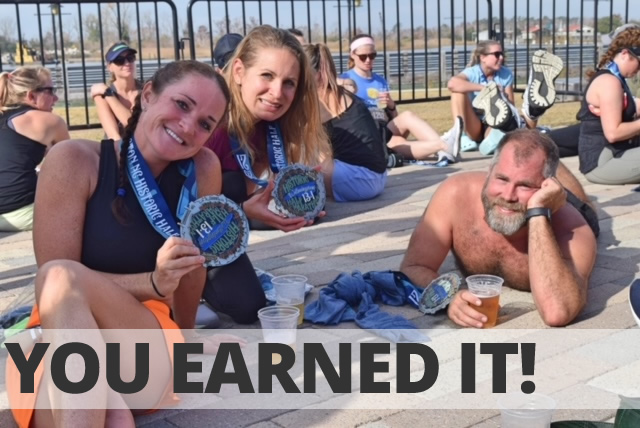 Run Ocean Isle Beach 2023 Courses
We offer a SUPER Early bird discounted pricing for 2 weeks followed by discounted price breaks that increase as we get closer to race day. We do not offer discounts ontop of our low prices however we do offer a bundling discount if you register for 2, 3 or 4 of the BAM races all together. *Bundle discounts not valid during our super early bird discount pricing.
SAVE MONEY – REGISTER EARLY!

Register early and save a bunch of money, one of the most affordable races available when you register early!
An after party to remember – beer garden, bbq, music and more.
MASSIVE finisher medals – truly some of the most unique and amazing medals you'll ever see!
This course is phenomenal.  As flat as you get with the only elevation being a beautiful bridge on the Half Marathon course.
A race for EVERYONE:  Half marathon, 5K & 1 Mile provide a fun course for everyone to enjoy!
If you can't make it to the race on race day – you can choose to run these events virtual.  This page will explain:
– What is a virtual race?
– How to sign up for a virtual race?
– How to complete a virtual race?
– Can I switch to virtual if I'm already registered for the in-person event?
– And a few other FAQ's.
What is a Virtual Race?
A virtual race is when you run the event on your own time – where ever you want.  While we can't wrap up the after party and ship you the beer and bbq, we will ship you your swag items in the mail after the event.
How to sign up for Virtual?
This is super easy.  Just head over to the registration page and find the registration distance you want to sign up with that also says "Virtual".  So if you want to run the half marathon virtually – select "Virtual Half Marathon".
How To Complete A Virtual Race?
This is on the honor system.  Run anywhere/anytime, no need to send us proof or log your miles online.  Everyone that is registered for virtual will get the swag (medal & giveaway) shipped to your door within 2 weeks after the race.
Can I Switch To Virtual If I'm Registered For The In-Person Race?
Yes, but there are deadlines and a small $15 processing fee to cover the shipping/handling. If you've signed up to be at the race but for any reason you can't make it and want to switch or "transfer" your race to a virtual race, here are a couple of things to keep in mind:
#1)  It must be done no less than 7 days in advance before the event.
#2)  You must manage this yourself by logging into your RunSignUp account and choosing the "Event Transfer" option and choose the "Virtual" option for your distance and race.  Again, keep in mind there will be an online processing fee to make any changes.
FAQ's & Policies:
Please keep in mind, these are our policies and they may differ from another virtual race company.  We think you will find our options very accommodating to you as a runner and we ask that you please read them carefully.  We are a small company and cannot make any special exceptions
This is something that you must register for separately and the following registration policies apply.  
Must be registered for the virtual option in order to receive race packet by mail.

If you are registered to run in a race and cannot attend, all of the registration policies on our FAQ page still  apply to you.  The only way to run a race virtually and receive your packet in the mail is if you are registered under the virtual option.

You may transfer to the virtual option up to 7 days prior to an event.  You will manage this through your personal RunSignUp account and there is a $15.00 processing fee. CLICK HERE to login.

Packets will not be available for pick up race weekend.  Even if you come to the race for any reason, or send family/friends to pick up your packet, we will not hand out any bibs, shirts, medals, or other swag items for any virtuals during a race weekend.

ALL virtual packets will be mailed within 2 weeks of the race. 

We will only ship packets to those who are actually registered for the virtual option. (Cut off for this is 7days prior to the each event)
*If you decide to come to the race instead of run it virtually.  You must manage this through your RunSignUp account 7 days prior to the event.  You will have to pay the difference in price as well as a $15.00 processing fee but we would love to have you join us!  It's so much more fun to run with friends! 
NO EXCEPTIONS!
Packet Pick-Up Information:
 Friday, October 27th from 2:00pm – 7:00pm
 Sea Trail Located at 75 Clubhouse Rd Sunset Beach, NC 28468
Volunteers are loved by all!  We would be thrilled to have you join our race day team.  Waterstops, Intersection Cheerleaders, handing out our HUGE medals, among many other things.  We rely on some key non-profits that we partner with locally but we could always use some extra support.  If you're interested in volunteering with us, please Register Here. Or if you have a group or company that would like to volunteer at the races, please email volunteer@coastalraceproductions.com
Coastal Race Productions support a number of Non-Profits throughout Brunswick County as well as the American Red Cross!  Please consider making a donation today!
To make a donation CLICK HERE – Thank you!
We've all been there. You buy something or register for an event – get sidetracked – and months later think …did I register for that race?  Hahah, well, if you're not sure if you registered yourself (or someone else), you can check it out RIGHT HERE.
If you don't find that you registered, come back and get signed up!
If you don't see yourself listed, it could have been under a different name or email address – don't hesitate to email us and we'll be happy to look it up for you. Please be sure to provide us as much information as possible like full name, email address, physical address, nickname you could've registered under or even a confirmation email if you have it.
General FAQ'S:
Visit our General FAQ's page for answer's to all of your questions regarding Coastal Race Events.
*Please Note:
#1) Anyone on the course without a race bib will be asked to leave the course.
#2) Anyone running with a dog unless you have the required USATF paper work will be asked to leave the course.
#3) Companion riders on bicycles are not allowed and will be asked to leave the course.
These are all due to insurance regulations and are grounds for disqualification – It is for the safety of ALL participants.
Registration Policy:
We allow for deferrals, event transfers and bib transfers with minimal fees and deadlines. We currently do not allow for refunds or race transfers on our events. You may read more about this on our FAQ page.
Event Transfer:
If you want to change from one distance to another distance at the same race on the same weekend, we allow you to do this yourself prior to any Coastal Race Productions event.  This cutoff to switch is typically the final week leading up to a race and based upon availability in that event. You will manage this through your RunSignUp account and there is a $15 processing fee.  Need Help?  Click Here for a tutorial on how to edit this.
Course Support:
The full marathon will have 16 different water stops along the route and the half marathon will have 8 different water stops along the 13.1 mile course. All stops have water and Gatorade. There is 1 water stop along the 5K course as well.  Volunteers from Non-Profits across Brunswick County are assisting on the course for directions, as well as at the finish line and all of the water stops. Signage is marked on the ground, over 100 directional signs, and a biker will lead both courses.  We have 8′ flag mile markers for every mile on both the 5K and Half Marathon. Post race nourishment includes bananas, gatorade, pizza and beer! You're going to LOVE running a Coastal Race Productions event!
Photos:
We hire some amazing photographers to provide FREE race day photos to you. While they try to get some of everyone, there are no guarantees! All photos will be uploaded to our Facebook page, please feel free to download them, tag yourself and share with your friends and family.
Can I walk:
Absolutely! Our 1 Mile and 5K races have no time limit and our Full & "West" Half Marathon time limit is 7 hours – plenty of time to walk most of the course if you'd like. If registering for the "East" Half Marathon, we ask that you're able to finish in 3 hours.
Age Restrictions:
We have no age restrictions however we do ask for parent or guardian signatures on all minors under 18 years of age.
Are Dogs Allowed:
Sorry but they are not allowed on USATF certified courses. In order to be a sanctioned event – dogs are not allowed for safety reasons.  If you have a 4 legged running companion for medical reasons, you can file a request through the USATF ADA Committee (which takes 4-6 weeks) by clicking here and if they approve, they will provide you documentation that you will then need to provide to us.  Here is a direct link to the form you'll need to fill out.
Register Offline:
We really prefer for you to register online if at all possible – it's quick and easy with the link at the top of the page. We don't offer offline or paper entries. Please email us if you have any concerns with registering online and we'll do our best to accommodate you.
Certified Course:
Every Coastal Race Productions event is certified with USATF and measured for accuracy.  If you are hopeful for a state or national record, please give us a heads up so that we're expecting it and can take proper actions to fill out the paperwork needed for your submission. Our courses are not just close – they are exact! Our Oak Island Marathon is a Boston Qualifier.
Discounts:
We're offering the lowest prices we can for everyone and have done away with any discounts. You'll notice price increases as we get closer to raceday so register early to save the most. Also, if you bundle and register for more than 1 race at a time, you'll save even more (bundle discounts not valid during super early bird registration)
Timing:
We partner with a professional Timing Company that will provide accurate results. These will be available to print on race day and online immediately upon crossing the finish line.
Overall awards are placed by Gun Time – be sure to get to the very front of the corral.
Age group awards are placed by Chip Time – meaning you can start near the back and your official start time won't be until you cross the start line.  This also means that it's possible for someone behind you to have a faster time and place higher.