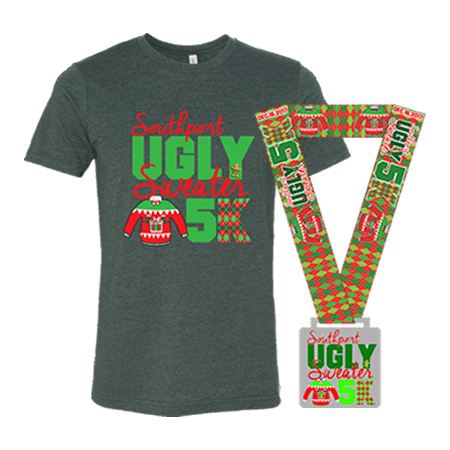 Southport Ugly Sweater 5K
Registration for 2018 is not currently available.  We hope to secure a date and announce registration opening around January or February.
What an amazing event we had in Southport, North Carolina for the Ugly Sweater 5K!  We hope you enjoyed the beautiful morning and great inaugural race.  For results, you can scroll to the bottom of this page.  Thank you to everyone who came out to the event and we hope to have you join us again next year!
We will host a packet pickup the morning of the race only from 6:00 – 8:00am located at the start/finish line.
Need directions to the Start/Finish Line & Parking – Click Here (105 E. Bay St. Southport, NC 28461)
Accommodations:
We highly recommend the Holiday Inn Express in Southport (click here for directions) as they have a special runner rate.  (910) 253-9100
Parking:
There is ample parking around the start/finish line – click here for directions.  You will be able to park in grass areas or on the side of the road (just be sure you are parallel to the road and all 4 tires are off the road).
Discounts
Military, Students & Teachers – Yes!
Are you a member of a race club or group – contact us for club discounts.
Use our contact form please – click here
Strollers & Handicap Accessible
Absolutely! All of our races are stroller friendly and handicap accessible. Our races are completely on roads, however you do share most of the roads with controlled traffic.
Register Offline
We really prefer for you to register online if at all possible – it's quick and easy with the link at the top of the page.
Can I walk?
Yes! Our 1 Mile and 5K races have no time limit and our half marathon time limit is 3.5 hours (16 min miles) – plenty of time to walk most of the course if you'd like.
Age Restrictions
We have no age restrictions however we do ask for parent or guardian signatures on all minors under 18 years of age.
Course Support
The half marathon will have 8 different water stops along the 13.1 mile course. All stops have water and an electrolyte drink (Either Gatorade or Gnarly Nutrition which is also a drink). There are 2 water stops along the 5K course.
We will have a truck monitoring the route with water and acting as a "SAG" wagon.
Volunteers from the Holden Beach Turtle Patrol are assisting on the course for directions, as well as at the finish line and all of the water stops.
Signage is marked on the ground, over 100 directional signs, and a biker will lead both courses.
You're going to LOVE running a Coastal Race Productions event!
Registration Policy
We have a No Refund policy and any changes to registrations must be made at least 30 days prior to race date.
Ok runners, time to get your butt in gear and conquer this course. Are you looking for a training plan, a group run at the coast or someone to help tailor a coaching program for you and be your accountability partner in your journey?  Jump on over to RunCRP to learn more!
Volunteers are loved by all!  We would be thrilled to have you join our race day team.  Waterstops, cheer stations, handing out our HUGE medals, amoung many other things.  We rely on some key non-profits that we partner with locally but we could always use some extra support.  If you're interested in volunteering with us, please use our contact form by clicking here.
You can donate durring registration or you can do so here – it's very much appreciated by our amazing friends and volunteers.