Hello Turkey Trot Runners & Walkers!  We're gearing up for the best turkey trot yet in Calabash, NC. This pre-race blog is loaded with information for you so please share with anyone else you know that's running.  And if you know anyone that hasn't registered, tell them not to wait – these races will very likely sell out!
Did you know you can run for free?
#1) You can volunteer at an event of ours and earn another race free!!  So if you volunteer at the Wilmington Historic Half & 5K on December 3rd – you can run this race next year for free or any of our others! And you'll be invited to the annual volunteer appreciation party!
#2) You can refer friends to this race and earn credit back on your registration immediately – just share your referral link that was emailed to you. If you don't know it, shoot us an email.
#3) Your family/friends can volunteer and earn YOU a free race entry as well. So if they're coming and not running, see if they'd volunteer!
Volunteers:
Speaking of volunteering – we still need a few for this race.  If you have family or friends not running that might be interested in cheering on runners at an intersection, helping to park people in the morning or helping at a waterstop – we'll be glad to give you a free registration for them volunteering or we'll donate to a non-profit they choose when registering online. Email: debby@coastalraceproductions.com for more information.
Costume Contest:
Get started on your best costume ever.  If you think running/walking a turkey trot is fun, try it in the coolest costume ever.  We once had a family make a Mayflower ship and run the entire race together in the ship – it was epic and something I and many others will never forget.  Create a really fun costume and be entered in the contest for a fun prize!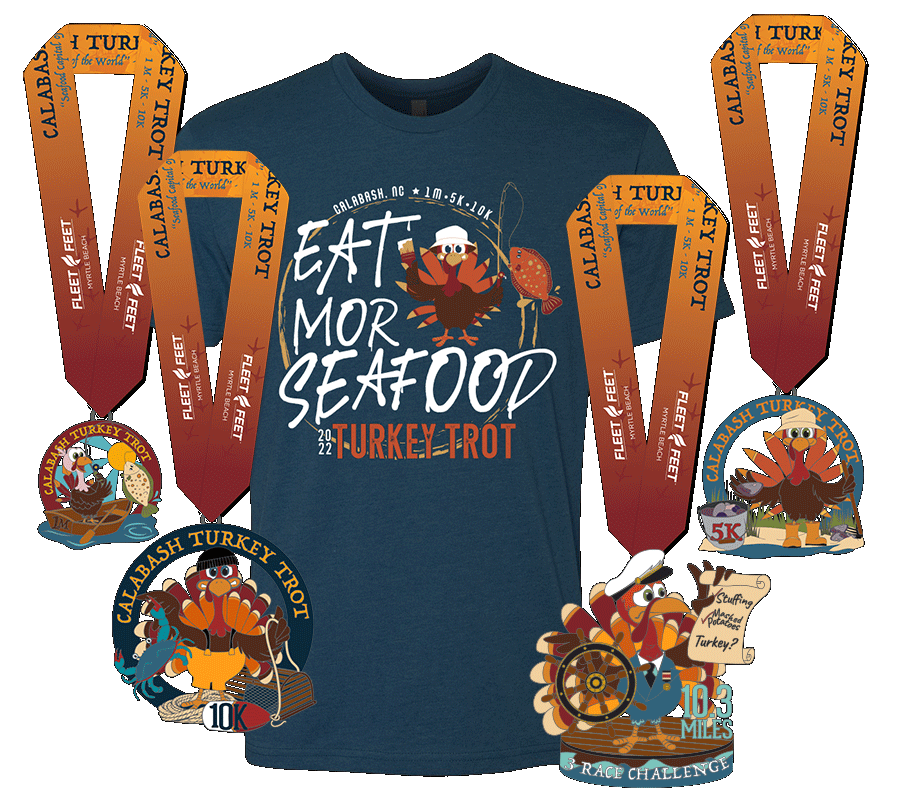 Getting Your Race Bib?
We will have a packet pickup in the Calabash park from 3pm – 6pm on Wednesday 11/23. This is located at: 868 Persimmon Rd SW, Calabash, NC 28467. We strongly encourage you to pickup (or have your bib picked up) here if at all possible. We will also host a race day bib pickup near the start/finish lines but ask if you need to pick it up on race day that you come extra early. 
– YES, you can have someone else pickup your bib for you on Wednesday.
– Bib numbers are not pre-assigned for this race so you don't need to know your bib number when picking up your packet.
Where To Park Race Day?
Use this address: 9939 Nance St, Calabash, NC 28467 – You will come from Beach Dr. down River Rd. to park!
When To Park Race Day?
We encourage you to arrive 45 -60 minutes before your race.  No need to be stressed by getting here late.  We will park everyone as close to the start line as possible but there will be close to 1,500 cars to park – please come early.
NOTE: 5K & 1M runners – Unless you're running in the 10K, you can show up about 7:20-7:30.  You will come down River Rd. which will be full of 10K runners from 7am – 7:15.  Also, there will be runners on the road as you arrive so please allow extra time and drive slow as you approach the race and park.
What's The Race Day Schedule?
7:00am – 10K starts
8:30am – 5K starts
9:15am – 1 Mile starts
9:30am – All awards will be given out all together
9:30am – COSTUME CONTEST!
*After Party will be going on as everyone finishes with pumpkin pie, coffee and music
Challenge Runners – Where do I get my swag?
If you are in the challenge, we don't make you run your 2nd & 3rd races with your medals. You'll have a bib noting that you're in the challenge and you'll get all of your medals and shirt at a separate tent near the finish line.
Virtual Runners:
All finisher swag is shipped to you within 2 weeks following the event.  You are able to complete your virtual walk/run anywhere/anytime before or after you receive your items, this is on the honor system.
Thank you for running with us! Be sure to spread the word with friends and family to come run the Calabash Turkey Trot!