Participants in the event have been sent 3 pre-race emails – but if for any reason someone has missed it, please see the information below. We are excited to host the Freedom 5K & Firecracker Mile on Saturday July 2nd in Shallotte, NC (Mulberry Park) with about 500 participants. HUGE shout-out to our sponsors for the event this year!

BIB, PARKING & RACE DAY:
1) Your Bib: We are not shipping these for this event.  You may pick up your bib on Saturday, July 2nd in Mulberry Park from 5:30am- 6:30am. You may also be used to having a specific bib number assigned to you ahead of time – that is not the case with this event. You will be assigned a bib and receive it race morning in the park under the pavilion.
2) Shirts: These are handed out before the race with your bib.
3) Extra Pre-Purchased Merch: If you ordered extra shirts or anything else during registration – we will have this available for you to pick up AFTER the race under the pavilion in Mulberry Park!
4) COVID Policy: As policies and procedures vary state by state and each person has their own preferences we are following local mandates but request that you consider others who may have different comfort levels than you.  There are no local restrictions regarding mask/no mask, no distance requirements, or crowd limits – so this will look like a normal race.  Again, if you are not comfortable with crowds, feel free to start near the back – your chip time will start once you actually cross the start line.  Wear a mask if you would like but it is not required.
5) Hydration On Course: We will have 1 water stop on the course for the 5K.  The 1 Mile is in the park and there will not be a water stop.
6) Race Day Schedule:
5:30 am – Arrive for parking
7:00 am – 5K Starts
7:15 am – 1 Mile Starts (in the park)
8:15 am – Awards & After Party
5) Picking Up Your Medals: As you finish your race, your medal will be at the finish line.  No medals will be given out prior to the race – these are only available for pickup at the finish line.  If you registered to run "virtual" these will be shipped within 2 weeks following the event.
6) Parking: This will be self parking in the red highlighted areas below that have all approved parking for participants. The earlier you come, the better/closer spot you will have. Please do not park in the Smoke'd Restaurant or Wing & Fish Company parking lots. Click Here for directions to the start line or use the address: 123 Mulberry St. Shallotte, NC 28470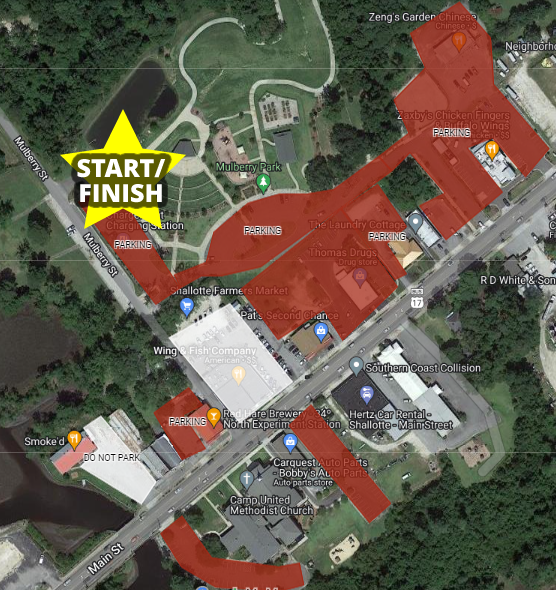 #7) We have a certified 5K road course that will start and finish in the same spot in Mulberry Park. Runners will head out of the park onto Mulberry St toward Main St. Runners will turn left on Main St. to Smith Ave. Left on Smith Ave to Bailey St. There are a few backroad turns with a turnaround on Shallotte Ave. Runners finish back down Mulberry St. and into the park under the same arch they started from. We have traffic control and Shallotte PD assisting to keep participants safe while on roads. See the certified course map below.
Certification: NC17010BW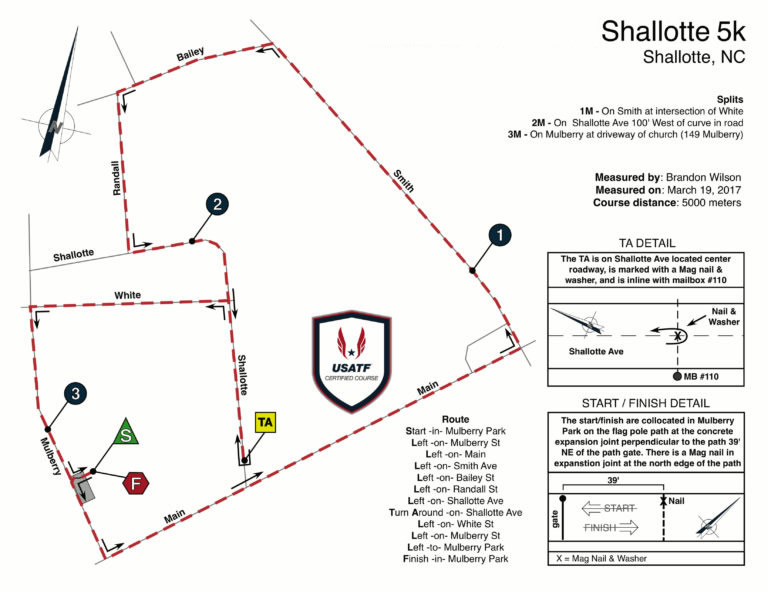 MORE NICE TO KNOW INFO:
1) Awards: We have some really cool wooden overall, masters, and age group awards. These will be handed out under the pavilion in the park. Every 10 yrs for age group awards which are all by chip time (chips are on the back of your bib tracking when you start and finish). Overall awards are given by gun time based on the start of the race.
2) Results:  These will be live online during the event and updated automatically as you cross the finish line.  CLICK HERE to see the results page (the same page will be updated on race day). So on your phone, just go to Results.CoastalRace.com and you will see your time within a minute or two after crossing the finish line.
3) Corral System:  This will look very similar to a race before Covid.  We will have a large corral of runners and no distance requirements like some of the other races you may have run in the last year. If you plan to run sub 20 minutes in the 5K, get up front and position yourself accordingly back from there based on your pace.
4)  Elite Heat: We don't officially have an "Elite Heat" start. If you run a sub 22 min 5K, make your way to the very front as overall awards are always handed out by gun time – age group awards are done by chip time.
5) Portable Toilets: These are located in the park.
Have another question we didn't cover?  Email us or come extra early tomorrow and we'll be glad to help!