UPDATE (10/15):  This race is now virtual only.  We've given all participants registered for the in person event 2 options.
OPTION #1)  Run the race virtual this year and earn all of the swag (Huge Medals, 1/4 zip for the half and tshirt for the 5K) PLUS a beanie and buff are both bonus swag items for all virtual runners.  Additionally, those that choose to run virtual this year will receive 25% off our 2021 early bird prices!  This virtual will come with a self guided historic running tour through the oldest historic district in North Carolina.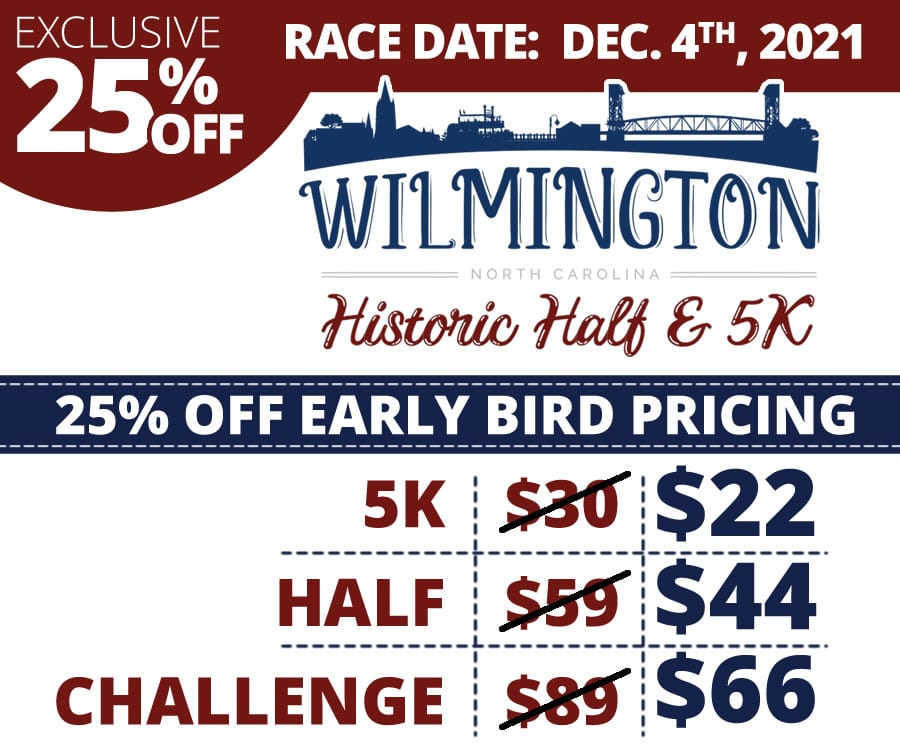 *NOTE: This 25% discount will only be offered to participants that stay in the virtual race for 2020.
OPTION #2) For any participants signed up for our in-person event that do not want to stay in the virtual event, you have until October 26th to defer your entry to 2021 or 2022.
ORIGINAL POST (8/27):
The Wilmington Historic Half Marathon & 5K is STILL ON!  We are temporarily only taking virtual registrations and offering additional flex options to participants that are already registered.  Check out the video and blog below for more information.
It's the Coastal Race Team with an important message regarding our upcoming Wilmington Historic Half & 5K on December 5th.
As some of you may know we have now had to cancel two races due to COVID-19. These cancellations came as a surprise to us just as it did the registered participants. We work extremely hard for an entire year on each event. We work along side of city officials and never promote or market a race until we have approval in writing.  With that being said, while we have had written approval for the 2 canceled events – with the ever changing health crisis, those cancellations caught us off guard and left us with very few options to offer you.
As of today, the Wilmington Historic Half & 5K is still on!  We are working hard to bring you the best event we possibly can under the current guidelines to insure your safety and ours. However, since we don't know what the future holds we are trying to take some pro-active steps in order to provide YOU, our valued participant more options.  This includes:
1) Stay registered in this year's race and if it gets cancelled closer to the event, we will switch you to the virtual option for you to run anywhere/anytime and receive your swag in the mail. *If you're registered and feel safer transferring to virtual – you can do that any time.
2) Defer to 2021 OR 2022 with no fee.
3) Transfer to ANY other Coastal Race Productions event.
All current registered (non-virtual) participants will be emailed instructions with how to select the option they choose.  If no option is chosen, we will automatically select option 1 for after the deadline on September 21st
Important Note:  Right now we are only taking "virtual" registrations.  If we get to host the in person event you will have the option to switch to that at a later time.
The reason we are able to offer much more flexible options this far ahead of time is that we have not yet had to ordered all our great swag for this race.  So these options do have deadlines you will need to make your selection by September 20th. After that orders will be placed and options will be limited. We will continue to plan the best race experience and keep you informed regarding news involving the event itself.  Thank you so much for your support and understanding – we look forward to when we can all run together and we hope it's this December!