I thought I'd go through the course in a little more detail for those that like to be really prepared for race day.  Below we have a course map, detailed instructions and a turn-by-turn for you but if you have any questions we'll have our course maps at packet pickup for you to review.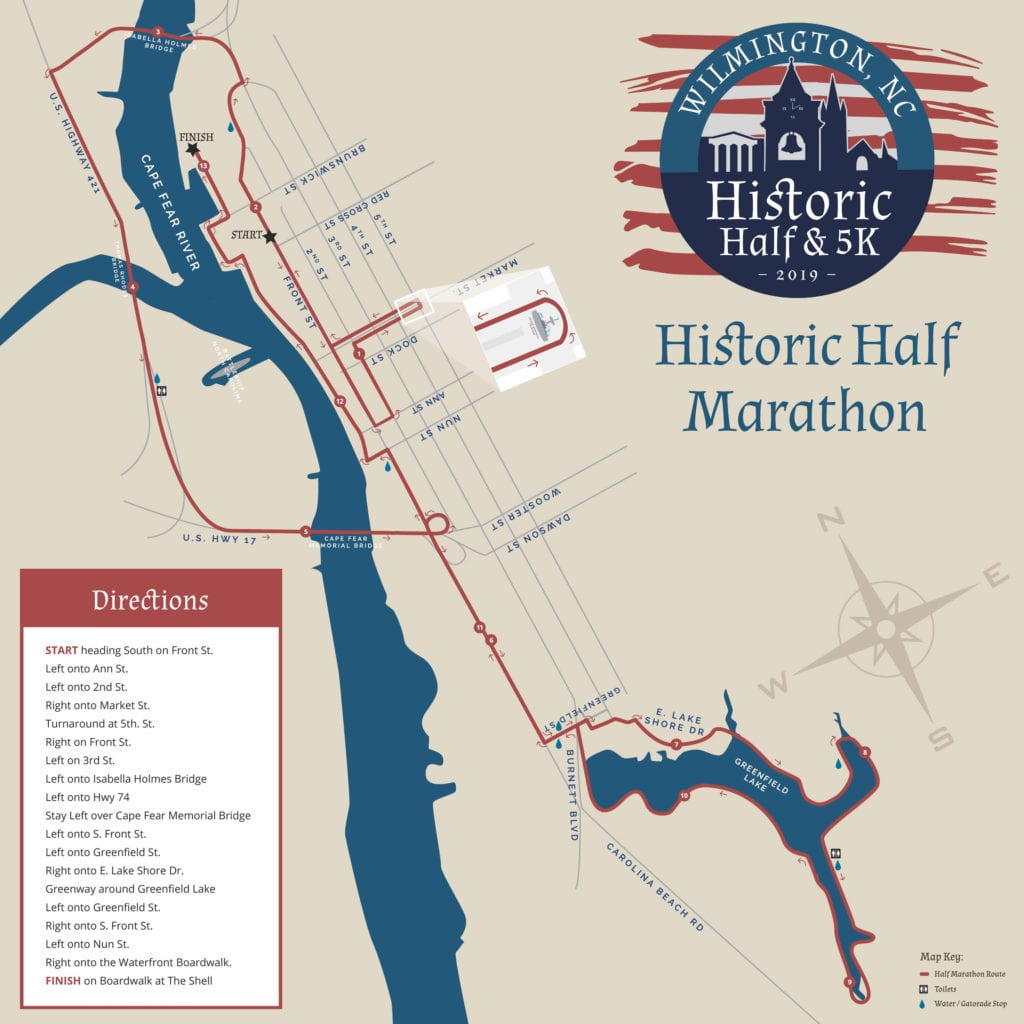 We will be starting on Front St near the corner of Redcross St. and start heading South on Front St.  This will take you about 3/4 of a mile through the heart of downtown Wilmington before you take a left onto Ann St. (Note: This is different than last year).  An immediate turn onto 2nd St. showcases more of the historic district before turning right onto Market St.  Here you will be running on the inside lane closest to the median down around the fountain at 5th St and head back down to Front St. heading North.  As you cross back where the start line was at Redcross St. we have a lane switch taking you into the Southbound lane toward your first water stop at PPD.
Now you're about to head over 3 bridges adding a little elevation to the course.  The first bridge is Isabel Holmes Bridge where we'll have a carpeted "courtesy" lane over the grates.  Next up is the Thomas Rhodes Bridge right before your 2nd water stop & restroom about mile 4.4 right in front of the Battleship.  Then you have your 3rd and final bridge – Cape Fear Memorial Bridge which will also have a carpeted courtesy lane over the grates.  Now you're done with the elevation at this point in the first 5 miles and you can cruise through the rest of the course.
You'll take a left coming off of the bridge and stay left of the cones heading out to Greenfield Lake.  You take a left on Greenfield St. where you'll have your 3rd waterstop about mile 6.5.  You take a right on Lake Shore Dr. (Also 5th St.) and head around the lake.  You actually hop onto the greenway right at the mile 7 mile marker and head over a little wooden bridge over the lake – don't worry, no real elevation here but a pretty view!  You'll stay on this greenway all the way around the lake, you'll have another waterstop a little after mile 9 with restrooms.  You will see lots of markings and you'll stay on this Greenway all the way until the corner of Willard and Burnett Blvd. about mile 10.3.  You'll take a left onto Greenfield St. where you'll revisit the same waterstop you used earlier about mile 10.6.  Taking a right onto Front St. you'll stay in a coned lane all the way back into town.  One more waterstop just before you turn left down Nun St.  Now this is a steep downgrade so be very careful!  You'll enter the riverwalk taking a right with some amazing views.  We need to take you off of the riverwalk onto Water St. around some construction but we get you back on the riverwalk after just a few blocks.
As you make your final stretch down the riverwalk, you'll see and hear the band playing at the shell.  You'll probably smell the BBQ from the after party and see the beer tent waiting for you.  Our course takes you around the front of the building before coming into the finisher chute and earning your finishers medal!
Truly a Spectacular Course!!  Below is our Turn-By-Turn instructions and you can click on the map above for a larger view.  We'll also have large maps at packet pickup for you to review.
Start on Front St. heading South
Left onto Ann St.
Left onto 2nd St.
Right onto Market St.
Turnaround at 5th. St.
Right on Front St.
Left on 3rd St.
Left onto Isabella Holmes Bridge
Left onto Hwy 74
Stay Left over Cape Fear Memorial Bridge
Left onto S. Front St.
Left onto Greenfield St.
Right onto E. Lake Shore Dr.
Greenway around Greenfield Lake
Off Greenway on Burnett St./3rd St.
Left onto Greenfield St.
Right onto S. Front St.
Left onto Nun St.
Right onto the Waterfront Boardwalk
There is a short jot onto Water St.
Finish on Boardwalk at The Shell