Thank you for joining us for the 2021 Wilmington Historic Half Marathon & 5K on Saturday December 4th in Wilmington, NC.  We're answering a lot of frequently asked questions with new course information, getting your bib & swag, pre-race and race day information so please read this email carefully.  The half marathon and challenge events are sold out but if you know someone missing out, they can still register for the 5K.
GETTING YOUR BIB:
The majority of participants that registered before Thursday 11/18 had their bib mailed to them.  If you don't have your bib already or registered late – you will need to pick this up race morning in the park.  We will have this available at 5:30am and encourage you to arrive 60 minutes before your start time. PLEASE have your bib number handy – you can look it up HERE
PARKING RACE DAY:
There are over 10,000 parking spots downtown. Meters along the course will have a "No Parking" sign ..don't park there. Use the parking decks and CLICK HERE for a full parking diagram downtown. We recommend arriving to park no less than 60 minutes before your race.
CLICK HERE FOR DIRECTIONS TO START/FINISH AREA
10 Cowan St. Wilmington, NC 28401
BAG DROP:
Right near the finish line will be the Omega Sports Bag Drop.  Bring your own bag or they will have bags for you and they will keep it for you until you finish.  Big thanks to Omega Sports for helping us with this!
RACE START:
The start lines are different for the 5K and the half – just outside the park.  We will have a large "5K Meetup" & "Half Marathon Meetup" sign in the center of the park that will walk everyone over to the start 15 minutes prior to each start.
5K Meetup: 6:45
Start: 7am
Half Marathon Meetup 7:30
Start: 7:45am
NO LATE STARTS!  Timing Mats will have to be pulled up from the road and no late starts are allowed.

NEW COURSES:
We have all new courses that start and finish in the new Riverfront Park.  Runners will tour the most historic areas of downtown Wilmington first.  The 5K breaks down to the riverwalk and the half marathon goes over 3 bridges and around Greenfield Lake.  The finish for both races is down one of the nation's top rated riverwalks!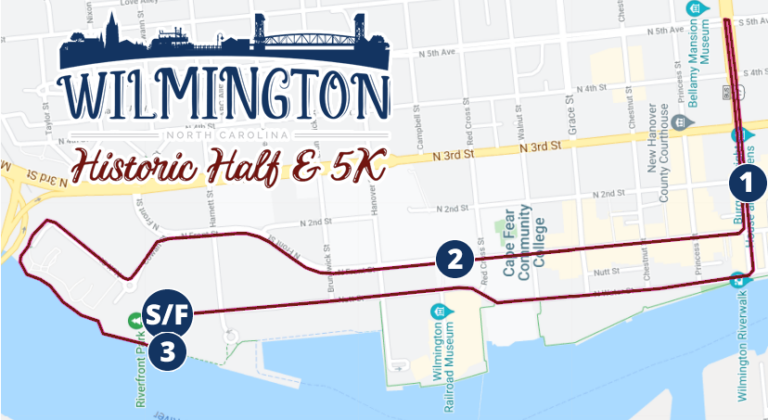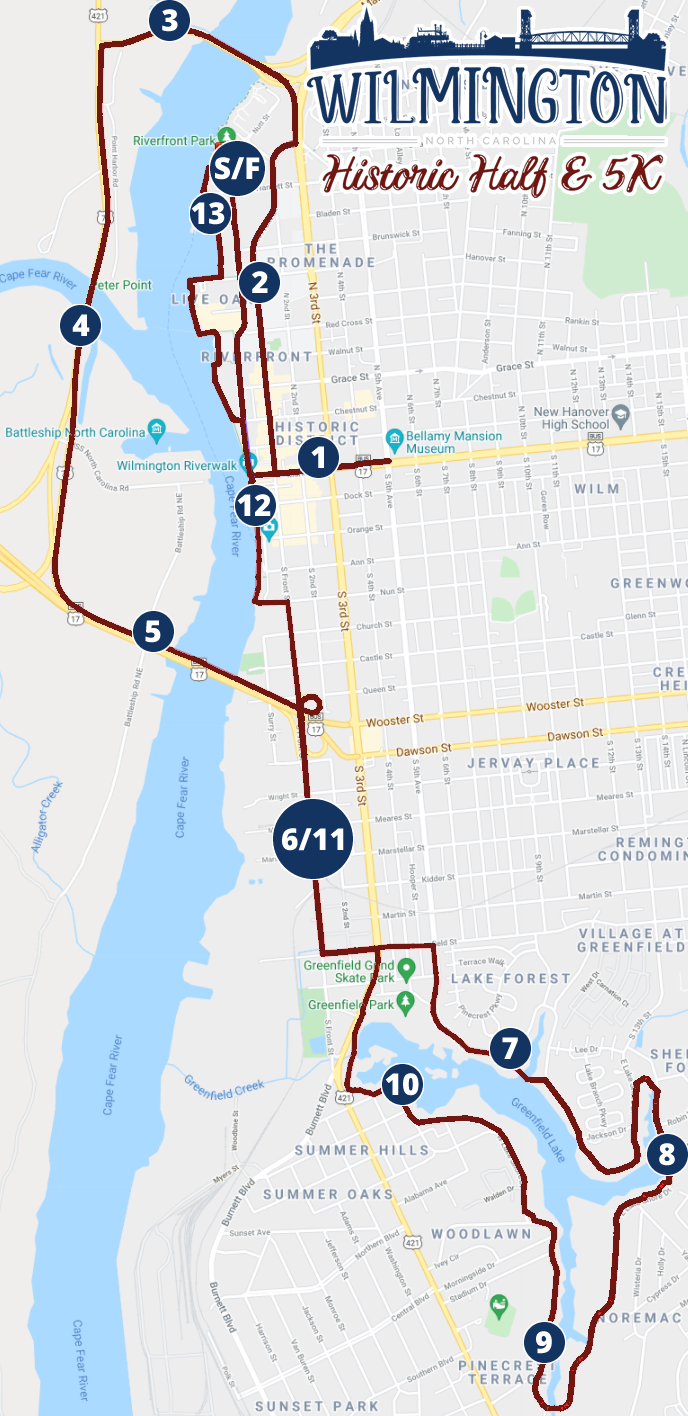 FINISH & SWAG:
Bart Yasso will be celebrating your finish with you at the finish line. You will get your medal, water, nutrition, giveaway – Beanie (5K) or Quarter Zip (Half) – ALL before you exit the finish line chute.  Beer & BBQ is waiting for you right outside the finisher chute and we encourage you to hang around all morning with us!
*Pro Tip – No ID = No Beer!! Bring your ID for 1 free beer, extra beer for sale (cash only).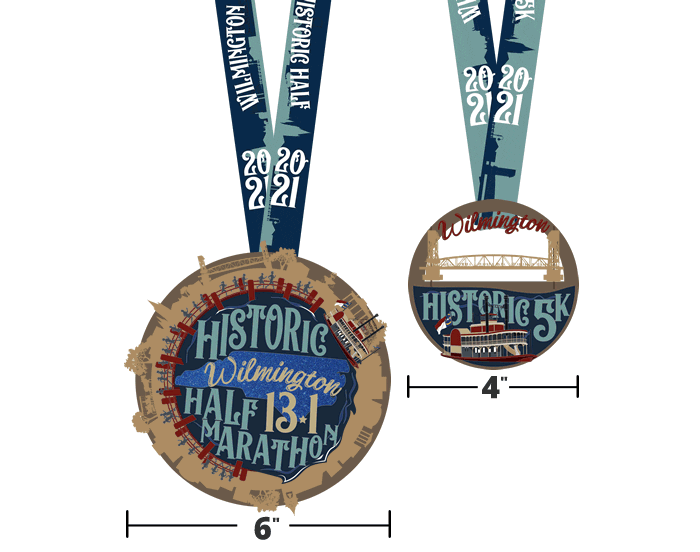 CHALLENGE RUNNERS:
You will receive ALL of your medals, finisher swag and bonus giveaway after you finish the half marathon in the finisher chute.
POST RACE:
Grab some of the best North Carolina BBQ at the finish line and a nice cold beer.  All beer must stay within the Beer Garden!
8am – 5K Awards
10:15am – Half Marathon Awards
*Awards will not be handed out early.
MORE FAQS
Can I pickup a packet somewhere else?  No, if you didn't receive your bib in the mail, you will need to come early before the race and grab it in the park.
Is there a packet pickup on Friday? No, this is Saturday morning before the race only.
I have a friend that signed up but can't make it – can I get their medal? This is an actual question we get asked weekly.  The answer is no, these are for finishers.
Can I swap tshirt sizes?  Yes, it will be based on availability.
Strollers Allowed?   Strollers are allowed on all courses.  Please be careful and watch your surroundings!
Dogs Allowed?   Sorry to say but due to USATF sanctioning, no dogs are allowed at the event unless ADA compliant and paperwork filed click here
Age Restrictions?   No age restrictions, parental consent for all runners under 18 for any races are required.
What's the plan for inclement weather?  This is a rain or shine event.
Virtual Races:  If you're a virtual runner, all items will be shipped to you the week following the race.
See our General FAQ's Page and our Wilmington Historic Half & 5K Race Website for more information, if you've read this entire email and have an additional question – please don't hesitate to email us here and we'll do our best to respond promptly.