Thank you so much for joining us Saturday 1/21  at the 40th Annual Winter Run in North Myrtle Beach! This is our 3rd and final pre-race email answering some frequently asked questions.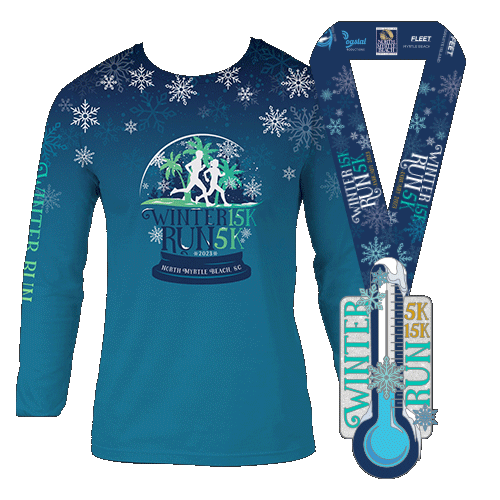 PACKET PICKUP:
This is on race day only from 6:00am – 7:30am sharp. We encourage you to arrive early. We will not hand out late bibs or allow late starts.
– This will be near the start/finish line on Main St. (214 Main St. North Myrtle Beach, SC 29582)
– You may pick up bibs for family & friends, however, this is race morning only so hopefully they won't be far behind.
ARRIVE EARLY:
Plan to arrive around 6:00 am – 6:30 am to park and get your bib before the race. See below for a parking map.
WEATHER:
This is a rain-or-shine event, but we're expecting some pretty good weather tomorrow in the low 40's and no rain!
BIB NUMBER:
We will be assigning bib numbers to participants as they show up so you don't need to know your bib number.
START TIME:
Both 5K & 15K races start at 8am sharp on Main St. under the Fleet Feet inflatable Arch!
FINISH LINE SWAG?
We will be handing out shirts before the race with your bib and medals at the finish line. The same swag is offered for all participants in both events this year. If you registered late in the "No Shirt/No Medal" race, you will receive a different bib indicating this.
COURSE/ROUTE MAPS?
Your race course is marked and ready for the morning. If you'd like a detailed turn-by-turn look at your route, CLICK HERE FOR A LARGE PRINTABLE COURSE MAP (PDF)

WHERE TO PARK?
Below is a map to the 2 large parking lots (⭐)  where participants can park. If you're driving down Main St. you will turn left or right on Hillside Dr. to these lots.
#1) The first lot is on
2nd Ave. North
between Hillside and Ocean Blvd. The
entrance
is on 2nd Ave. North.
#2) The second lot (after #1 is full) will be on
1st Ave. South
between Hillside and Ocean Blvd. The entrance is on 1st Ave. South.
If you have any additional questions, please check out the Website Here or the FAQ Page Here. And if you have additional questions that you cannot find the answer to, please arrive early tomorrow and we'll be happy to help – we may not be able to reply to all emails today or tomorrow before the race. We look forward to hosting you at the 40th annual Winter Run in North Myrtle Beach!
If the above directions link doesn't work for you, please use the address: 214 Main St. North Myrtle Beach, SC 29582. The start and finish are both on Main St near the corner of Ocean Blvd. in North Myrtle Beach and the races start at the same time.