This post will be updated in effort to keep you in the loop with our race plans for Run Sunset Beach in regards to COVID-19.
[RACE CANCELLED] Updated 5/5/2020: 1:15pm
We hope everyone is doing well and staying safe in this pandemic crisis.  Run Sunset Beach was previously rescheduled from March 28th to May 16th in hopes we could still have the race.  Last night, 5/4/2020 at 7:00 PM, the town of Sunset Beach commissioners hosted a public meeting opening our beach strand to exercise only and short term rentals will open soon as well.  Unfortunately, they decided to pull the permit for our event (and all others) through the month of May and possibly longer.
Run Sunset Beach Cancelled
We are absolutely the last people that would want to cancel.  Our small team of 2 has worked SO HARD over the last 13 months to plan an incredible event for you here in beautiful Sunset Beach; and then re-planning a postponed race. We've created in-depth plans to keep participants and volunteers safer and more socially distanced and did everything we could to try and host this event – but sadly it is out of our control.
The racing industry has been flipped upside down into a massive push toward virtual events over the past 6-8 weeks as every event is either being cancelled or postponed.  It has been our goal from the beginning to providing transparent communication and updates for all participants the best that we can in regards to the status of Run Sunset Beach via emails, social media and this updated blog.
Depending on where you are in the country, your area may be opening back up in phases or you could still be in complete lock-down quarantine.  Regardless of where you are, we hope you are staying safe and healthy.
What We're Doing:
#1)  Virtual:  We have all of your medals, hats, shirts (if purchased), & bibs.  We will be relentlessly packaging everything as quick as possible to have it shipped out to you before the originally scheduled race date of May 16th.  We will update you further as these are being shipped.
– You do not need to take any action – we are automatically doing this for EVERYONE.
– You do not need to upload or show proof of your time, we have always done this on the honor system.
#2) For participants only – we'll be sending out an offer allowing you to take 30% off early bird prices for 2021.  That brings the prices down to:
Half Marathon:  $34
5K: $17.50
– We will work diligently to open registration for this by the end of the week.  We will update you with your unique code and more information as soon as it's available.
– The 2021 Medal & SWAG are unlike anything you've seen before – unique offerings we can't wait to share!
– You do not need to take any action – we are automatically doing this for EVERYONE.
We appreciate your continued support and understanding during this crisis.  We will continue to provide updates in the next couple of weeks as we pack and ship everyone's swag for virtual and we open up the 2021 race for you.  If you have any further questions, feel free to reply to this email or email: info@coastalraceproductions.com and we'll do our best to reply promptly.
---
4/21/2020 – 1:45 PM
We hope everyone is doing well and staying safe in this pandemic crisis with world-wide stay-at-home orders.  The racing industry has seen a massive push toward virtual events over the past 4-6 weeks as every event is either being cancelled or postponed.  It's our goal to continue providing transparent communication and updates for all participants the best that we can in regards to the status of Run Sunset Beach.
As everyone is aware, Run Sunset Beach was scheduled for March 28th and was recently postponed to May 16th.  Safety is the #1 priority for us here at Coastal Race Productions when considering the postponed date for participants, spectators, volunteers, vendors, and local citizens.  There are many factors that go into putting on the event we need to consider and we also need permission from local government to host the event.
The Town Of Sunset Beach:  Hosted a meeting today (Tuesday April 21st, 2020 at 9am) to discuss several items.  The beaches will remain completely closed for the time being, no public access or public parking open and beaches are closed.  The park is closed and short term vacation rentals are not allowed at this time until at least May 15th.  The Governor of NC is going to host a press conference next Wednesday (4/29) and they are waiting for direction from the Governor to make further decisions.  The town of Sunset Beach will be hosting another meeting on 5/4 and we anticipate a final decision on the race at that time.
With that said, we have been developing a "hybrid race plan" that allows us to maintain safety and social distancing for the event.  We have developed a pretty comprehensive list of ideas and are also seeking ideas from industry leaders for plans they've implemented.  It is certainly our hope that we're able to still produce the event on May 16th in a safe manor.
Virtual Racers:  If you have opted to participate "Virtually", all virtual race packets will be shipped out around May 16th.  Nothing else you need to do and you'll be receiving more information over the coming 3 weeks.
We appreciate your continued support and understanding during this crisis.  We will continue to provide updates in the next couple of weeks.
---
3/18/2020 – 1:15 PM
Constant news and updates with massive amounts of closings/canceling events causes a lot of confusion and quick changes.  I wanted to update this blog with news for anyone checking back for updates.
At this time, the event is still rescheduled for May 16th, 2020.  We are working through rescheduling with all of our vendors, staff, volunteers, sponsors, permits, etc.. to make this event happen.
We encourage you, if you plan to come run your "virtual race" on 3/28 anyways for sake of running on the actual course; PLEASE practice social distancing from others.  We will not be organizing a group run in effort to be respectful of Governor Coopers request to limit gatherings to 10 people or less.
In all of this, at least we can still run.  Unplug and go RUN!  Thank you for your patience and support and we look forward to seeing you all soon.
---
3/13/2020 – 1:15 PM
Thank you so much for your patience and support.  For continued updates regarding Run Sunset Beach and COVID-19/Coronavirus, please see our post here —> https://coastalraceproductions.com/covid19-updates/
Safety and security of the runners and volunteers is the first priority to us as a company which is why we were quick to offer free event transfers to run virtual if anyone felt unsafe.
As you may know, North Carolina has declared a state of emergency and our Governor Roy Cooper gave a press conference yesterday (3/12/2020) afternoon asking all events of over 250 participants to be cancelled/postponed. We have discussed with the town of Sunset Beach and they are going to allow us to postpone the event to:
NEW DATE:  MAY 16, 2020.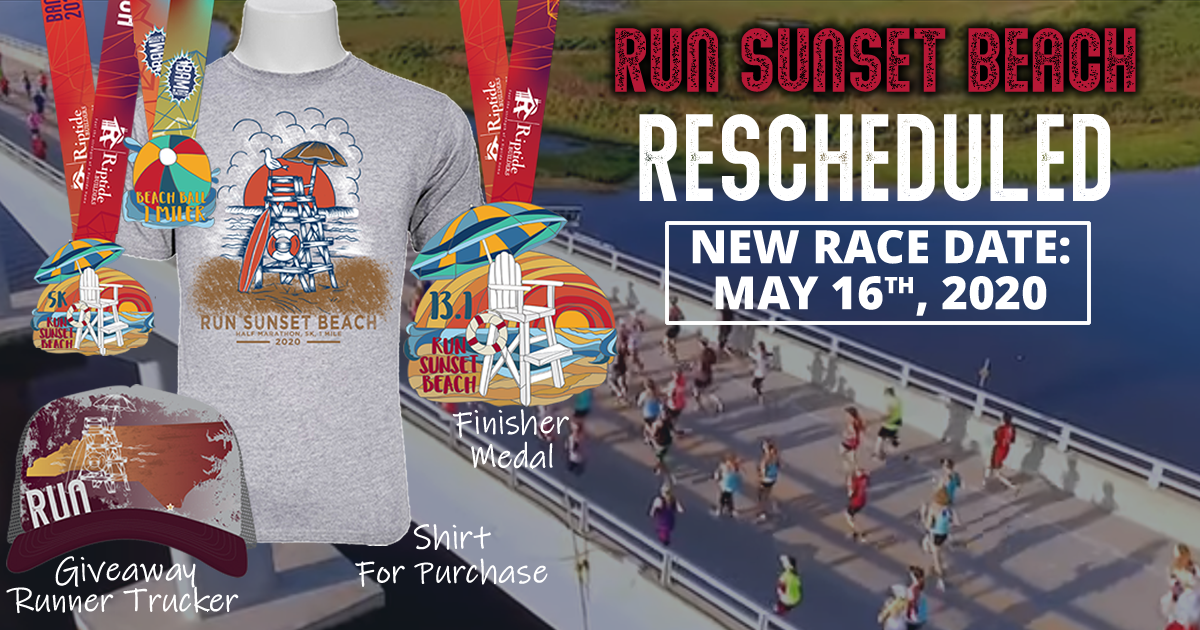 We realize May 16th won't work for everyone, and we are the absolute last people who want to cancel an event. You have put in the work training so hard for this race – and we are proud of you for that. We are a small team of 2 but have also worked tirelessly over the past year to provide the best runner experience possible – and we will continue to work hard towards the new rescheduled date.
With the new race date, we are providing some of the most runner friendly options you will find ensuring that everyone gets their swag and has an opportunity to run with us. By default, option #1 to run with us in May is selected for you without any further action. If you'd prefer option #2, please follow this tutorial here.  
As stated in the registration policies, we have a very flexible refund policy leading up to an event with deadlines. We are runners too and know how much participants appreciate this flexibility. Unfortunately, with only 2 weeks left, all financial outlays have been made for items such as shirts, medals, swag and many other costs that we cannot get refunded in preparation for race day; so we are unable to offer a refund option.
OPTIONS:
1) Run with us on May 16th,2020; same place and our website will have all of the details. (NO ACTION REQUIRED)
2) Run Virtual (FREE). We will ship you your hat & medal (and shirt if you purchased one).
If you would like to run "virtual", a couple of important notes:
– We will ship everything out on May 14th including your bib, hat, medal. (And shirt if purchased).
– By choosing this option, we won't have your bib on race day and you are not able to run with us on the postponed race date of 5/16.
– For help to make this change online, Click Here for an online tutorial or email us if you have trouble.
– We encourage you to join our group on Strava to feel more connected and receive extra "kudos" for your virtual run!
– No need to send us your results, your race swag will automatically be shipped out on May 14th.
3) Unable to participate – don't ship.  If you cannot make the postponed date and are not a fan of virtual races this option is for you and we will not ship your race packet.
EXCLUSIVE DEFER OPTION:
Only open to 2020 Run Sunset Beach participants (regardless of your choice to run in May or virtual) we are allowing you to defer to 2021 at the lowest price we've ever offered.  The race date is 3/27/2021 and we can't wait to reveal the incredible medals and swag soon – it's AMAZING!
Half Marathon: $39
5K: $19
1 Mile: $15
– This opportunity expires on March 21st, 2020
– You will be receiving 2021 swag items, medals, giveaways, etc..
To defer, login to your RunSignUp account and select defer. Here is a tutorial to help you with that: https://help.runsignup.com/support/solutions/articles/17000062915-defer-registration-claim-deferral
Please Note:  If for some reason the situation regarding Covid-19 should continue to worsen and we are unable to host this event on May 16th as planned you will automatically be switch to a "Virtual Runner" and all of your race swag will be shipped for 2020. We certainly hope that this is not the case and that all of our lives and communities are back to normal by then.
Again, thank you for your continued support!
Your Coastal Race Team
---
3/13/2020 – 10:50 AM
We are working on updates as we speak.  Please hang in there with us as we'll have an update for you asap.
---
3/12/2020 – 12:00 PM
At this time there have been no changes regarding Run Sunset Beach on March 28th we are continuing with our planned event. However, this is completely unfamiliar territory for us and our community, and we are doing our best to navigate the situation. The health and safety of all our participants is of the utmost importance to us and we want you to know the extra safety precautions we are implementing with your health in mind.
Hand sanitizers in every port-a-john & at every water stop.
Extra hand washing stations near the after party food/beverage.
Hand sanitizer stations at expo and finish line.
Gloves will be worn by volunteers handling food/beverage and water stops.
Ask you to respect the personal space of others.
Hands-off results printing kiosk
We also want to encourage you in these last couple of weeks leading up to the race to practice safe hygiene and build up your immune system by drinking plenty of fluids, making sure you get adequate rest and take extra vitamin C. It will be important to follow these same practices post race also to insure a healthy race recovery.
We are a small family owned race company and the financial outlay for an event like this has already taken place and although the window for certain registration options have passed – your overall well being is important to us and if you feel uncomfortable in anyway attending the event we are allowing participants to switch to the "virtual option" with no event transfer fee for a limited time. If you'd like to run from home and have your race swag mailed to you, you will need to manage your event transfer before March 21st so that we still have time and an idea of how many to expect race weekend.
We sincerely hope you will choose to join us in Sunset Beach, but want you to feel comfortable with your decision. If anything changes we will notify everyone immediately. If you have any other questions that cannot be answered above or on our website we will do our best to reply within 48 hours. Thank you for your understanding and patience.
Please understand, the last thing we want to do is cancel the event.  We ask that you don't email us with facts or your opinions regarding COVID-19, we are following closely and working with town officials.  Thank you!
Your Coastal Race Team
*We plan to meet with the town of Sunset Beach on Friday 3/13/2020 and will certainly have another update for you after that meeting.