Holden Beach Half Marathon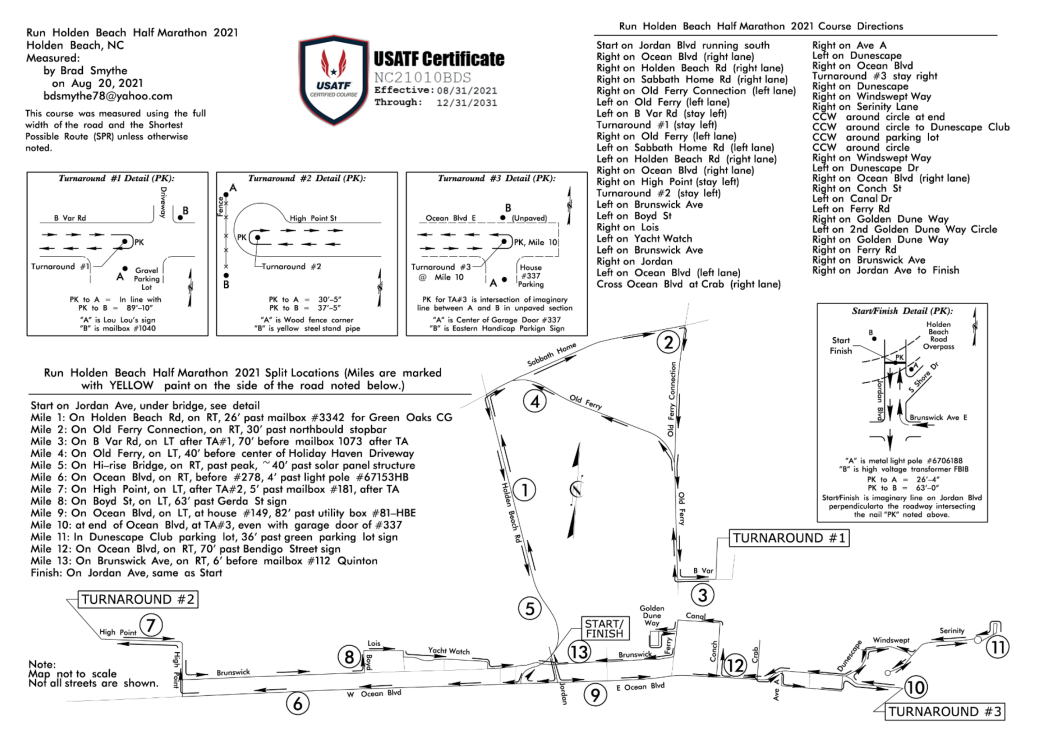 Knowing the Routes & Highlights:
This course is 100% on road – never a cart path or beach.  There are two turnarounds on gravel roads but you will never be on a cart path or beach.
RaceJoy Enabled!  You can dowload Racejoy from the app store and search "Run Holden Beach".  It will give you more information and if you take your phone with you along the course, it will give you audio cues at mile markers.  Free to you as a participant!  Also, friends and family can track you and send you encouragement!
What Does A Certified Course Mean?
  The courses are 
NOT
 "approximate or close" – they are 
exact distances
measured to the shortest tangent, measured twice with a calibrated bike by a certified course measurer. If your watch shows a different distance after you finish, please understand that the most expensive watch still uses GPS which is not as accurate as a "
Jones Counter
".  The Half Marathon & 5K are certified.
What To Expect On Course:
There will be over 150 signs on course, duct taped arrows on the roads that were not wet, 6 waterstops (#1 will also be #2 that you'll hit about mile 1.5 and 4), there are about 40 volunteers on course, 6 officers, hundreds of cones and your CRP team will be out there on-course at different areas.  There will be a bike leading the front runner and pacers helping you reach your goal.  You really shouldn't need all of these directions below, but it's better to have as much information as you can about the route so race morning you feel 100% comfortable and know the turns.  Here is a mapmyrun of the course as well: 
https://www.mapmyrun.com/routes/view/4672280551
Every Detail About The Course:  You'll be starting on the island under the bridge.
Traffic will be stopped for you at the beginning, you'll be taking Jordan Blvd toward the beach
Right onto to Ocean Blvd and right over the bridge. The whole bridge should be shut down just for runners heading over the bridge.
Stay to your right once over the bridge.
Right turn onto Sabbath Home Rd.
Go straight down to Old Ferry Connection where you'll take a 90 degree turn RIGHT (don't take the first right onto Old Ferry Rd. – you'll be coming back up this way.)
Once you're on Old Ferry Connection, stay to your left and turn left onto B Var Rd. – stay to your left down to the turnaround marked with a volunteer – careful, gravel here!
Once you turn around, again stay to your left so runners don't run into each other here.
Right turn back onto Old Ferry Connection but stay to your left
Left onto Old Ferry Rd – It kind of curves into it.
You'll come back out on Sabbath Rd. here and left onto Holden Beach Rd.  You'll be crossing the road and getting into the far right lane to head over the bridge, we will have cars in the middle lane and left lane that you were in coming off the island.  Take this right lane all the way up and over the bridge.
Right onto Ocean Blvd. – stay to your right
Right onto High Point Rd – stay left
All the way down to the very end – its a dead end – stay to left around the Turnaround
Coming back down high point, you'll take a left onto Brunswick Ave. – stay left.
Left on Boyd
Right on Lois
Right on Roger
Left on Yacht Watch
Right on Yacht Watch down to Brunswick Ave.
Left on Brunswick Ave.
Under the bridge, pass the finish line and turn right down Jordan Blvd. You'll see signs and cones here.
Left onto Ocean Blvd – stay left
Cross the street right after Crab St. but before Conch – keep right
Road turns into McCray, turn right onto Ave. A – it's the first right right after you're around the curve
Left onto Ocean Blvd
Left onto Dunescape
Right onto McCray – keep right – down to the very end and turnaround – keep right around turnaround
Right on Dunescape – keep right
Right on Windswept Way – keep right
Right on Serenity Ln – keep right down around the culdesac
Stay right back down Serenity Ln.
Keep right as you pass a round-a-bout
Keep right as you pass a small parking lot, pool and tennis court, you'll be turning back down Serenity Ln here
Stay right all the way back and Right onto Windswept Way
Keep right as you turn left onto Dunescape Dr.
Keep right as you turn right onto McCray (which curves into Ocean Blvd)
Turn right onto Conch
Turn Left onto Canal
Turn Left onto Ferry
Turn Right (keep right) onto Golden Dune Way and take the second left around the circle here
Keep right as you head back down Golden Dune Way
Turn Right onto Ferry
Right onto Brunswick Ave.
Right onto Jordan Blvd into finish line.
Whew…  again, you really don't need all of these directions.  We have signs, duct tape arrows on the ground, volunteers and staff all along the course but if you're someone who likes to be well prepared – here you go!
Holden Beach 5K
The 5K is super simple.  You will start under the bridge on the island.
Taking Jordan Blvd. toward the beach, you'll take a right onto Ocean Blvd. – keep right
Go all the way down to High Point Rd. and take a right – keep left
Go down around the curve to the turnaround, after turnaround – keep left.
Left onto Brunswick Ave. – keep left – all the way back to the finish line.
You'll turn left off of Brunswick Ave. into the finish line under the bridge.
Holden Beach 1 Mile
You start on Jordan Blvd. at the corner of Brunswick Ave.
Run down Brunswick Ave. to the very end and back on the same road – keep to your right down and back.
Finish under the inflatable arch just like everyone else.