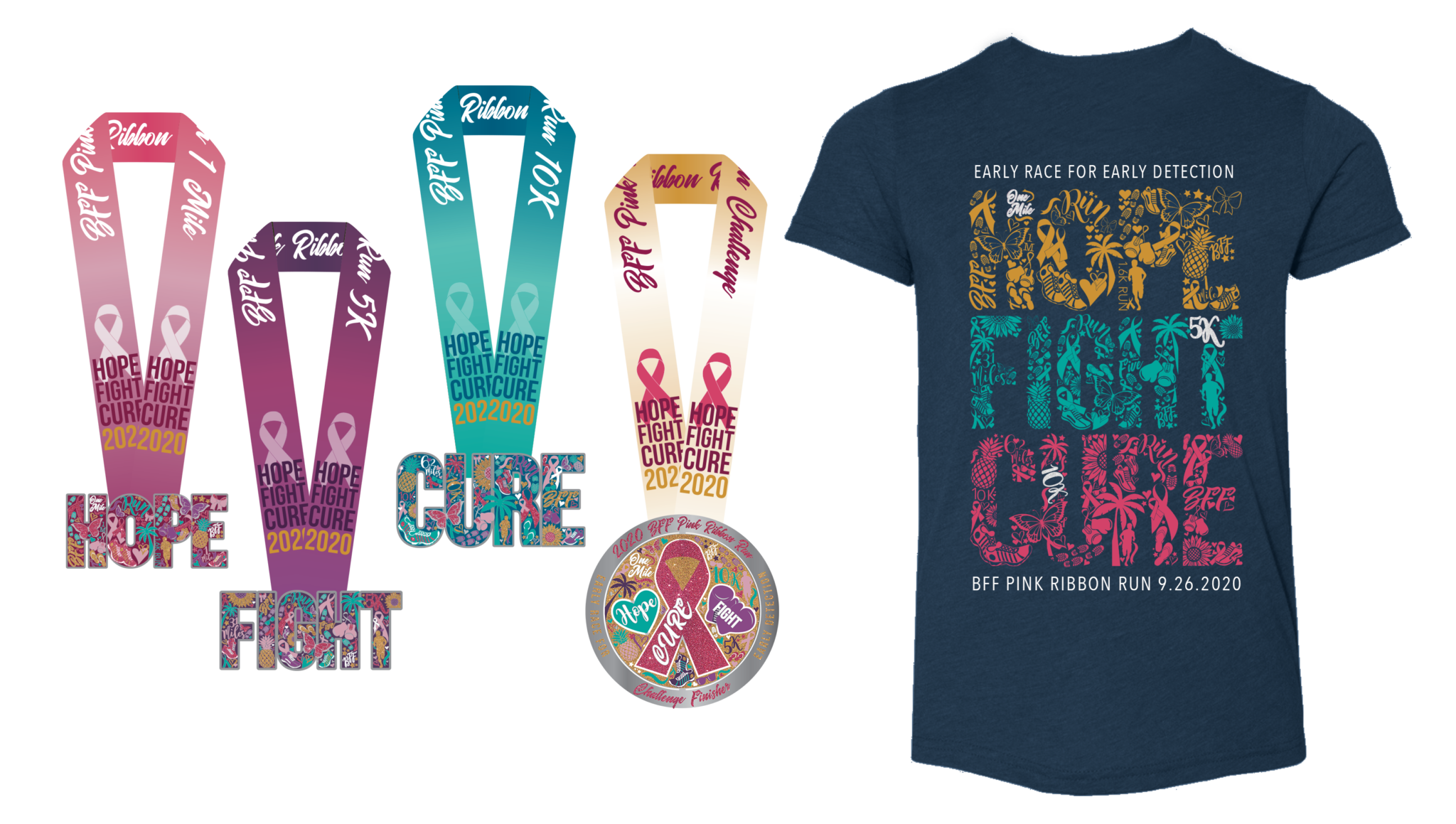 Participants have the option to run/walk the 10K, 5K and/or the Memorial 1 Mile (or any combination).  All finishers will earn a large 6″, 5″ and a 4″ Medal as well as a challenge medal if you signup for the Ultimate BFF Challenge.  The shirts are a soft tri-blend style for all participants.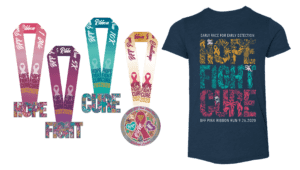 Arriving:
You will want to use the 2200 Premier Resort Blvd, North Myrtle Beach, SC 29582    Be sure to arrive no less than 45 minutes prior to your race start time (even if you picked up your packet on Friday!) 
Parking:
Limited parking will be near the start line and we will have attendants to help you park in the appropriate areas.  Use the address:  2200 Premier Resort Blvd, North Myrtle Beach, SC 29582 follow our signs and parking volunteers.  Overflow parking will be at the House of Blues with a short walk across the bridge (less than .5 miles.  You will want to arrive no less than 30-45 minutes prior to your race start time even if you have you packet already.
Start Time:
10K starts at 7:30 am
5K starts at 9:00 am
1 Mile at 10:00 am
During Race:
Saftey is our #1 priority.  While we work with local authorities and DOT to shut down as many roads as possible, a portion of the course is open to vehicles so it's important to be aware.  We discourage headphones and no dogs are allowed per USATF sanctioning.  Follow our directional signs, volunteers and law enforcement – they know the course and where you need to be running.  Due to Covid-19 this is a NO cup race – you will need to carry your own hydration.  We will offer a no-touch refilling station with gallons to refil your own containers – There Will Be NO Cups.
Post Race:
While we cannot offer any post race celebration at this time any overall winners may pick up their trophies at Fleet Feet Myrtle Beach.  Awards will include top 3 Male/Female and top 3 Masters Male/Female for both the 10K and 5K.
Important Reminders:
Arrive early – you don't want to miss your start
Bring your bib and pre-race hydration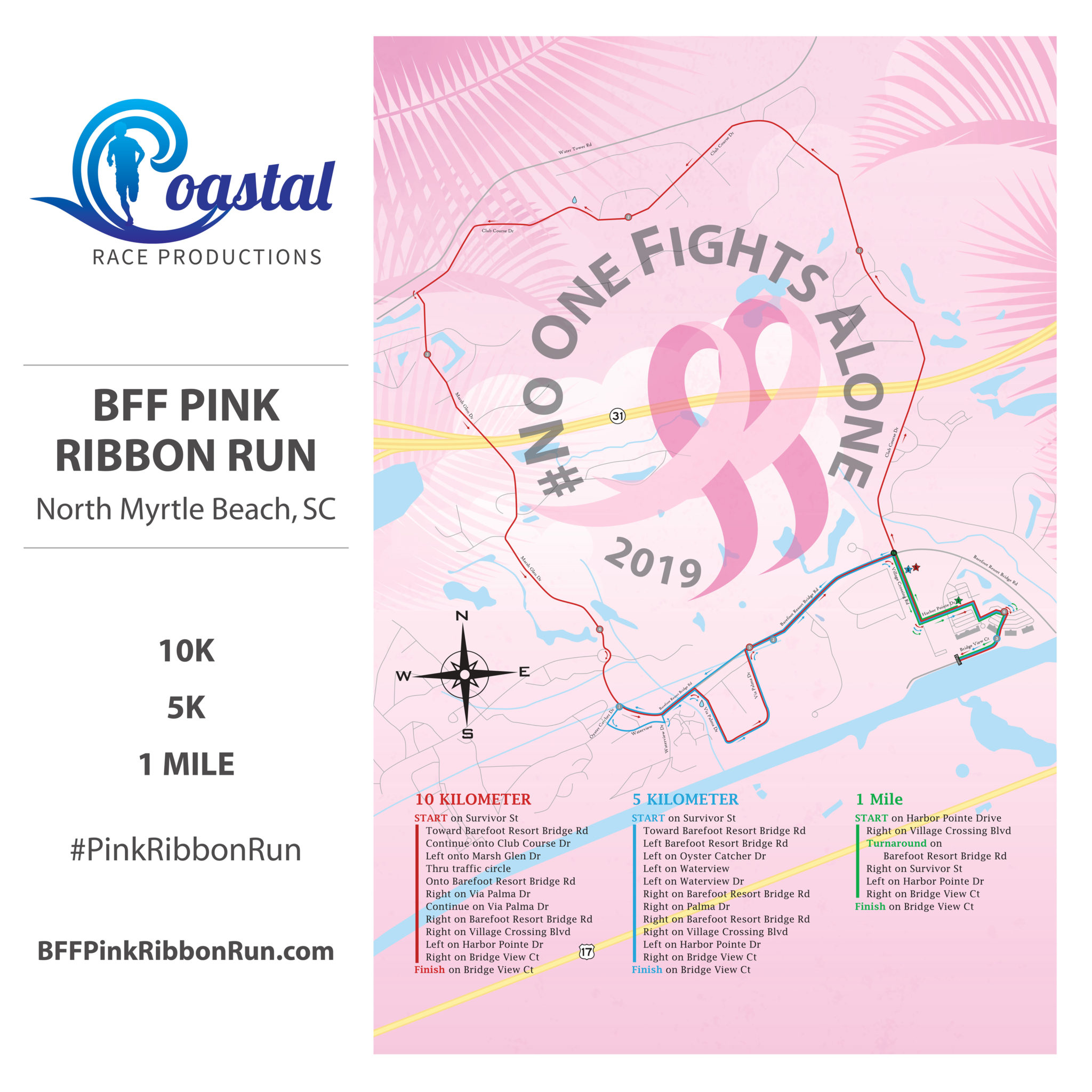 10K – Starts at 7:30AM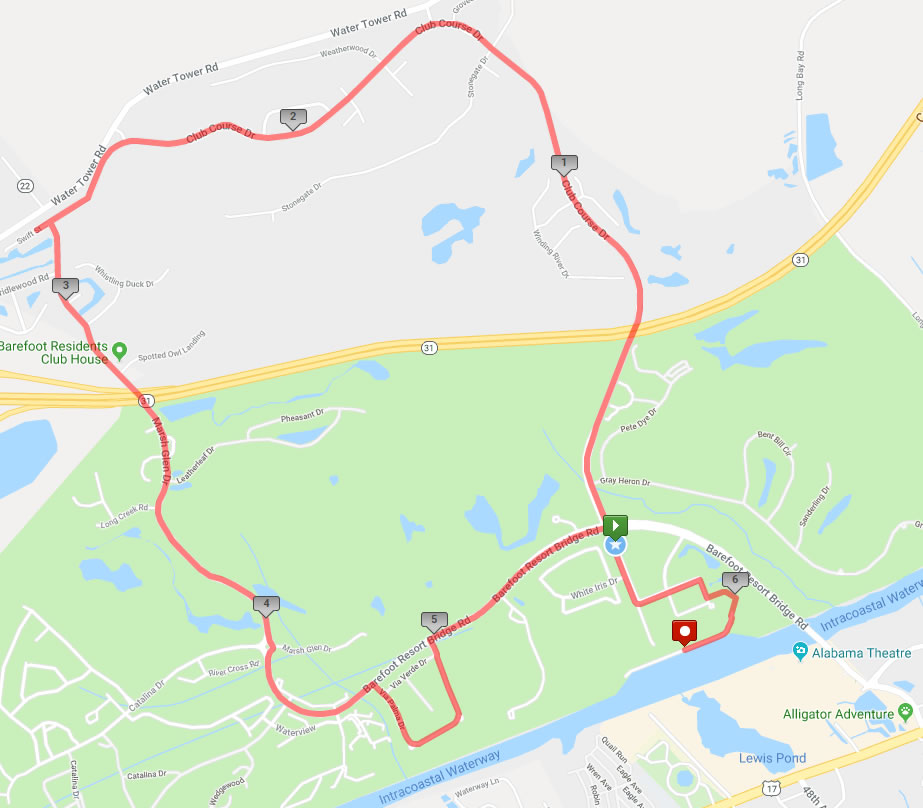 5K – Starts at 9:00AM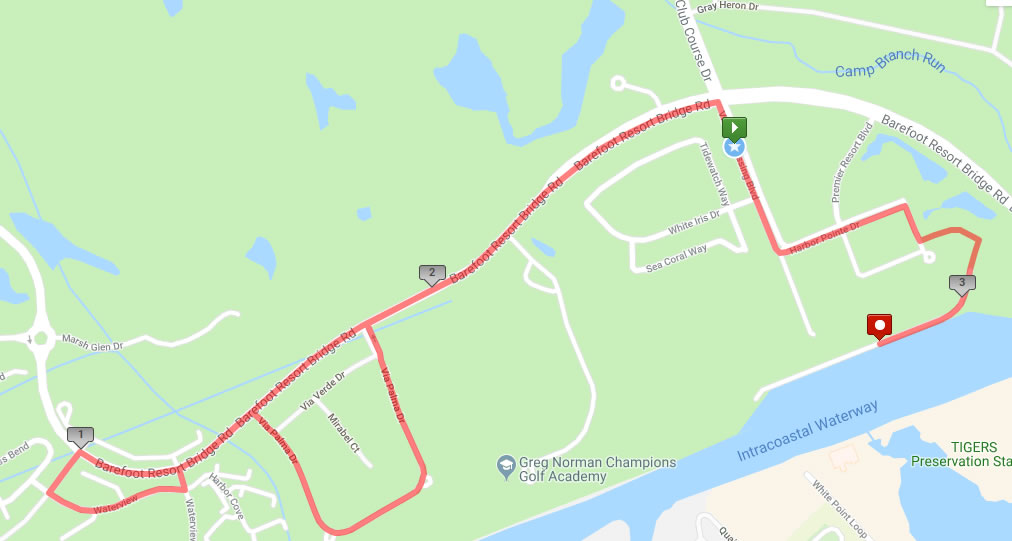 1 Mile – Starts at 10:00AM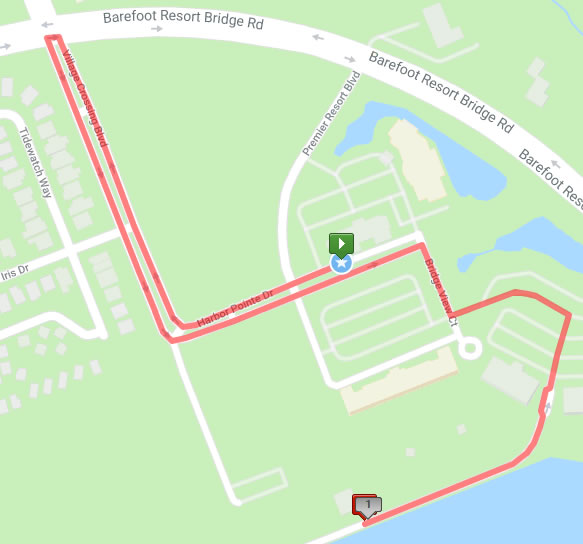 When: 
We are under strict guidelines for prceedures for this race therefore we are only able to offer a drive-thru style packet pick-up.  Friday, September 25th, from 12:00pm – 6:00pm.  There will be no race day registration or bib pick up.  We strongly encourage you to make arrangements to either pick-up Friday or have a family member or friend pick-up for you.
Where:  
Friday Setember 25th Packet Pick-Up 
12:00pm – 6:00pm
Alabama Theater Parking Lot (Drive-Thru Style)
4750 US-17 S
North Myrtle Beach, SC 29582
Timing/Mats:
 We partner with a professional Timing Company that will provide accurate and certified results.
Certified Course:
Every Coastal Race Productions event is certified with USATF and measured for accuracy.  If you are hopeful for a state or national record, please give us a heads up so that we're expecting it and can take proper actions to fill out the paperwork needed for your submission.
Hotels:
There are an abundance of hotels in the area as well as AirBNB's and VRBO's to stay at.  If you are wanting to be close to the start line, we would recommend using this address to search by location (2051 Bridge View Ct, North Myrtle Beach, SC 29582) or searching at the hotel onsite "Barefoot Resort" by clicking here
Discounts:
 Military, Students & Teachers – Yes!
Are you a member of a running club or group – contact us for club discounts.
Use our contact form  – click here
Are Dogs Allowed:
Sorry, no they are not.  All of our courses are USATF certified and sanctioned and dogs are not allowed for safety reasons.  If you have a 4 legged running companion for medical reasons, you can file a request through the USATF ADA Committee (which takes 4-6 weeks) by clicking here and if they approve, they will provide you documentation that you will then need to provide to us.  Here is a direct link to the form you'll need to fill out.
Register Offline:
We really prefer for you to register online if at all possible – it's quick and easy with the link at the top of the page.
Can I walk:
Yes! Our 1 Mile, 5K & 10K races have no time limit and allow plenty of time to walk most of the course if you'd like.
Age Restrictions:
We have no age restrictions however we do ask for parent or guardian signatures on all minors under 18 years of age.
Course Support:
We will have 2 water stops on the 10K and 1 on the 5K course.  We will also have an aid station, food and beverages around the finish line.  We will have a lot of volunteers to support you on the course as well.
Photos:
We do provide race day photos and our awesome photographer tries to get some of everyone!  If you see her please thank her for all of the awesome FREE photos to enjoy!  These will all be uploaded to our Facebook page please feel free to tag yourself and share with your friends and family.
Registration Policy:
You may manage this 100% on your own through your RunSignUp account.  There is a $6 processing fee online for any refunds to be issued and we provide the following options based on how far in advance you make the request.
–  More than 60 days from event:  75% Refund
–  30-59 days from event:  50% Refund
–  Less that 30 days from event:  No Refund
Event Transfer:
If you want to change from one distance to another distance at the same race on the same weekend, we allow you to do this yourself prior to any Coastal Race Productions event.  This cutoff to switch is typically the final week leading up to a race and based upon availability in that event.  You will manage this through your RunSignUp account and there is a $15 processing fee.  Need Help?  Click Here for a tutorial on how to edit this. 
Bib Exchange/Transfer:
You can transfer your bib to another runner prior to a race. You must login to your RunSignUp account and initiate this bib exchange by placing their name and email in.  The recipient will receive an email to accept the bib, pay a $15 processing fee and sign our online waiver.  Whether you gift it to them or they pay you for it on this side is up to you.  Need Help?  Click Here and look for "Transfer to Another Runner" for a tutorial on how to edit this.
General FAQ'S:
Visit our General FAQ's page for answer's to all of your questions regarding Coastal Race Events.
*Please note:  Anyone on the course without a race bib will be asked to leave the course.  Anyone running with a dog unless you have the required USATF ADA paperwork will be asked to leave the course.  Companion riders on bicycles are not allowed and will be asked to leave the course.  These are all due to insurance regulations and are grounds for disqualification – It is for the safety of ALL participants.  Thank you for your cooperation and help to keep everyone safe.
Make the most of 2019!  Whether you've set a new goal, tackling a new distance or want to push for that new PR we are here to help you!  Let our Certifed Running Coach write a training plan specifically for you!  We are here to help you achieve your goals!  Jump on over to RunCRP to learn more!