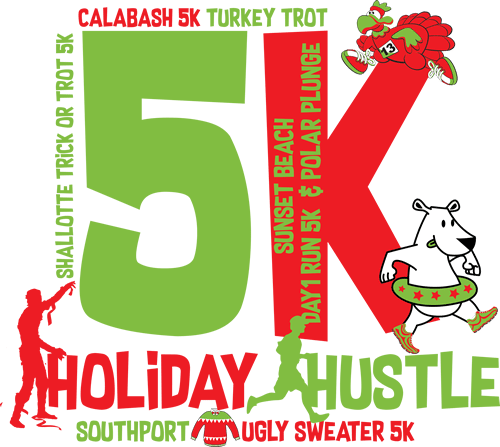 If you have any trouble with registration, please click here for another secure page to get signed up.
Big Finisher Medals For Everyone + Unique Swag At Each Race!
Everyone that crosses that 5K finish line gets a big fun medal and a unique swag item.  Every race gives away a tshirt.  We decided to do something a little unique.  Instead of a shirt, you will receive one of the 4 swag items (depending on which race you run) – and you can purchase one of our cool long sleeve tech tshirts if you'd like during registration for $16.
Swag Items include:  Beach Towels, Trucker Hat, Buff, Tumblers and Sweat Towels.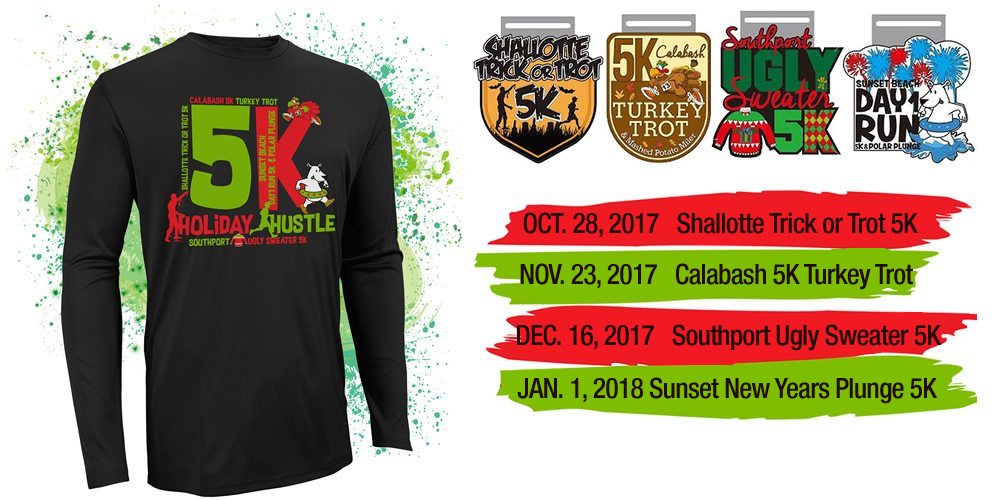 We've got 4 fun 5K races around Brunswick County for the Holidays in our all new "Holiday Hustle 5K Series".  Each will have race day registration and packet pickup but for all details regarding each race, be sure to check out the individual race pages.
Parking:
There is ample parking around the start/finish line for each race for runners and spectators.  Be sure to check out each race page for directions.
Discounts
Military, Students & Teachers – Yes!
Are you a member of a race club or group – contact us for club discounts.
Use our contact form please – click here
Strollers & Handicap Accessible
Absolutely! All of our races are stroller friendly and handicap accessible. Our races are completely on roads, however you do share most of the roads with controlled traffic.
Register Offline
We really prefer for you to register online if at all possible – it's quick and easy with the link at the top of the page.
Can I walk?
Yes! Our 1 Mile and 5K races have no time limit.
Age Restrictions
We have no age restrictions however we do ask for parent or guardian signatures on all minors under 18 years of age.
Course Support
We always have at least 1 waterstop on each 5K course.  Routes are managed by staff and volunteers and every course is extremely well marked with tape/paint on roads, signs on the sides of the roads, overhead signs, volunteers and police assistance.  They are all certified distances.
Registration Policy
We have a No Refund policy and any changes to registrations must be made at least 30 days prior to race date.
Looking for a training plan, a group run at the coast or someone to help tailor a coaching program for you and be your accountability partner in your journey?  Jump on over to RunCRP to learn more!
Volunteers are loved by all!  We would be thrilled to have you join our race day team.  Waterstops, cheer stations, handing out our HUGE medals, amoung many other things.  We rely on some key non-profits that we partner with locally but we could always use some extra support.  If you're interested in volunteering with us, please use our contact form by clicking here.