So you're registered for Run Holden Beach this Saturday (1/19/19) and looking for all of the race details?  You're in the right place!  This is a copy of the pre-race email with all kinds of info to make sure you have a great race weekend but if you have any questions, feel free to shoot us an email.  See you this weekend!
YOUR BIB # CAN BE FOUND BY

CLICKING HERE
Your BIB # should have been emailed to you but if you registered more than 1 person or need to lookup another bib number, CLICK HERE to look up a registration by name.
1) Click "Am I Registered" on the bottom left side.
2) Type your name in the search bar at the top.
Thank you so much for joining us at the 6th Annual Run Holden Beach certified road race!  We're just a few days out and as we get ready for Saturday January 19th, 2019, we're covering a lot of the frequently asked questions regarding our packet pickup, parking, race day and policies.  Join our event on Facebook.  Click "GOING" and "SHARE" it with your friends!
DOUBLE BLING OPTION!  5K RUNNERS CAN RUN THE 1 MILE!
We have a cute Mythical Mile Mermaid Medal that all 1 milers will receive.  It starts at 8:30am so our 5K'ers have plenty of time to finish up and participate in the 1 Mile.  We have limited space available so if you have family/friends that want to run/walk the 1 mile, get them registered now.  Or if you're in the 5K, go ahead and register for the 1 mile to double up on the bling!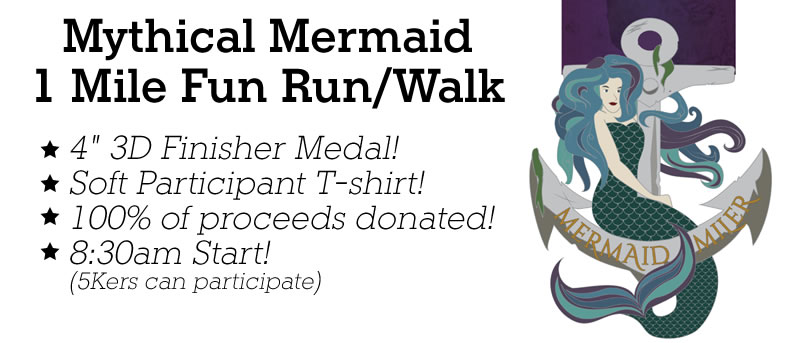 PARKING (CARPOOLING ENCOURAGED)
IMPORTANT!  All runners must be over the bridge and on the island before 6:30 for all races!  The bridge will be shut down to traffic from 6:45 – 7:30 so if you're not on the island, you will miss the start of your race!  *All parking is ON the island.
Carpooling is highly encouraged.  You DEFINITELY want to come over the bridge and onto the island to park – click here for directions.  The island of Holden Beach has very limited parking and we've done our best to secure as many lots as possible for you.  We've spoken to the local authorities to be lenient on parking tickets.  Please follow all directional volunteers in the morning to get you to parking lots and areas we have approved for parking.  Sides of roads are allowed – we encourage perpendicular parking and please make sure your entire vehicle is off of the road.  Please do not block any race signs.
WHERE TO STAY?
Holiday Inn off of 211 toward Southport is only a 15 minute drive from the start/finish line and pretty much the closest hotel.  They are providing a special rate just for runners but have limited availability!  Be sure to mention you're coming for the race to get the best rate around!  They are also very accommodating to runners if you let them know you're coming for the Run Holden Beach Event.
To stay closer, there is the Grey Gull Motel on the causeway.  "Do Drop Inn" is on the island and may have vacancy.  You may also want to call a vacation rental like Brunswickland Realty or Alan Holden Vacations to see if they will do a short term rental (shorter than a week) as we get closer to race day.
PRE-RACE PACKET PICKUP INFORMATION (HIGHLY ENCOURAGED!!!)
We will host a packet pickup on Friday January 18th from 2pm – 7pm at Sabbath Home Baptist Church located HERE (990 Sabbath Home Rd. Holden Beach, NC 28462). We are asking ALL packets to be picked up here on Friday night.  If you can't make it, it's ok to pick up race day morning – but please come extra early!
FAQ: Is it ok to have a friend pickup your packet?
Yes, you may have a friend/family member pick up your packet. They must have your bib (will be sent closer to race day) and copy of your photo ID. This could be a picture or screenshot on their phone – or printed.
FAQ: What goes on at Packet Pickup?
You get your packet – bib, pins and tshirt.  There are also several vendors setup for health, wellness and athletic performance so bring some cash/card to do some fun shopping.  Also, Coastal Race will have some crazy special deals for future races!
*Packet Pick-up is over promptly at 7:00 Please don't call and ask us to stay late! We start work at 2:30am and we have to be cleaned up and out of the church by 7:30. Your Packet will be at the start line in the morning – no worries:)
RACE DAY INFORMATION
IMPORTANT – ALL RUNNERS!
The Bridge will be shut down completely from 6:45am – 7:30am.  If you don't make it on the island before 6:45am – you WILL miss the start of your race!  This includes the Half AND the 5K participants!!
PARKING:  There are several places to park around the start/finish line such as The Holden Beach Chapel, public parking and along the sides of the road.  Be sure that your entire vehicle is off of the road.  You will definitely want to park ON the island.  Early birds get good parking spots.
TIPS:
(1) Arrive 45-60 minutes earlier for parking and warm-up.
(2) Bring your bib & pins!
(3) Cash for extra food, drinks, swag – especially spectators.
(4) Make an AWESOME sign!  especially spectators!
(5) Bring pre-race hydration!  We've got your need's covered after the race with bottle water, banana's, jugs of Gatorade, pizza and beer. But be sure to bring any pre race hydration or nutrition you may need.
5:30AM   –  RACE DAY PACKET PICKUP OPENS AT START/FINISH LINE
CLICK HERE for directions to the start/finish line.
7:00AM   –  HALF MARATHON STARTS
–  7 Water Stops with Gatorade and Water
–  3 Potty Breaks 🙂 (although there are lots of "unofficial" spots along the course)
7:10AM   –  5K STARTS (But again, be sure to be over the bridge and on the island by 6:45am)
–  1 Water Stop with Gatorade and Water.
8:30AM   –  1 MILE STARTS
–  A Fun Walk/Run on the road – 100% of the money from this race goes directly to local non-profits!
9:00AM   –  5K AWARDS
9:45AM   –  HALF MARATHON AWARDS
*If you go to the website:  http://runholdenbeach.com you will see a large course map and a printable PDF for all of the routes.  We will also have a large map for you to look at during packet pickup and by the start line on race day.
Safety Tips:
1) Pre-hydrate and use all of our waterstops!  Pre-hydration for a half marathon should also take place in the days before the event!
2) When running where it hasn't been coned off, please run against traffic and stay to the side of the road and be courteous of drivers and residents.
3) Follow your race arrows on ground, signs, overhead and volunteers on course.
4) Find a pace group at the beginning to place yourself in the corral by speed even if you don't plan to run with the pace group.
5) Don't let headphones and music keep you from hearing runners and what's around you.  Be a conscious and courteous runner.
6) If you need to walk, please pull over to the side first so runners right behind you can easily get around without stopping.
MORE FAQS
Can I swap tshirt sizes?  Yes, we will have a shirt swap station based on availability.
When Are Awards?   1 Mile/5K awards will be around 9:00; Half Marathon awards will be around 9:45.
What Awards Are Recognized?   Top 3 overall M/F and 5 year age groups.
Strollers Allowed?  Strollers are allowed on all courses but must start in a separate corral.  Please start toward the back and we will have a different start for you.  Please be careful and watch your surroundings!
Dogs Allowed?   Sorry to say but due to USATF sanctioning, no dogs are allowed at the event.
Age Restrictions?   No age restrictions, parental consent for all runners under 18 for any races are required.
Will I receive a medal?  All runners will receive a medal, we will not oversell. 

See our General FAQ's Page and our Run Holden Beach Race Page for more information and again, please don't hesitate to email us here and we'll do our best to respond promptly.