Some people like a very detailed overview of the course so here it is. If you'd just like a quick look at the map, we have a printable PDF you can zoom in and review prior to your race! This is a NEW course so please at least take a good look at the map. We have 8 pacers, 3 bike leads, over 100 signs, 700 cones, 85 volunteers, 8 officers and a dedicated team on the course to make sure you have the very BEST experience. Below we will dive in a little closer.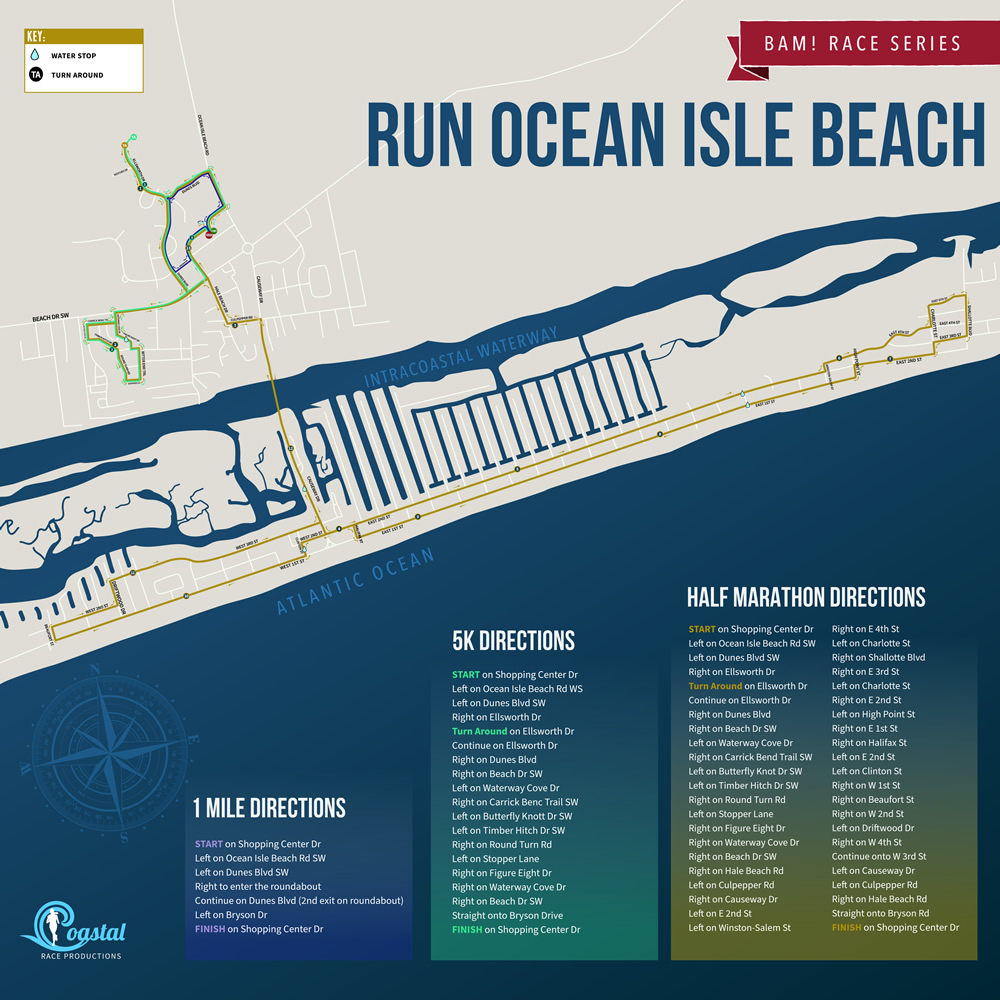 Start & The Retreat Community: Starting in the Lowes Foods parking lot between the shopping center and Dollar Tree. The best address is: 6278 Beach Dr SW STE 5, Ocean Isle Beach, NC 28469 or you can CLICK HERE for a precise location. You'll head North out of the parking lot and turn left (keeping left) onto Ocean Isle Beach Road for just a block until you take an immediate left onto Dunes Blvd. You'll turn right onto Ellsworth Dr. keeping to your right until you reach the Turnaround – you'll turn right to left around it and stay to your right as you come back down Ellsworth. You'll take a right back at the roundabout onto Dunes Blvd. Stay to your right until you reach Beach Drive.
Beach Dr. & Waterway Cove Community: As you reach Beach Drive, you'll cross here with an officer and our team, taking a right and putting you in a coned lane down to the Waterway Cove community and back. You split this one lane down and back so please be mindful of speedy runners coming back and stay in half of the lane down to Waterway Cove Dr. You'll take a left onto Waterway, a quick right on Carrick Bend, Left on Butterfly Knot, Left on Timber Hitch, Right on Round Turn, Left on Stopper Ln, Right on Figure Eight, Right on Waterway Cove and a right back onto Beach Dr. staying to your far right. Lots of quick turns in this cute seaside community and there's a (Waterstop #1) on Figure Eight around mile 2.
East End of the Island: From Beach Drive you take a right on Hale Beach Rd. and a Left on Culpepper. When you take a right onto Causeway stay to your right up and over the bridge. [You'll be in this same lane when you come back] Stay in this right (Southbound) lane down to 2nd St. (Waterstop #2) on your right before you take a Left onto 2nd St. and stay in the right coned lane all the way down to Winston Salem St. (Waterstop #3) on 2nd St. as well. Left onto Winston Salem, Right onto E. 4th, Left onto Charlotte, Right onto E. 6th & Right onto Shallotte Blvd. Right onto E. 3rd, Left onto Charlotte, Right onto E. 2nd, Left onto High Point and Right onto E. 1st St. – Stay in the right coned lane here on E. 1st St. Lots of short little turns but we've got plenty of signs and volunteers here. (Waterstop #4) as you head down E. 1st St. all the way down to Halifax. Take a right here and a left back onto 2nd St. where you'll go straight directly across onto W. 1st St.
West End of the Island: The West side of the island has less turns. You take a quick left onto Clinton (Waterstop #5) and a right onto W. 1st all the way down to the watertower at Beaufort St. Right on Beaufort, Right on W. 2nd, Left on Driftwood and Right on W. 4th (which turns into W. 3rd) all the way back to Causeway. Take a left on Causeway and (Waterstop #6) is going to be on your left.  Remember – stay in the left lane over the bridge – this is the same lane you brought onto the island and you're using it to leave the island back toward the finish. Take a left on Culpepper and right on Hale Beach (yes, you were on these roads earlier). Here, you'll go straight across Beach Dr. into a coned lane through the parking lot of Lowes Foods, behind the shopping center and into the finish line right back where you started.
After Party: Your #BigAssMedal is waiting for you at the Coastal Integrative Health finish line with water, bananas (provided by Lowes Foods), Carolina BBQ and the Beer Garden presented by Paula Ogden with Metro To Coast Realty.