This post is to help you with a step by step walk through of our certified Half Marathon and 5K routes for Run Ocean Isle Beach.  We have pacers, bike leads, police, coning, hundreds of signs and arrows as well as almost 100 volunteers throughout the course to help you along the way.  Please note that this is partially an open course which means that runners need to stay to the side to allow for cars to pass.  Please be a courteous and aware runner for safety and to have the best race experience possible.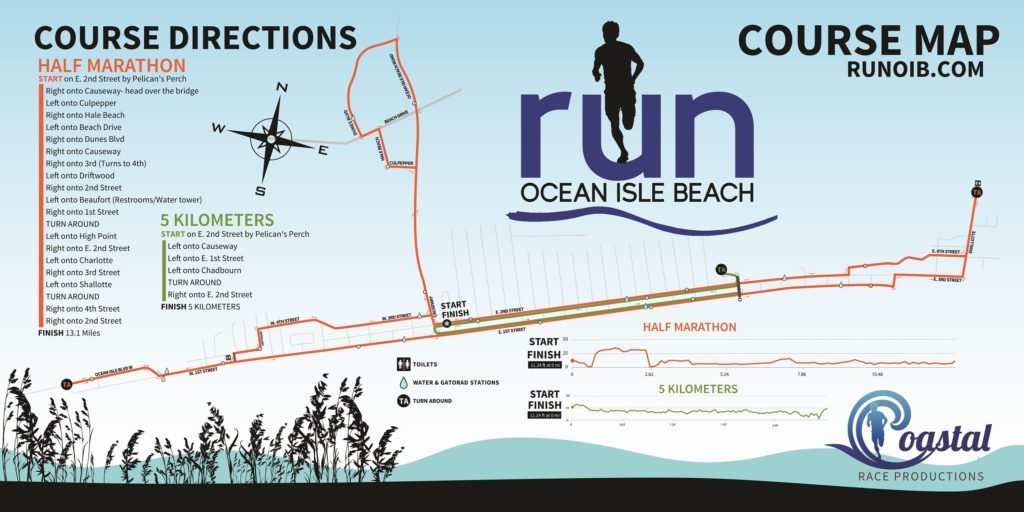 We all start on 2nd Street heading West toward the causeway for both the 5K and Half Marathon.  For directions to the island and parking, please click here.
HALF MARATHON – 7:00 AM START:
You will cross the street at Causeway and be running in a coned lane over the bridge (keep to your left).  The first left over the bridge is Culpepper St., then a short jog right onto Hale Beach.  This will bring you out to an intersection of Beach drive where we'll have an officer stopping traffic and you'll cross the road and turn left.  Shortly after you cross the road, you'll be turning right into a community called the Retreat and your first waterstop is on your left.  Head through this little community and you'll be veering right to come out to Causeway again – this will also be coned to take a right back down toward the island.
*This is the same coned lane you ran in leaving the island.  Keep to your left inside the same coned lane just in case there are any walkers that are heading toward you.
Now that you're back on the island, you'll be taking a right on 3rd Street.  Here you will have your 2nd waterstop on your left at Ocean Isle Beach town hall.  You'll continue down 3rd St. which turns into 4th St. and take a left as it T's into Driftwood Rd. 1 Block later you take a right onto 2nd, and 2 blocks later you take a left onto Beaufort.  There's a big water tower here and you'll find your first set of on-course restrooms on the right.  Here you'll take a right onto 1st Street.  Keep to the right!  Your 3rd waterstop is right here on the right, head down to your turn-around and again keep to your right as you turn-around on 1st Street heading back to the East end of the island. 2 more waterstops on your right before see a small coned runner lane on your right.  You will want to go into this coned runner lane that will separate runners from car traffic as you stay to the right through the traffic circle.  As you come out of the traffic circle and coned area, an officer will be stopping traffic to help you cross the road and now run against traffic heading East down 1st Street.  Another 2 waterstops on your left now before you turn left at the dead end onto High Point Rd.  Quick right on E. 2nd St., Left onto Charlotte St., Right onto 3rd Street, Left onto Shallotte Blvd.  You'll want to cross the street getting onto Shallotte to be in the right lane, head down to the turn-around cone (ICEE POPS – YAY!) and back to take a right onto 4th Street.  This road curves around a bit and you'll take a right into the coned lane on 2nd Street taking you all the way to the finish line where we have a beer garden (Landshark, Michelob & Cider), pizza and of course your #BigAssMedal awaits you at the finish line – so hurry!  Any pictures before, during, after the race; please use the event hashtag #RunOIB.
5K ROUTE DESCRIPTION – 7:15 AM START:
This is a flat and fast loop with a short turn-around.  As you head West toward the causeway on 2nd St. to start, runners will take a left turn and down to 1st St.  There is a waterstop just before your left turn onto Chadburn St.  Runners cross 2nd St. to a turn-around on Chadburn and head back to take a right onto a coned lane of 2nd St. all the way to the finish line.
CERTIFIED ROUTES:
This course (along with all of our races) is a USATF certified and sanctioned route and event.  If you know all of what goes into certifying a course with calibrating the bike, taking a very specific path that is the absolute shortest path and measuring it twice, you know that this distance is not close, it is exact.  I say this because if your watch says a slightly different distance, please consider that phones/GPS watches are not 100% accurate – certified routes are.