Thank you so much for joining us at the 10th Annual Run Ocean Isle Beach certified road race!  It's just a few days away and as we get ready for Saturday 10/28, we're covering a lot of the frequently asked questions regarding parking, expo/packet pickup, race day plans, after-party, etc.. plus lots of quick links to help you have a great race experience.  But if you have any questions at all, you can respond to this email directly and we'll do our best to respond promptly.  Now, who's ready to earn that #BigAssMedal?  ..Oh, and have you clicked "LIKE" on our Facebook page yet?  If not, please do, just click here
FOOD DONATION AT PACKET PICKUP!
We are extremely excited about a new partnership between the Brunswick County Food Bank and Coastal Race Productions – Miles For Meals. Our events have become a place for collecting non-perishable food items for the food insecure families in our local community!
During packet pickup, the local food bank would love your food donation support. Simply bring a non-perishable food item to their booth.
– What's the best thing to bring? Any non-perishable food but they've specifically requested Boxes of Stuffing Mix!
– Where can I drop it off? At packet pickup from 2pm-7pm
Support the community you're running in. Whether you're a local or coming from one of the 30+ states and 3 countries running this weekend, our local community appreciates your support. You will see this logo and involvement at more races in the near future and we are more excited than ever to be a part of it.


REFER & EARN MONEY!
We're almost sold out so if you know someone that waits until the last minute to sign up, tell them to get online and register now. Share your referral link to earn money when others register. You can find your referral link by logging into your RunSignUp account, clicking on the Run Ocean Isle Beach event, and click on "My Referrals" in your profile.

REGISTRATION CHANGES:
We sent an email last week regarding available registration changes such as switching to virtual if you can't make it, processing a bib transfer if someone else will be running in your spot and changing events (from Half Marathon to 5K or visa versa). We've put this on our website as well with quick links to tutorials to assist you with this if needed.  CLICK HERE if you need assistance with that.
PRE-RACE PACKET PICKUP INFORMATION (HIGHLY ENCOURAGED!!!)
We will host a packet pickup on Friday, October 27th from 2pm – 7pm at the Sea Trail Clubhouse located HERE (75A Clubhouse Rd, Sunset Beach, NC 28468). We are asking ALL packets to be picked up here on Friday night.  If you can't make it, we will have very limited availability for our emergency race day pickup options.
FAQ: Do I need to know my bib number?
No, these are not pre-assigned for this race. We will assign a bib number to you when you come to packet pickup.

FAQ: Is it ok to have a friend pick up your packet?
Yes, you may have a friend/family member pick up your packet.
FAQ: What goes on at Packet Pickup?
You get your packet – bib, pins, and t-shirts.  There are also several vendors set up for health, wellness, and athletic performance so bring some cash/card to do some fun shopping.
*Packet Pick-up is over promptly at 7:00 PM Please don't call and ask us to stay late! We start setting up at 2:00am and we have to be cleaned up and out of the packet pickup location by 8:00. Your Packet will be at the start line in the morning but you'll need to plan to come extra early on race day if you need to utilize our emergency race day packet pickup.
RACE MAP
This race is "RaceJoy" enabled for free. Just download the free app on your smart phone. Once you pickup your bib, you'll input your number and share it with friends to track and send you audio cheers during your race. Check it out and use it at RunOIB – 100% free to you and your friends!
Click Here For A Printable PDF Map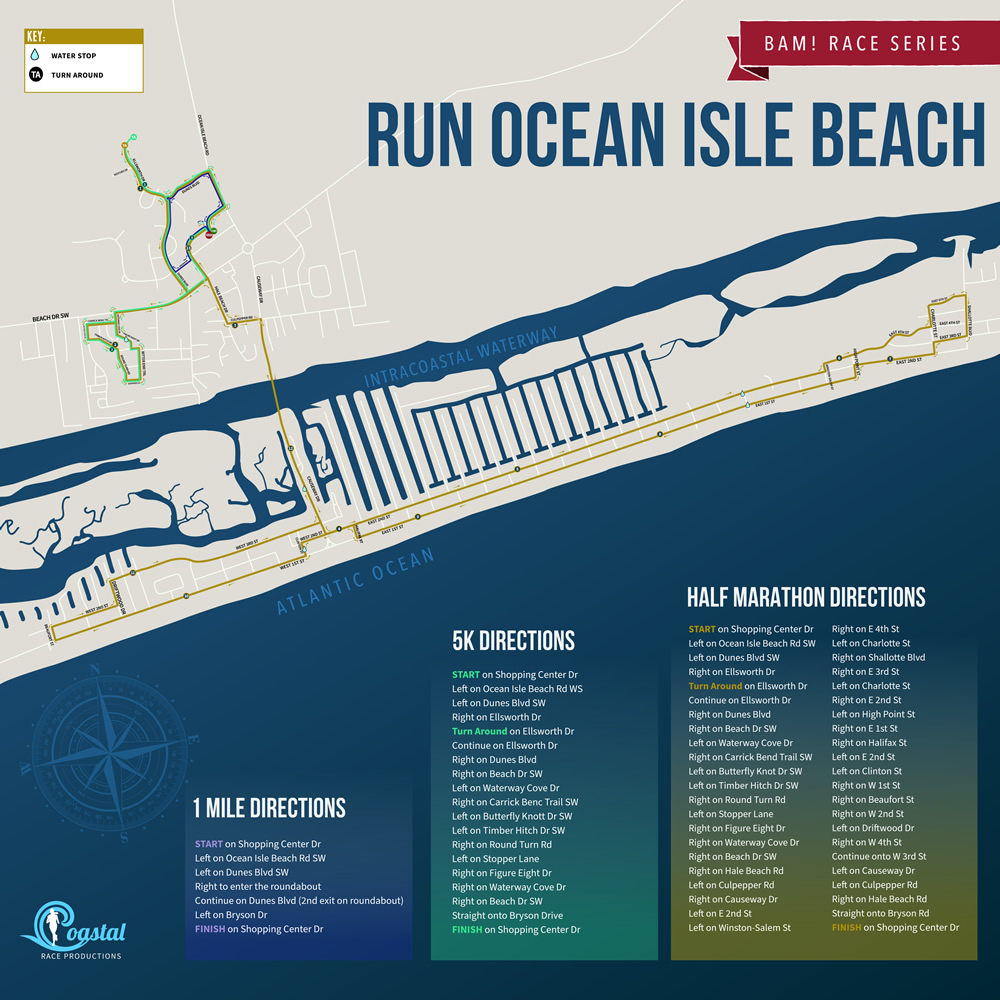 RACE DAY INFORMATION
IMPORTANT NOTES:
(1) Start/Finish Line AND PARKING is OFF the island this year! Do not drive onto the island to park!
(2) This is partially an open course so it's important to stay to the side of the road when not in coned sections. If using headphones, be able to hear your surroundings.
PARKING:  Please come early if you can. Our team of staff and volunteers will be out by 5:30am to help direct you to park in approved lots. Please follow their direction. There are several places to park around the start/finish line, this is all OFF THE ISLAND. CLICK HERE for directions to the parking area or use the address: 6278 Beach Dr SW STE 5, Ocean Isle Beach, NC 28469. Early birds get some really good parking spots!
TIPS:
(1) Arrive 45-60 minutes earlier for parking and warm-up.
(2) Bring your bib & pins!
(3) Cash for extra beer – especially spectators (participants receive 2 free beers)
(4) Make an AWESOME sign! Especially those non-runners!
(5) Bring pre-race hydration! We've got your needs covered after the race with bottled water, bananas, BBQ, and beer. But be sure to bring any pre-race hydration or nutrition you may need.
5:30AM   –  RACE DAY PACKET PICKUP OPENS AT START/FINISH LINE
CLICK HERE for directions or use (6278 Beach Dr SW, Ocean Isle Beach, NC 28469) for directions to the start/finish line.
7:00AM   –  HALF MARATHON STARTS
–  6 Water Stops with Gatorade and Water (roughly every 2 miles)
7:30AM   –  5K STARTS
–  1 Water Stop with Gatorade and Water.
8:00AM   –  1 MILE STARTS
8:15AM   –  5K AWARDS
– Top 3 overall Male/Female and Every 5 Year Age Groups
9:30AM   –  HALF MARATHON AWARDS
– Top 3 overall Male/Female and Every 5 Year Age Groups
10:30AM  –  RACE CUT-OFF TIME
– To ensure runner safety, as we pick up cones and police assistance is relieved, we will ask for runners still on the road to move to the sidewalk at this point.  If you don't want to leave the course at this point, that is fine but understand water stops and course support is pulled at this time due to permit constraints.

DON'T MISS THESE AMAZING BEACH RACES!
11/23 – Calabash Turkey Trot – 10K, 5K, 1 Mile – Run ALL 3 for the "Ultimate Feast Challenge"  Click Here
Sign-up NOW for the 2024 BAM race series of half marathons and 5K's!  Click Here
1/20/2024 – 41st Annual Winter Run 5K & 15K Click Here
2/17/2024 – Ultra, Full Marathon, 2 Half Marathons, 10K, 5K & 1Mile in Oak Island (A lighthouse, bridge and 13 scenic miles of beachfront running)  Click Here
 3/23/2024 – NMB Shamrock N' Run Half Marathon, 10K & 5K Click Here
See more info and register online at CoastalRaceProductions.com

MORE FAQS
Can I swap t-shirt sizes?   Yes, after the 5K starts on Saturday, based on availability.
Can I make a donation to Miles For Meals?   Yes, non-perishable food (Canned Goods are great) at packet pickup or race day.
When Are Awards?   5K awards will be around 8:15; Half Marathon awards will be around 9:30.
What Awards Are Recognized?   Top 3 overall M/F and 5-year age groups.
Strollers Allowed?   Strollers are allowed on all courses. Insurance requires that they start in the back. Please be careful and watch your surroundings!
Dogs Allowed?   Sorry to say but due to USATF sanctioning, no dogs are allowed at the event.
Age Restrictions?   No age restrictions and parental consent for all runners under 18 for any of our races are required.
Will I receive a medal?  All finishers will receive a medal, we will not oversell. 
What's the plan for inclement weather?  This is a rain-or-shine event.
See our General FAQ's Page and our Run Ocean Isle Beach Race Website for more information and again, please don't hesitate to email us here and we'll do our best to respond promptly.